As new users come to Capture One Pro, I'm hearing a familiar question from them: Should I use a catalog or a session when I start a new library? My answer is: "Well, that depends." Click on the link below to watch a 2-minute video that explains the differences.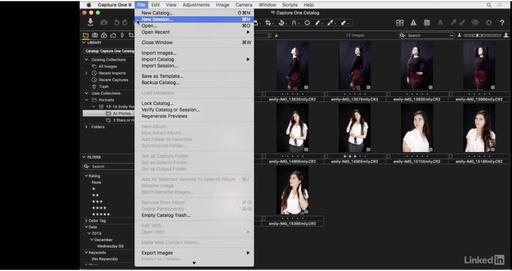 Catalog vs. session: How are they different? from Capture One Pro 9 Essential Training by Derrick Story
If you do decide to use a session for a temporary work area, such as sorting out a wedding or taking your laptop on vacation, remember you can use the Import Session command to incorporate the session into your catalog, if you need to.
Even though I use catalogs the majority of the time, I do use sessions for my tethered shooting for product shots. If I want to add those images to my catalog, I can. But generally speaking, I don't.
Hope this helps clear the muddies waters a bit.
Learn Capture One Pro 20 Quickly
If you're new to Capture One Pro, you may want to check out my latest online class, Capture One Pro 20 Essential Training on LinkedIn Learning, or, if you're a lynda.com subscriber, you can watch it there as well. It will get you up and running in no time at all.
If you don't have Capture One Pro yet, you can download the 30-day free trial (Mac/Win). No credit card is required, and it's a fully functioning version.
You can share your thoughts at the TDS Facebook page, where I'll post this story for discussion.