With the announcement of the Sony Alpha a7C Mirrorless, we see another step forward in quest to create compact, full frame digital cameras. And I might add, with impressive success.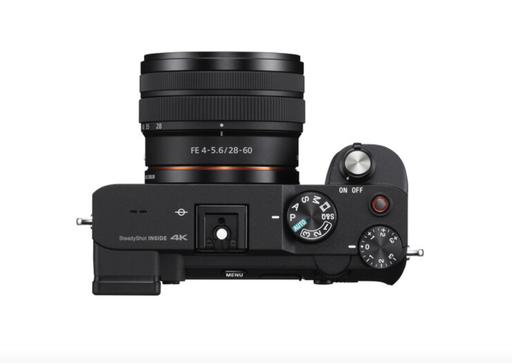 Sony a7Cfull frame camera with with 28-60mm compact zoom lens
Along with the Nikon Z5 and the Canon EOS R, designers are trying to deliver as many features as possible in more compact packages. But the full frame reality is, that no matter how compact the camera body, the lenses will be bigger than their cropped-sensor counterparts.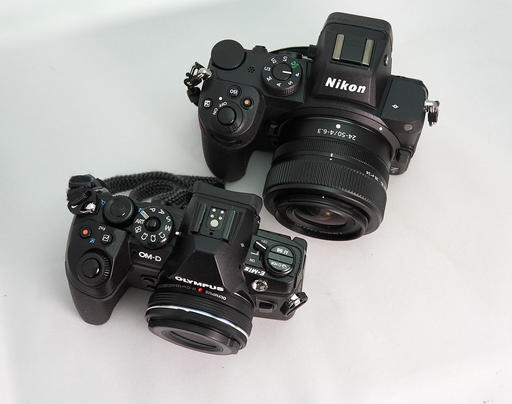 Olympus OM-D E-M1 Mark II with 14-42mm compact zoom (foreground) compared to the Nikon Z5 with 24-50mm compact zoom. Photo by Derrick Story.
If, for example, you compare the latest Nikon full frame with its most compact zoom to a Micro Four Thirds body with its most compact zoom, you'll see a noticeable difference. Even though the MFT body is smaller, that's not where the real savings are. It's with the lens.
Let's take a look at the Olympus 25mm f/1.8 (50mm equivalent) in comparison to the Nikon 50mm f/1.8. You'll see a striking difference in size, and price.
The Olympus 25mm weighs 4.8 ounces and is 1.6 inches long. It costs $299. The Nikon 50mm f/1.8 weighs 14.6 ounces and is 3.41 inches long. It costs $596.
My point isn't to disparage full frame cameras. I have a couple myself. But I do want to remind photographers that any size savings you reap from the newest bodies will be quickly countered by the optics that you mount on them. I recommend keeping both lenses and bodies in mind when choosing your camera system.
You can share your thoughts at the TDS Facebook page, where I'll post this story for discussion.