Protecting your data during transport involves both physically ensuring its integrity and guaranteeing its safety from other people. The Kingston DT2000 Encrypted USB Flash Drive does both.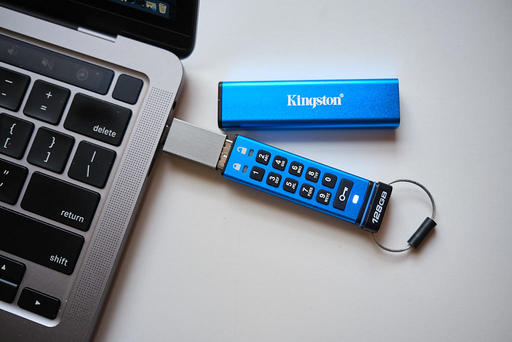 Robust Design
Starting with the physical, the DataTraveler 2000 is an all metal USB 3 drive with a keypad. It's well-constructed and feels more like an electronic device than it does a flash drive. The entire unit slides into a metal sleeve and is sealed at the opening with a gasket on drive. You can see the gasket below the blue light in the above illustration.
A wire loop on one end of the drive allows you to attach it to other objects for safe keeping during transport. You can open the loop by unscrewing the black sleeve. Nicely done.
The entire package feels robust and well-designed. It looks good too.
As for the USB connector, some might wonder why such a modern design features a USB 3.1 Gen1 (USB 3.0) port that's also backward compatible with USB 2.0 instead of USB-C. I didn't ask the engineering team about this because my thinking is that they wanted it compatible with as many devices as possible, and USB 3 provides a nice balance of speed with a wide variety of devices.
That being said, I used a USB-C adapter to connect the DataTraveler to my MacBook Pro (as shown in the top illustration). Everything worked great.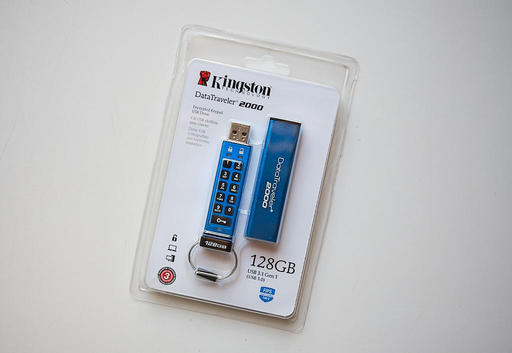 Top-Notch Encryption
Kingston's DataTraveler 2000 is designed to be secure, with an alphanumeric keypad that locks the drive with a word or number combination, for easy-to-use PIN protection. DT2000 features hardware-based, Full Disk AES 256-bit data encryption in XTS mode. Encryption is done on the drive and no trace of the PIN is left on the system. It's FIPS 140-2 Level 3 certified, to meet a frequently requested corporate IT requirement.
Feature highlights include:
Alphanumeric keypad makes it easy to unlock your device.
FIPS 140-2 Level 3.
Full Disk AES 256-bit hardware-based encryption.
Administrator (Admin) PIN - Enables admin access to the drive and ability to issue new user PIN if user forgets PIN.
Can be used on any device with a USB 2.0 or USB 3.1 Gen1 (USB 3.0) port (and I've used via USB-C as well with an adapter).
Read-Only Access - Admin can pre-provision a drive with pre-loaded content as read-only for the user.
Compatible with: Windows 10, Windows 8.1, Windows 8, macOS v.10.12.x - 10.15.x, Linux kernel v.4.4.x, Chrome OS, and Android3.
Speed: USB 3.1 - 135MB/s read, 40MB/s write; USB 2.0 - 30MB/s read, 20MB/s write.
Setting Up and Using the Device
Because the technology is sophisticated, it does take a couple minutes to properly set up the DT2000. I followed the steps for the Logging In video about half way down the product page, and I was successful on my first attempt to establish my personal password.
Since doing that, I've logged in a number of times and have copied items to the drive, then from the drive on to other computers. It performed as I expected.
I found it easiest to use by unlocking the device first before inserting it into the computer's USB port. I pressed the key button once, entered the passcode, pressed the key button again, then waited for the green light to illuminate. Once it did, I could insert the drive into the computer's USB port and begin working.
Once you're finished, you can hold the Key button for 3 seconds, and the drive will eject and lock, allowing you to safely remove it from the computer. If you unlock the DataTraveler 2000 and don't insert into a computer within 30 seconds, it will automatically lock again. It a very smart device.
The drive is fast enough, especially when using USB 3, to work directly from it without having to copy data to the computer. This is a primary reason why I like the two bigger capacity models (64GB and 128GB). They become flexible working drives that you don't have to worry about being compromised by others.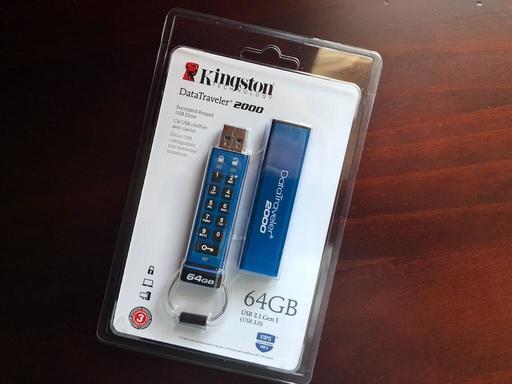 Bottom Line
After having tested both the Kingston Datatraveler 2000 64 GB model ($153) and the Kingston Datatraveler 2000 128GB model ($234), I can say that they are confidence-inspiring devices.
I highly recommend both models.
Product Links and Comments
There are product links in this article that contain affiliate tags. In some cases, depending on the product, The Digital Story may receive compensation if you purchase a product via one of those links. There is no additional cost to you.
You can share your thoughts at the TDS Facebook page, where I'll post this story for discussion.