This is The Digital Story Podcast #756, Sept. 15, 2020. Today's theme is "Nikon Z5 Review + New Online Workshop." I'm Derrick Story.
Opening Monologue
The Z5 is Nikon's more affordable full frame mirrorless camera that accepts Z-Mount lenses. I pack one for my scouting trip to the Sierra and report today what I think. And speaking of the Sierra, I'm announcing our online Eastern Sierra Workshop today with all the details. Let's get to it!
Nikon Z5 Review
One of the things that attracted me to the Z5 was the Nikkor 24-50mm f/4-6.3 zoom lens that you can get bundled with the camera. Both together will set you back $1,696.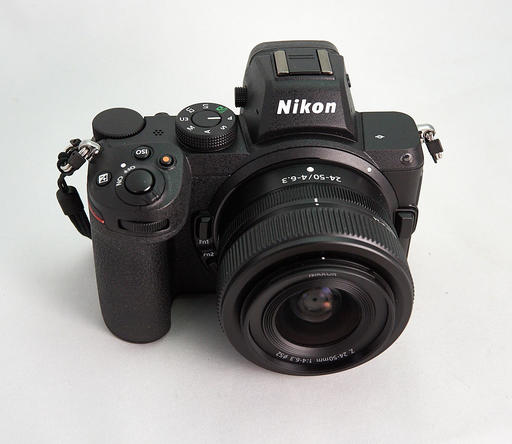 My thinking was that this tandem would be a good full frame option for hiking and travel. I put that theory to test with an 8-mile hike to Crystal Cove in South Lake Tahoe. Before I tell you how that went, let's take a closer look at the specs for this camera.
Features and Specs
24.3MP CMOS sensor and EXPEED 6 processor afford wide sensitivity to ISO 51200, quick shooting at 4.5 fps.

Autofocus system with 273 selectable points, and is a hybrid focusing system that uses both phase-detection and contrast-detection methods

A large 3.2" 1.04m-dot LCD screen is available for bright, clear, and vivid image playback and live view shooting. The screen has a tilting design to suit working from high and low angles and it is also a touchscreen for more intuitive operation, navigation, and settings control.

A 3.69m-dot electronic finder is present for comfortable eye-level viewing.

Dual SD memory cards slots both support up to the UHS-II protocol for high-speed and efficient photo and video file saving.

Built-in to the body is a 5-axis sensor-shift Vibration Reduction (VR) mechanism that compensates for up to five stops of stabilization regardless of the lens in use. This system also works with adapted lenses, when using the optional FTZ Adapter, where 3-axis stabilization is used. Also, benefitting video recording, Electronic VR is available to help steady footage to suit handheld shooting.

the Z 5 supports UHD 4K video recording at up to 30 fps and Full HD recording at up to 60 fps, with the ability to save movie files to the in-camera memory cards or to an optional external recorder via HDMI out. UHD 4K recording uses a 1.7x crop of the center portion of the frame while Full HD recording uses the entire full frame. Additionally, in-camera time-lapse shooting is also possible with the ability to produce a finished UHD 4K video file directly from the camera.

USB charging as well as a dedicated battery charger in the box.

A robust magnesium alloy chassis is both dust- and weather-resistant to benefit working in harsh climates and inclement conditions.

Focus Shift mode automatically takes a series of up to 300 sequential images while advancing the focus position in each shot. These images can then be stacked into a single image with extended depth of field, making it ideal for close-up shooting of smaller objects as well as for landscapes and other still subjects.

What I Liked

In use, there are many things that I like about the Z5. It feels great in the hands; really comfortable to shoot with. If you hand it to someone, they will likely remark that it feels lighter than it looks (1 lb, 4 oz). And I agree.

The tilting LCD works very well, as does the EVF. The controls are intuitive and well placed, and the battery lasted the entire day.

Image quality was excellent! I really liked both the Jpegs and the RAWs (processed in Lightroom CC). I was quite impressed with the 24-50mm Nikkor. It's a gem of a lens and about as compact as you can get for a full-frame zoom.

Video was also quite good, and I appreciated having both mic and headphone jacks on the left side of the camera. The vibration reduction make handheld recording possible, which is something that I can't do with my Fujifilm X100V.

A Few Complaints

I do have my nits, however. The electronic level is quite invasive, in the center of the screen and not really useable for general photography. The camera is also slow to wake from sleep. So much so, that I ended up adjusting the sleep timer to 30 minutes and turning off the LCD. It was worth the tradeoff in battery life.

Also, I was hoping for a built-in popup flash. I know real estate is at a premium in a mirrorless camera, but having to buy and carry an additional flash for a travel camera is a bit of a bummer.

And finally, if you want to expand your lens collection beyond the 24-50mm zoom, the Nikon glass feels very expensive to me. I wrote about this in the Medium.com article titled, She's Great, but the Family's a Problem where I pointed out: "I felt a sinking feeling when meeting the Nikon lenses for the Z5. The first relative, a Nikkor 50mm f/1.8, was $596 and not easy on the eyes. I know I'm not supposed to say these things, but it's true. The situation became even worse with the 35mm f/1.8 -- $846. That's expensive."

The Bottom Line

Unto itself, the Nikon Z5 with 24-50mm zoom is an attractive, robust mirrorless camera that delivers excellent image quality in a reasonably sized package. I certainly can recommend it for photographers already invested in the Z-Mount lens library. For those just starting out, however, your investment can balloon quickly to well over $3,000.

The Online Eastern Sierra Photography Workshop

I'm thrilled to announce the Online Eastern Sierra Photography Workshop on November 6-7, 2020.

This event will be unlike others that you may have read about or even attended yourself. We are taking the popular components of the TDS physical workshops and digitizing them. Here are a few examples.

The Opportunity to Share Your Photos with Me and the Class - Even though the live event begins on Friday, Nov. 6, You will receive lesson tutorials on Oct. 21 and 28, then have time to go outside and practice these techniques. If you wish, you can share your favorite images from the practice sessions to be incorporated in the workshop.

Small Group for a More Personal Experience - Even though it's an online event, class size is limited to 15 to ensure you have ample opportunities to get your questions answered (by me and other class members).

Ongoing Conversations Beyond the Event Itself - I'm setting up a page online that will feature content from our event with the ability for ongoing conversations among class members.

Even though I'm using the Eastern Sierra as a backdrop for my tutorials, your photography and contributions to this workshop could be from anywhere in the world. In other words, it's all about the photography, not the specific location.

Since this is our first online event of this type, the tuition is only $150. Seats are limited and available on a first come, first served basis. Sign up today by visiting the Online Eastern Sierra Photography Workshop page at theNimblePhotographer.com.

Why These Top Pros are Sticking with Olympus

You can read the entire article on AmateurPhotographer.co.uk

Since Olympus announced it was selling its camera division, some owners are questioning whether to stay with the brand. We asked leading Olympus users why they chose the brand and whether they have any plans to change. Here's what they said:

From there, 11 top pros talk about their favorite Olympus gear and why they have no plans to switch. It's a great read.

New Release: "How to Get Started with Vinyl Records"

Take a hands-on journey with Derrick Story as he shows you how to set up a HiFi stereo system, add vinyl records to your music library, care for them, and finally, how to digitize the albums for personal listening.

Everything that you need to know to get started with records, or to rekindle your love for vinyl LPs. Plus, you'll get 30-percent discount codes for digitizing software from Rogue Amoeba. The money you will save is more than you'll spend for the price of this online course. What a great value!

In this online course, Derrick will show you:

All of the gear that you need to set up a HiFi system.
How to wire up and configure your kit.
Where to find records and what to look for.
How to take care of your vinyl so that it lasts a lifetime.
How to digitize your albums and add them to your digital music catalog.
Tips and tricks to enhance your enjoyment.

Updates and Such

Inner Circle Members: A big thanks to those who support our podcast and our efforts! You're eligible for a $25 discount to our online Eastern Sierra Workshop. Visit our Patreon page now for all the details.

How to Watch Photos for macOS Catalina and iPadOS - Learn everything you need to know about Photos for the Mac and iPad by checking out my latest course on LinkedIn Learning and on lynda.com. This course is perfect for Mac and iPad based photographers who shoot with iPhone, Mirrorless, and DSLR cameras. It covers both photography and movies. And if I say so myself, it's a lot of fun.

B&H and Amazon tiles on www.thedigitalstory. If you click on them first, you're helping to support this podcast. (The Digital Story is supported by its audience. When you purchase through links on our site, we may earn an affiliate commission.) And speaking of supporting this show, and big thanks to our Patreon Inner Circle members:

Affiliate Links - The links to some products in this podcast contain an affiliate code that credits The Digital Story for any purchases made from B&H Photo and Amazon via that click-through. Depending on the purchase, we may receive some financial compensation.

And finally, be sure to visit our friends at Red River Paper for all of your inkjet supply needs.

See you next week!

Product Links and Comments

There are product links in this article that contain affiliate tags. In some cases, depending on the product, The Digital Story may receive compensation if you purchase a product via one of those links. There is no additional cost to you.

You can share your thoughts at the TDS Facebook page, where I'll post this story for discussion.