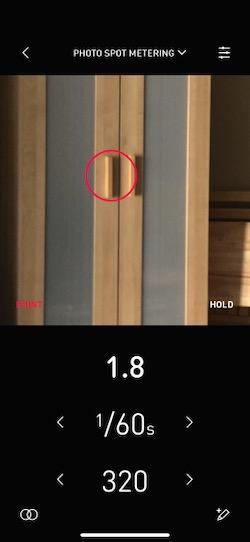 Whether I'm scouting a location, checking the accuracy of my camera's exposure system, or working with a vintage film camera, there are moments when I need to measure ambient lighting with a separate device. I've been using the free version of Luma Light Meter on my iPhone X. But there are a variety of competing apps that are also quite good. You can see a nice overview of them here.
One of the situations when I really appreciate this option is when I have my camera mounted on a tripod. Once it's all set up and locked down, I can walk around the scene with iPhone in hand and measure different elements. I can then check those meter readings against my camera's output, and make adjustments if necessary. And I can do all of this without having to reposition and recompose.
And for those who shoot film with vintage cameras, a phone light meter is a must. First, it comes in handy for checking what the aging cell in the camera is seeing. And second, there are a lot of cool cameras that don't have functioning light meters.
Yes, you could operate off the Sunny 16 rule. But believe me, my iPhone is far more accurate.
Smartphones are great for taking photos. But they're also an excellent accessory for our interchangeable lens cameras as well. Add a light meter app to your device and don't forget to use it when the situation calls for it.
How to Watch Photos for macOS Catalina and iPadOS
Learn everything you need to know about Photos for the Mac and iPad by checking out my latest course on LinkedIn Learning and on lynda.com. This course is perfect for Mac and iPad based photographers who shoot with iPhone, Mirrorless, and DSLR cameras. It covers both photography and movies. And if I say so myself, it's a lot of fun.
You can share your thoughts at the TDS Facebook page, where I'll post this story for discussion.