This is The Digital Story Podcast #762, Oct. 27, 2020. Today's theme is "The Rules We Follow (but not sure why)." I'm Derrick Story.
Opening Monologue
I'm having more conversations than ever about photography, and I think part of the reason is that we're all cooped up and not going to conferences and workshops. One of the things that I've picked up on are some classic self-imposed rules about photography. So I picked a few of my favorites to discuss for today's show.
The Rules We Follow (but not sure why)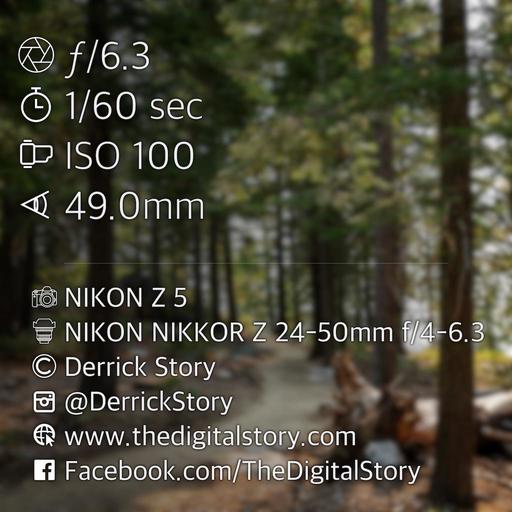 Like practically everything in photography, there are no perfect right and wrongs. Yet, many of us, myself included, find ourselves constrained by rules that should or should not always apply to our work. I thought I would explore a few of these today. And I'm curious if any of these apply to you.
The subject should never go in the middle of the frame.
I keep the original aspect ratio when cropping.
I don't use high ISOs because there is too much noise.
I only shoot natural light because flash looks artificial.
Program mode is for rookies only.
I comment on each of these in today's podcast.
Fujifilm to improve X-T3 AF performance with new firmware, bringing it more in line with X-T4
You can read the entire article here on DP Review.
In addition to announcing a camera, lens and more, Fujifilm has also revealed it will soon release a free firmware update for its X-T3 that will improve autofocus performance and more.
The firmware update will go live on October 28, according to Fujifilm's press release. The improvements should see autofocus speeds more than double, taking focus times drop from 0.06 seconds to 0.02 seconds, bringing the X-T3's autofocus performance more in line with the X-T4.
Fujifilm says it's also improved the algorithm for predicting subject movements, which should result in a >90% 'hit rate.' The Face Tracking and Eye AF algorithm has also been re-written to double the tracking performance in continuous shooting modes.
Other improvements include the ability to use AF in low light levels down to -7EV with the new Fujinon XF 50mm F1.0 R WR lens, a new 'Focus Limiter' feature for setting pre-determined focus ranges, the ability to change the size of Single AF points while recording video and improvements that make it possible for third-party programs to read the ratings applied to pictures in-camera.
The Essential Steps to Impressive Video Conferencing
If you want to learn more about looking and sounding great for your next online interaction, then I think you'll very much enjoy my online workshop, The Essential Steps to Impressive Video Conferencing.
This 1-hour deep dive focuses on the three major areas of successful online interaction: Audio, Video, and Environment. During the course, I walk you through a variety of techniques that range from using gear that you already have, to improving your chops through a few inexpensive purchases.
The course is available on our Nimble Photographer Workshop Page for $14.95.
I have tons of great tips and techniques waiting for you there. If you want to get serious about how you appear during online meetings, classes, interviews, and family interactions, then you definitely will want to watch this course.
Halide gets a major update with upgraded RAW processing and new pricing
You can read the entire article here on The Verge.
Halide has launched a new version of its popular iPhone camera app, now dubbed Halide Mark II, and it comes with a lot of new features. Those include a redesign, upgraded RAW processing, and a new pricing model.
Halide says Mark II features a "bottom-up redesign" with the goal of staying out of your way. All of the photo controls should now be within your thumb's reach, no matter what model of iPhone you're using the app with. There's a new typeface, and even the preview of the last shot you took that sits in the bottom-left corner of your screen matches the curvature of your iPhone's screen. It's all meant to feel familiar to people who use Apple's default camera every day -- but as always, Halide packs in a ton of advanced photography tricks.
The new Mark II version of the app can now capture both RAW and the iPhone's computationally processed photos at the same time through a feature Halide calls Coverage. Most photo filter and social media apps don't accept RAW images, but the benefit of RAW is that you get a photo without any processing applied that you can edit later. The benefit of Coverage means you get two images when you take one photo -- one you can post right away, and one you can edit later. Coverage will be off by default, however.
Mark II also gains a new Instant RAW feature, which "intelligently" develops a single RAW image through a 17-step process without you having to adjust sliders or levels yourself. "Instant RAW can work as a midpoint between a completely unedited RAW and a totally processed JPEG," Halide said in today's announcement blog. The company tells The Verge an Instant RAW image will look different than the JPG you might get from an image with Apple's Smart HDR processing applied. Halide's processing approach was modeled after how film photography develops, the company says. (You can still send your RAW images to other apps like Darkroom for more thorough editing if you want.)
If you've already paid for Halide, you get Mark II for free as well as a year-long subscription with all of the perks that includes. If you're a new Halide user, you have a couple of options. You can pay once for the app, which costs $30 at launch and $36 at some point in the future. Halide says it plans to raise that one-time price as new features are added to the app.
Updates and Such
The Online Eastern Sierra Photography Workshop Begins Its Second Week
Our sold out Online Eastern Sierra Photography Workshop begins with its first assignment this week.
I've created a new space called DerrickStoryOnline to support our virtual and physical workshops. Those who signed up for the Eastern Sierra event will have permanent access to this growing community. Soon, I will announce our next event. If you want to be a part of this, keep your eye peeled.
Inner Circle Members: A big thanks to those who support our podcast and our efforts!
Affiliate Links - The links to some products in this podcast contain an affiliate code that credits The Digital Story for any purchases made from B&H Photo and Amazon via that click-through. Depending on the purchase, we may receive some financial compensation.
And finally, be sure to visit our friends at Red River Paper for all of your inkjet supply needs.
See you next week!
Product Links and Comments
There are product links in this article that contain affiliate tags. In some cases, depending on the product, The Digital Story may receive compensation if you purchase a product via one of those links. There is no additional cost to you.
You can share your thoughts at the TDS Facebook page, where I'll post this story for discussion.