This is The Digital Story Podcast #765, Nov. 17, 2020. Today's theme is "Canon EOS RP - The Affordable Full Frame Mirrorless." I'm Derrick Story.
Opening Monologue
At only $1,300 with a kit 24-105mm zoom lens, the Canon RP packs a lot of full frame value into a likable compact design. After spending a month with the RP, I'm ready to share my both my likes and disappointments with this breakthrough camera.
Canon EOS RP - The Affordable Full Frame Mirrorless
If you didn't already know and were asked to guess the price of the Canon RP with its 24-105mm zoom, I'm pretty sure that you would say it costs more than $1,299. I would. You get a lot of spec for that humble price tag. Let's take a look at some of the highlights.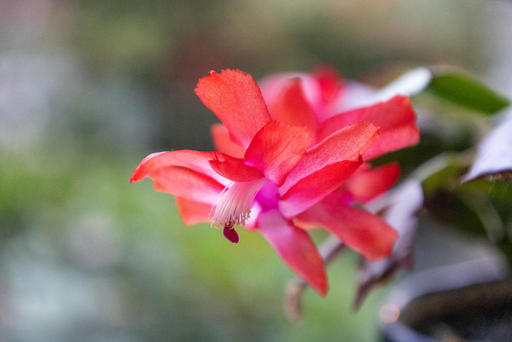 Christmas Cactus - Canon RP, 24-105mm zoom, ISO 8000, f/7.1, 105mm - Photo by Derrick Story.
Features Overview
26.2MP Full-Frame CMOS Sensor with DIGIC 8 Image Processor - The EOS RP has a wide native sensitivity range from ISO 100-40000 for working in a variety of lighting conditions. (6240 x 4160 resolution)

Integrated 2.36m-dot OLED EVF and Rear 3.0" 1.04m-dot LCD with vari-angle design - It is also a touchscreen for intuitive control over shooting, playback, and menu navigation controls.

UHD 4K Video Recording - UHD 4K (3840 x 2160) resolution recording at up to 23.98 fps at 120 Mb/s, along with Full HD 1080p and HD 720p at 60 fps for slow motion playback. When recording in-camera, 4K video has 4:2:0 sampling and 8-bit color depth, and 4:2:2 8-bit output is possible when using an external recorder.

Recording Extras - Audio can be recorded using the on-board stereo microphone or an optional external mic can also be used via the 3.5mm mic jack. Headphone jack is also included. Plus, 5-axis Dual Sensing IS can be used when recording video to electronically reduce the appearance of camera shake for sharper, smoother recording.

Dual Pixel CMOS AF - Offers smooth and fast focusing performance in a similar manner to how a camcorder acquires focus. This system integrates two separate photodiodes within each pixel to provide a broad and dense network phase-detection gathering elements across a majority of the image sensor to reduce focus hunting for faster, more direct control of focus placement.
Compromises
But there are compromises as well. The digital, 5-axis image stabilization is for video only. If you want IS for still photography, you'll need a lens with optical stabilization.
This is not a customizable camera either. There's one function button with limited options. Some of the controls that we take for granted on other mirrorless cameras, such as exposure compensation aren't as easy on the RP.
One SD card, which I expected. But it's on the bottom of the camera in the battery compartment. It is however, a UHS-II slot.
And finally, there's not pop-up flash, which is something that I always like on consumer/enthusiast models. So you're going to have to purchase and carry a flash if you want that capability.
Image Quality
I was very pleased with the Jpegs that the camera produced. The colors were pleasing and the detail was sharp. Comparing the Jpegs to the RAWs I noticed that Canon does a nice job of applying optical corrections as well, including distortion and vignetting at the 24mm focal length of the lens.
The RAWs were nicely workable and looked good after applying Lens Corrections in Adobe Lightroom. After just a little work, I did prefer the RAW versions. But that's no knock on the excellent Jpegs.
The RF 24mm-105mm f/4-7.1 IS STM Zoom
I'm of two minds when it comes to this lens. On one hand, it's a great value for a Canon IS zoom. The image quality is quite good and the optical IS is solid.
But it's also bulky and very slow at the telephoto end. If I were to buy this camera, I would get the kit with the lens as well because it is versatile and affordable.
As soon as I was able however, I would also spend the dollars to get the RF 50mm f/1.8 STM lens for $199 or the RF 35mm f/1.8 IS macro STM lens for $499. Either would provide a more compact, faster option for those times I don't want to lug the 24mm-105mm around.
Bottom Line
The Canon RP with its 24-105mm zoom is a great value at $1,299. The image quality is excellent, even at high ISO settings. It's light and adds great movie options as well.
As long as you can live with its constraints such as 5 fps frame bursts and limited customization, it's a solid choice into full frame photography and puts you in a system with lots of room to grow.
Google Photos will end its free unlimited storage on June 1st, 2021
You can read the entire article here on The Verge.
After five years of offering unlimited free photo backups at "high quality," Google Photos will start charging for storage once more than 15 gigs on the account have been used. The change will happen on June 1st, 2021, and it comes with other Google Drive policy changes like counting Google Workspace documents and spreadsheets against the same cap. Google is also introducing a new policy of deleting data from inactive accounts that haven't been logged in to for at least two years.
All photos and documents uploaded before June 1st will not count against that 15GB cap, so you have plenty of time to decide whether to continue using Google Photos or switching to another cloud storage provider for your photos. Only photos uploaded after June 1st will begin counting against the cap.
Google already counts "original quality" photo uploads against a storage cap in Google Photos. However, taking away unlimited backup for "high quality" photos and video (which are automatically compressed for more efficient storage) also takes away one of the service's biggest selling points. It was the photo service where you just didn't have to worry about how much storage you had.
Google points out that it offers more free storage than others -- you get 15GB instead of the paltry 5GB that Apple's iCloud gives you -- and it also claims that 80 percent of Google Photos users won't hit that 15GB cap for at least three years.
The New Donation Kit for Carefree Shipping of Found Film Cameras
We have more time around the house than ever. And you finally dove into that bedroom closet that's been begging for some organization.
If you found a film camera that you're no longer using, our new Donation Kit makes it easy to pack and ship. Just visit the Contact Form on thenimblephotographer.com, click the box next to Donating a Film Camera, and let me know what you have. In your note, be sure to include your shipping address.
If it's a camera we can use for the shop, I'll send you a Donation Kit that includes a USPS Priority Mail shipping box and prepaid label. All you have to do is tape it up, insert the camera, and add the label. USPS will pick up your shipment from the front door of your house during their regular mail delivery. It's that simple!
Your donation help get analog gear in the hands of aspiring fine art photographers, and the proceeds help support this podcast.
Updates and Such
The Ultimate B&W Photography Workshop Now Has a Second Session
The first session sold out in two days. So I've added a second session of the The Ultimate B&W Photography Workshop begins with its first assignment and check-in on Dec. 22 and builds to our class presentation on Saturday Jan. 16, 2021. We currently have 2 seats open for the second session.
I've created a new space called DerrickStoryOnline to support our virtual and physical workshops. Those who signed up for the Eastern Sierra event will have permanent access to this growing community.
Inner Circle Members: A big thanks to those who support our podcast and our efforts!
Affiliate Links - The links to some products in this podcast contain an affiliate code that credits The Digital Story for any purchases made from B&H Photo and Amazon via that click-through. Depending on the purchase, we may receive some financial compensation.
And finally, be sure to visit our friends at Red River Paper for all of your inkjet supply needs.
See you next week!
Product Links and Comments
There are product links in this article that contain affiliate tags. In some cases, depending on the product, The Digital Story may receive compensation if you purchase a product via one of those links. There is no additional cost to you.
You can share your thoughts at the TDS Facebook page, where I'll post this story for discussion.