The OWC USB-C Travel Dock is a handy accessory for laptop-toting creatives and well-suited for desktop use as well.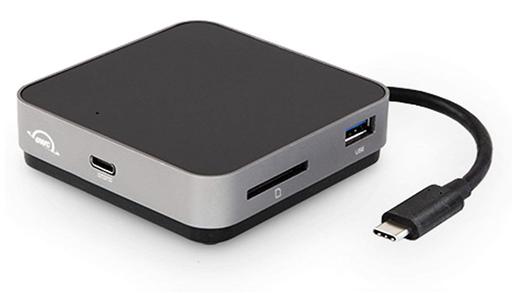 With its tuck-away USB-C cable, it adds two USB 3.1 Gen 1 (Standard-A) ports, USB-C auxiliary power port (up to 100W), SD card reader (UHS-II), HDMI 2.0 port - all in a brick-sized form factor that's about the size of of a MacBook power adapter. It also includes a nifty piece of software (downloadable) called the Dock Ejector (Mac/Windows) that enables you to eject all connected drives at once.
This feature would be particularly handy in a shared work environment when you want to move the Travel Dock from one computer to another with active multiple drives. Just eject the dock, unplug it with drives still attached, then move it to the next computer. Everything pops up on the new screen. Very convenient!
If you have a shortage of USB-C ports on your computer/tablet, you can use the 100W power pass through port. It allows you to use the Travel Dock and power your computer through the same USB-C port. You may also want to add power to the dock if you're connecting USB devices that draw a lot of juice.
For Flash drives and SD cards, I had no problem using the power from the computer's port. But for more demanding devices, you also have the option of using the power pass through port for more juice.
Having 4K HDMI (4096 x 2160 at 30Hz, Up to 24-bit color depth) is also convenient, especially considering you only have to use one port for HDMI and power. This could be a big deal during long presentations.
The SD card reader is fast and is compatible with speedy UHS-II cards enabling maximum transfer speeds. I also played 4K movies directly from a UHS-II SD card without any issue.
Pros
Tuck-away USB-C cable insures that you're always ready to connect.
Fast SD card reader is a plus for serious photographers.
Included Dock Ejector software works great and is quite handy.
Pass through power saves ports.
Solid construction and attractive design.
Cons
Is a bit heavy and bulky for a travel dock.
At $54.99, it's a true investment.
Would be nice to have a USB-C port for drives as well.
Bottom Line
The OWC USB-C Travel Dock ($54.99) is a rugged, well-designed accessory that provides both convenience (built-in cord and ejector software) with good specification (4K HDMI and UHS-II SD card reader).
It's not the slimmest kid on the block, nor the least expensive. But it performs well and should last for years.
Product Links and Comments
There are product links in this article that contain affiliate tags. In some cases, depending on the product, The Digital Story may receive compensation if you purchase a product via one of those links. There is no additional cost to you.
You can share your thoughts at the TDS Facebook page, where I'll post this story for discussion.