When I'm out exploring urban settings at night with my Fujifilm X100V, I often encounter mixed lighting situations. Because different types of bulbs are used, they are hard to tame with a single white balance adjustment.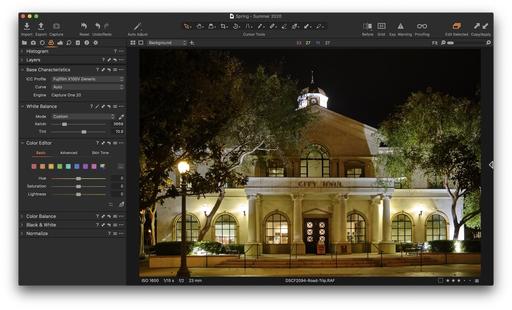 I applied a White Balance adjustment to this image, but still wasn't happy with the overall color.
In Capture One Pro 20, my next step is to look at the color curve options. I like these because they address the overall appearance of the photograph so the look hangs together as much as possible. One of my favorites for this type of challenge is the Classic Chrome curve available for Fujifilm cameras. (Depending on your camera, the available options will be different in this menu.)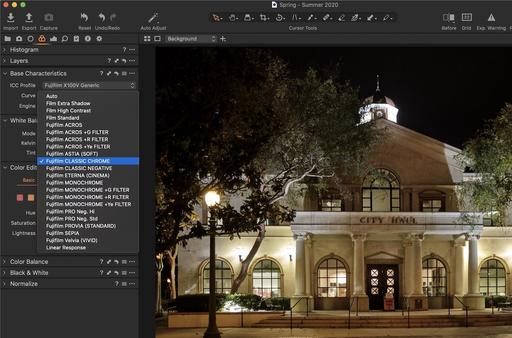 Applying the Classic Chrome curve helped substantially. Getting better!
I still wanted to tone down that odd yellowish color a bit more. So I went to the Color Editor panel, enabled the Color Picker, and selected that yellow. I decreased the saturation and increased the lightness for that hue.
The Color Editor helped me tone down and brighten up that yellowish hue.
All of these corrections only take a minute or two, but they make a world of difference.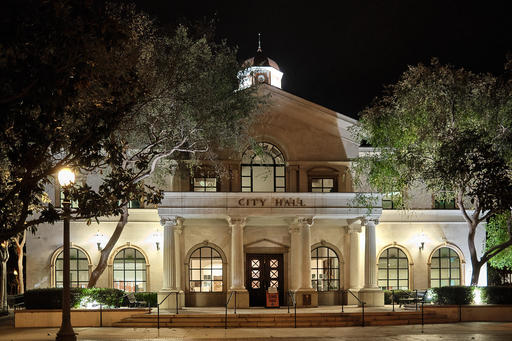 Finished image: Fujifilm X100V, ISO 1600, 1/15th, f/2.0, RAW. Photo by Derrick Story.
Learn Capture One Pro 20 Quickly
If you're new to Capture One Pro, you may want to check out my latest online class, Capture One Pro 20 Essential Training on LinkedIn Learning, or, if you're a lynda.com subscriber, you can watch it there as well. It will get you up and running in no time at all.
If you don't have Capture One Pro yet, you can download the 30-day free trial (Mac/Win). No credit card is required, and it's a fully functioning version.
There are product links in this article that contain affiliate tags. In some cases, depending on the product, The Digital Story may receive compensation if you purchase a product via one of those links. There is no additional cost to you.
You can share your thoughts at the TDS Facebook page, where I'll post this story for discussion.