This is The Digital Story Podcast #768, Dec. 8, 2020. Today's theme is "Document What You Do." I'm Derrick Story.
Opening Monologue
One of the best ways to put our photography skills to work is for documenting projects. Home improvement, car restoration, or simply cleaning out the garage are great examples of this endeavor. Today I'm going to discuss my documentation of a 1976 Lafayette LR-2200 stereo receiver that I restored. It was a terrific project, and I have the images to prove it. I hope you enjoy the show.
Document What You Do
I became interested in Lafayette Radio Electronics when I saw a few of their stereo receivers for sale on eBay. I was initially attracted to their design, but as I read up on them, many liked their warm sound as well.
Lafayette Electronics had retail stores, mostly in the New York/New Jersey area, but they were more widely known for their mail order catalog business. Their primary customer base was enthusiast radio operators and electronics hobbyists.
Their business began in 1931 and over the years their major competitors were Radio Shack and Heath Kit. In the 60s and 70s you would see Lafayette ads in Popular Electronics and Stereo Review, among other publications.
You could find just about anything you wanted, electronics-wise, in their 400 page catalog. I have a couple of them, and they are amazing. The pages were filled with tape recorders, microphones, stereo systems, CB radios and lots more.
The LR-2200 that I purchased sold for $299 with walnut-finished wood case. It featured 27 watts per channel, dual tuning meters, source selector switch for Phono, FM, FM Mute, MPX FIL. AM and Aux. And then advanced features such as low-noise transistors and phase-lock loop stereo FM circuit for improved separation and low distortion. Plus, it looked great.
I found a working unit on eBay for $45. One channel was working, which I guessed was just a fuse problem. It needed love. But by looking at the pictures, I figured that I could restore it to its once handsome self.
The receiver arrived in a large Huggies diapers box that was split on two sides with styrofoam popcorn leaking out. When I saw it in this disheveled state, my guess was that the driver could not get this mess off his truck fast enough.
After I unpacked it and discarded the shipping materials, I examined the stereo itself. Banged and battered, there was still hope. I was right about it needing a new fuse. It lit up! It was time to breath life in this old boy.
I pulled out my Fujifilm X100V and decided to document this project. It really doesn't add to much time to the work, and it is so worth it in the end.
Whether you're cleaning your garage or remodeling the kitchen, one of the best parts is being able to stand back and admire your work once it's finished. But a close second is being able to see the steps that got you there. And that's what documenting is about.
Here are five tips to keep in mind for your next project.
Work Area Aesthetics - In addition to the job itself, consider the work area lighting, backgrounds, etc. I have a white counter next to a north-facing window that's perfect for documenting the work on my projects.

Make Each Shot Interesting - This is where our skills as photographers come to play. We don't want to just record history here. We want to do so artistically making each image as interesting as possible.

Use Your Electronic Levels - They are very helpful for keeping things squared up and will save you time in post.

Pay Particular Attention to the Hero Shots at the End - The steps along the way are indeed chapters of your story. But the ending is the real payoff. So make extra time for the finished shots.

Watch Out for Geotagging with Smartphones - If you're going to share your images online, make sure that no location data is included. You probably don't want strangers knowing where your nice clean garage is located with all those expensive tools.
Lafayette ran into major financial difficulty when the Federal Communications Commission expanded a new citizens band radio spectrum to 40 channels in 1977. Lafayette's buyers had firm commitments to accept delivery of thousands of older design units capable of only 23 channels, and were not able to liquidate the inventory without taking a serious loss. Eventually, all of the old CB radios were sold for under $40
In 1981, Lafayette Radio entered Chapter 11 bankruptcy. Several Lafayette stores were purchased by Circuit City of Richmond, Virginia. Of the 150 stores that Lafayette had once owned, eight stores remained when Circuit City took over.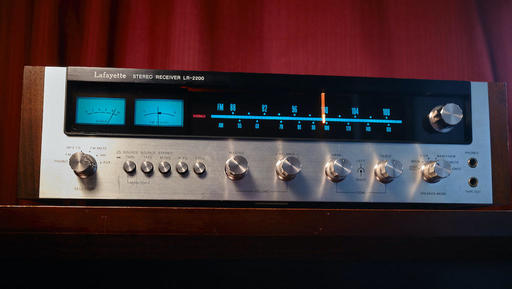 With my restored LR-2200 stereo receiver, I have a little bit of Lafayette history. I love the way the tuner and meters light up. It sounds fantastic. This was a good project.
The Essential Steps to Impressive Video Conferencing
If you want to learn more about looking and sounding great for your next online interaction, then I think you'll very much enjoy my online workshop, The Essential Steps to Impressive Video Conferencing.
This 1-hour deep dive focuses on the three major areas of successful online interaction: Audio, Video, and Environment. During the course, I walk you through a variety of techniques that range from using gear that you already have, to improving your chops through a few inexpensive purchases.
The course is available on our Nimble Photographer Workshop Page for $14.95.
I have tons of great tips and techniques waiting for you there. If you want to get serious about how you appear during online meetings, classes, interviews, and family interactions, then you definitely will want to watch this course.
How to Capture Excellent Landscape Images Despite Bright, Clear Skies
You can read the entire article here on Petapixel.
Successful landscape photographers usually mix interesting skies and compelling foregrounds. But what if the sky is totally clear and the sun is harsh and unflattering? In this 13-minute video, Michael Shainblum shows how he makes the best of this kind of situation.
There are few more deflating feelings for a landscape photographer than arriving at what is normally a great photo location only to be met with completely clear skies. In Shainblum's case, not only were there no clouds but also a pervasive wind that prevented him from even flying his drone. Rather than just call it a skunked day, he explains how he made the most of the situation by focusing on detail-oriented images made with a telephoto lens.
Shainblum shows how he finds natural formations that draw his eye based on the textures and available lighting. While the idea of photographing rocks isn't particularly glamorous, what Shainblum manages to make out of what would normally be seen as a boring, bad photography situation is impressive.
Updates and Such
Inner Circle Members: A big thanks to those who support our podcast and our efforts!
Affiliate Links - The links to some products in this podcast contain an affiliate code that credits The Digital Story for any purchases made from B&H Photo and Amazon via that click-through. Depending on the purchase, we may receive some financial compensation.
And finally, be sure to visit our friends at Red River Paper for all of your inkjet supply needs.
See you next week!
Product Links and Comments
There are product links in this article that contain affiliate tags. In some cases, depending on the product, The Digital Story may receive compensation if you purchase a product via one of those links. There is no additional cost to you.
You can share your thoughts at the TDS Facebook page, where I'll post this story for discussion.