This is The Digital Story Podcast #771, Dec. 29, 2020. Today's theme is "Speed Editing in Capture One Pro 21." I'm Derrick Story.
Opening Monologue
When I first looked at the description for Speed Edit in Capture One Pro 21, I thought, "Meh, looks OK. Nothing fancy, no AI, just an interface tweak." Boy, was I wrong. After my first 10 minutes of practice, I'm relabeling Speed Edit as truly clever and useful. I'll explain why on today's TDS Photography Podcast.
Speed Editing in Capture One Pro 21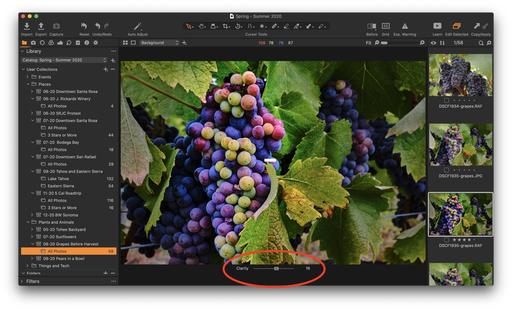 There are a number of other improvements in C1P 21, such as Dehaze, but I want to start with Speed Edit because it is the most impactful.
What Capture One has done is establish single-press keystrokes for primary adjustments that we most commonly use. What's clever about the approach is that a mini adjustment slider appears at the bottom of the picture that you and move via the mouse, trackpad, or arrow keys. And you don't have to have any of the editing tabs open to use this.
There are 14 edits that you can access via this method. They include: Exposure, Brightness, Contrast, Saturation, Highlight, Shadow, Black White, Kelvin, Tint, Clarity, RGB Highlight, RGB Shadow, and RGB Midtone. The control keys are on the left side of the keyboard, leaving your right hand free to mouse or use the arrow keys.
And yes, you can edit more quickly using this method.
Other notable features in this release include:
Dehaze - Eliminate haze and reduce flatness in your images - all in one slider. The powerful new Dehaze tool automatically adjusts contrast, saturation and other elements in flat photos.

HEIC - With support for HEIC files (8-bit), you can now edit photos from your Apple devices and more in Capture One.

Learn Button - It's never been easier to master Capture One. With the new "Learn" button, you'll quickly access a curated selection of tutorials designed to help you learn step-by-step. Plus, enable "Tool Tips" and hover over a tool for a quick explanation of how it works.

Faster Asset Management - It's now faster than ever to search and browse photos in Catalogs and Sessions. And with new high-resolution thumbnails, it's also easier to select and cull images before you even import. Plus, you can now import photos from different folders at once.

Solid Apple ProRAW Support - I edited ProRAW files from an iPhone 12 Pro Max, and they looked fantastic in C1P 21.
Upgrading
Most users can upgrade from C1P 20 for $159 for perpetual license or for $126 annual subscription.
Annual Inner Circle Memberships Now Available
I now have an option with Patreon to offer a full year membership to the Inner Circle. Plus, you will save 10 percent! So if you've been holding off joining us because you don't want monthly charges on your card, just select the new option on the Inner Circle Signup Page.
This Free App Lists Recipes for Over 100 Fujifilm Film Simulations
You can read the article here on Petapixel.com
The creator of the Fuji X Weekly blog has published his giant library of film simulation recipes to an easy-to-use app. The Fuji X Weekly app has over 100 recipes and more will be added regularly.
Fuji X Weekly is a blog created by photographer Ritchie Roesch who has been publishing a multitude of film simulation recipes to his blog for some time, categorized by which are compatible with specific Fujifilm sensors. The Fuji X Weekly app is a mobile library of those and other film simulation recipes that can be easily used in the field.
The app itself is free and immediately gives you access to a large list of recipes to try out. The recipes are designed to be leveraged using the custom preset option found in most Fujifilm cameras. While some cameras only allow for one custom preset at a time, some do allow for multiple. The app is designed to make it easier to find and save presets that you like and make it easier to adjust them in the field, which is especially helpful if your Fujifilm camera severely limits the number of presets you can save at a time.
New Workshop! Integrating iPhone into a Pro Photography Workflow
We have 2 seats left!
There's been a lot of discussion about how contemporary iPhones will replace digital cameras. But in practice, they are better for augmenting your image capabilities rather than serving as your sole capture device. And now with Apple ProRAW and iPhone 12 Pro, this becomes more true than ever.
This workshop is designed to help you best integrate your modern iPhone into a professional photography workflow. Because of its compact size and powerful features, it can replace many bulky accessories that we were once required to carry along.
In this workshop you will explore:
Working with just one digital camera and an iPhone.
Taking advantage of a versatile fast prime lens on your digital camera and using iPhone for additional focal lengths.
Perfecting a RAW workflow with the iPhone.
Leveraging Apple ProRAW for those who have iPhone 12 Pro.
Building a kit that allows you to travel lighter without compromising capability.
Post processing tips and techniques using Photos on Mac, iPad, and iPhone.
Investigating other software and workflows to augment your imaging prowess.
Photo assignments and weekly check-ins begin in early February 2021, with the grand finale final day on Feb. 27, 2021.
As part of this workshop you will have access to Derrick Story Online, our virtual headquarters where we compare notes, share pictures, and learn new techniques.
I'll hope you'll join me for this exciting event. Only 10 seats available. First come, first served.
You can register now for $135. Patreon members receive a $15 discount for this event.
Recommended Hardware for this workshop: iPhone X or newer. Mac running macOS Catalina or Big Sur.
Updates and Such
Inner Circle Members: A big thanks to those who support our podcast and our efforts!
Affiliate Links - The links to some products in this podcast contain an affiliate code that credits The Digital Story for any purchases made from B&H Photo and Amazon via that click-through. Depending on the purchase, we may receive some financial compensation.
And finally, be sure to visit our friends at Red River Paper for all of your inkjet supply needs.
See you next week!
Product Links and Comments
There are product links in this article that contain affiliate tags. In some cases, depending on the product, The Digital Story may receive compensation if you purchase a product via one of those links. There is no additional cost to you.
You can share your thoughts at the TDS Facebook page, where I'll post this story for discussion.