Video conference calls have replaced many of our in-person meetings. This course is designed to help you improve your appearance and audio online to interact as effectively as possible.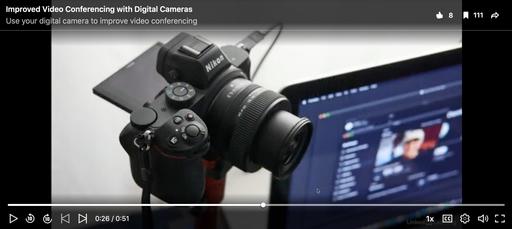 Watch: Use your digital camera to improve video conferencing from Improved Video Conferencing with Digital Cameras by Derrick Story
In this course, available on both lynda.com and on LinkedIn Learning, I will show you features to look for in selecting the right camera and lens, then explain how to adjust the aperture setting, lighting, and color to look your best.
Audio is just as important as video for conference calls. I'll step you through how to select the right mic for your needs and show how earbuds with mics and AirPods can be reasonable alternatives to USB mics. Also, it's important to create a background that isn't distracting and will help others focus on you and what you are saying.
The online training is organized by bite-sized movies that explain an individual topic. So you can watch them in sequence, or jump to the areas that you're most interested in. And in just a short time, you will be looking and sounding great online!
You can share your thoughts at the TDS Facebook page, where I'll post this story for discussion.