This is The Digital Story Podcast #779, Feb. 23, 2021. Today's theme is "Exploring the World of Electric Vehicles and Photography" I'm Derrick Story.
Opening Monologue
Going back to our roots in nimble photography, the thinking has always been, "travel lightly and take only pictures." Now, as we begin to think about post-pandemic exploration, the world of electric vehicles has become very interesting. And combining emissions-free travel with nimble photography feels like a match made in heaven. I hope you enjoy the show.
Exploring the World of Electric Vehicles and Photography
Like many of the lightening bolts that have struck me, this concept is the result of ideas and situations. Today I'm going to explain how this all came about, and where it's going from here.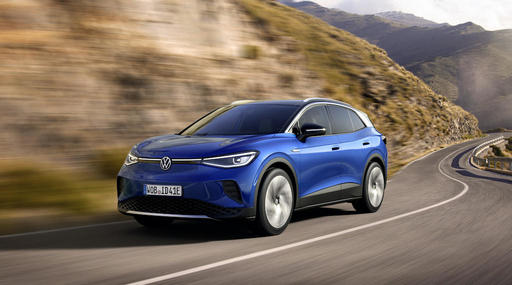 I've been interested in EV for some time. Many of you know that I'm on the notification list for the Volkswagen Buzz, their reimagined bus that's all electric.
My thinking has been that I'm going to sell my 1990 VW Vanagon to help with the down payment for the Buzz. However, due to the pandemic, VW has slowed their plans for the bus and decided to move forward with a new SUV/Crossover body design called the ID.4.
They notified me about the reservation system that was in place for the ID.4. I really liked what I saw, and have since begun the process of buying one. I should have it this year.
Next came the notion of what I'm going to do once we emerge from the pandemic. Yes, I will fly when necessary, but I'm thinking more of road tripping for my photography adventures. I've been fine-tuning my self-contained travel approach on road trips to visit my mom in Southern California. I've discovered that I can travel without interaction or physical contact with other people. I just need a bigger car than my Audi A3.
About this time, the movie Nomadland was released starring Frances McDormand. The film takes us inside the lives of those who choose to live in their tricked out vans and RVs. Even though I don't want this for my everyday life, I am interested in approach for my photography adventures.
And finally, I feel like I need to take the next step toward helping this planet survive. My brother-in-law is about to embark on a home solar project that I'm going to shadow to absorb as much knowledge as possible. If I could install a smaller version of his project for charging the EV, then my transportation would be totally green.
This brings us to a new group that I've opened up at DerrickStoryOnline titled EV Explorers. The tagline for this group is: "Bringing Curiosity and Nimbleosity to the World of Electric Vehicle Transportation." Here we can share information, tips, discoveries and more about using electric vehicles for our photography adventures.
If you want to join this group, click on this link for an invite. We're going to keep this as a private group for now, but you are invited to join us.
I'll be sharing my story of going through the process of buying the VW ID.4. We're also going to talk about travel tips with EVs, and the different models available in 2021 including Tesslas, the Ford Mustang Mach, the Bolt EUV, and emerging car manufacturers as well.
As the group and our knowledge grows, we'll see where this takes us. I'm sure we'll have meetups and workshops that focus both on EV travel and photography. I have secured the domain EVexplorer.com if a dedicated website seems appropriate. Really, there is no limit to this.
The bottom line is that we've been a part of the photography revolution that has moved us to smartphones and mirrorless cameras. Now it's time for the automobile revolution to get us where we want to go without killing the very planet we want to enjoy.
If this sounds appealing to you, then join us at EV Explorers.
Second Session of Integrating iPhone into a Pro Photography Workflow Online Workshop - April 21 to May 15, 2021
The first session of "Integrating iPhone into a Pro Photography Workflow" Online Workshop has sold out. But now I've posted a second session that begins April 21, 2021.
If you're interested in attending, just go to catalog page.
In this workshop you will explore:
Working with just one digital camera and an iPhone.
Taking advantage of a versatile fast prime lens on your digital camera and using iPhone for additional focal lengths.
Perfecting a RAW workflow with the iPhone.
Leveraging Apple ProRAW for those who have iPhone 12 Pro.
Building a kit that allows you to travel lighter without compromising capability.
Post processing tips and techniques using Photos on Mac, iPad, and iPhone.
Investigating other software and workflows to augment your imaging prowess.
You can sign up by visiting the workshop catalog page.
Huawei announces foldable Mate X2 smartphone with Leica-branded cameras
You can read the entire article on Petapixel.
The Huawei Mate X2 is co-engineered with Leica, building upon an existing relationship between the two companies. The rear of the device features a Leica-branded camera array. The smartphone includes a 50MP Ultra Vision Camera, RYYB telephoto, 100x digital zoom, and a 2.5cm macro lens. The Ultra Vision camera is wide-angle, includes optical image stabilization, and has a maximum aperture of F1.9. The 16MP Cine Camera (ultra-wide angle) has an F2.4 aperture and includes OIS. The 3x camera has a 12MP sensor, an F2.4 aperture, and OIS. The 10x optical zoom camera, dubbed SuperZoom, has an F4.4 aperture, OIS, and additional support autofocus.
In terms of additional features, there is 100x digital zoom and hybrid zoom. Autofocus is phase focus and contrast focus. The camera includes numerous photography modes, such as Night, Macro, Portrait, Pro, Slow-Mo, Panorama, Light painting, HDR, and much more. The Mate X2 records 4K UHD video. The device can also record Full HD video at up to 960 frames per second.
The Huawei Mate X2 will go on sale in China later this week. The 256GB model will cost 17,999 yuan (which is just under $2,800 USD). The 512GB version will cost 18,999 yuan (around $2,950). The Mate X2 will be available in black, white, blue and pink color options. There's no word yet on availability outside of China. To learn more about the Mate X2, visit Huawei.
The New Donation Kit for Carefree Shipping of Found Film Cameras
We have more time around the house than ever. And you finally dove into that bedroom closet that's been begging for some organization.
If you found a film camera that you're no longer using, our new Donation Kit makes it easy to pack and ship. Just visit the Contact Form on thenimblephotographer.com, click the box next to Donating a Film Camera, and let me know what you have. In your note, be sure to include your shipping address.
If it's a camera we can use for the shop, I'll send you a Donation Kit that includes a USPS Priority Mail shipping box and prepaid label. All you have to do is tape it up, insert the camera, and add the label. USPS will pick up your shipment from the front door of your house during their regular mail delivery. It's that simple!
Your donation help get analog gear in the hands of aspiring fine art photographers, and the proceeds help support this podcast.
Virtual Camera Club News
Inner Circle Members: A big thanks to those who support our podcast and our efforts!
Affiliate Links - The links to some products in this podcast contain an affiliate code that credits The Digital Story for any purchases made from B&H Photo and Amazon via that click-through. Depending on the purchase, we may receive some financial compensation.
And finally, be sure to visit our friends at Red River Paper for all of your inkjet supply needs.
See you next week!
Product Links and Comments
There are product links in this article that contain affiliate tags. In some cases, depending on the product, The Digital Story may receive compensation if you purchase a product via one of those links. There is no additional cost to you.
You can share your thoughts at the TDS Facebook page, where I'll post this story for discussion.