This is The Digital Story Podcast #782, March 16, 2021. Today's theme is "Do I Really Need All Those Photo Subscriptions?" I'm Derrick Story.
Opening Monologue
A reminder for my upcoming SmugMug subscription renewal arrived yesterday saying that I could lock-in the low rate of $85 if I pay for an entire year. Since the pandemic, I haven't used SmugMug once because I'm not doing client shoots. And it got me thinking about the rest of my annual charges. I think it's time to take stock of all my photo sharing subscriptions. And that's the focus of today's TDS Photography Podcast. I hope you enjoy the show.
Tune-In Via Your Favorite Podcast App!

---

Apple Podcasts -- Spotify Podcasts -- Stitcher

Podbean Podcasts -- Podbay FM -- Tune In
Do I Really Need All Those Photo Subscriptions?
I think part of what I had to deal with concerning this project was acknowledging that I'm not the same photographer I was at the beginning of 2020. Most of my assignments are created by me for my blog posts, LinkedIn Learning trainings, Medium articles, and workshops.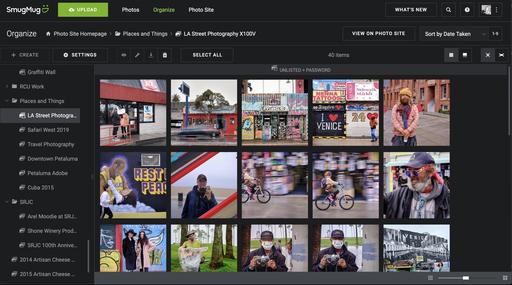 I really don't need models anymore because I still can't interact with them, and I don't need sites to manage online galleries for those models and clients. Things have really changed. And the SmugMug renewal notice brought all of this home.
So here's what I've been working on. The subscriptions I've decided to discontinue, I've been downloading all of my content off them in preparation to end the service. I had to start this ahead of time to allow the days required to ensure I got everything.
Looking back over the last 10 years of work, I was amazed at how much content I had online. With SmugMug, for example, it was gallery after gallery that I downloaded. But I did so one at a time so I could organize the work on my backup hard drive. I just chip away at it while working on other projects.
So, what did I keep, and what did I let go? Let's take a look.
SmugMug - Let Go $85 a year - I really like SmugMug, and it was my go-to service for client password-protected galleries. Their organization, features list, and rendering are terrific. But I just don't do that work anymore, and it doesn't make sense to pay them $85 a year to archive that content. I've moved it all offline on to my backup hard drives.

Flicker Pro - Keep $59 a year - Fortunately, SmugMug bought Flickr, so they still get some of my money. I'm keeping Flickr because it's cheaper, more versatile, and I have a deeper history of images there. Plus, we have the TDS Online Community on Flickr that I love, and draw images from for the TDS Member Photo of the Day. Flickr stays. (You might want to check out The Digital Story Public Group on Flickr where we have more than 80,000 images by TDS members. It's great!)

Adobe Photography Plan (20GB) - Keep $9.99 a month - I like Lightroom and love having access to the latest Adobe photography features with this plan. I don't keep it for the storage, rather for the apps. And I appreciate them keeping the price stable over the years.

Model Mayhem - Let Go $35 every 6 months - I have met many terrific people via Model Mayhem and hundreds of wonderful photographs have resulted. But again, my life is different now. I ended my subscription.

Dropbox Plus 2TB - Keep $119 a year - Even though Dropbox is more than a photography plan, I use it mainly for that. And because of its versatility and popularity, it has keep its relevance even in this new chapter of my career. My online clients use it, and I need it as much as ever.

iCloud 2TB - Keep $9.99 a month - If I had to keep just one cloud storage service, it would be iCloud. Since I'm in the Apple ecosystem, this services manages all the work I do on my Mac, including my photos. I wish they had a level in-between 200 GB (which isn't enough) and 2 TB (which gives me lots of head room). Regardless, it's a keeper for me.
So, I've managed to trip 1/3 of my services in 2021. I'll review everything again in 2022 and go from there. Who knows what my world will be like by then?
The Vanagon is Gone!
I know this is a story near and dear to many hearts in our community, but I've sold the Vanagon that I used for workshops over the years, a vehicle filled with 20 years of fond memories.
I've been working on it since that one miserable hot summer day a few years back when I had to have it towed from SF to Santa Rosa. I had feared that she died that day. But like a Phoenix from the ashes, she came back to full functionality. Of course, this included hours of my sweat equity combined with a few trips to Hans in Sebastopol.
And on the day that I handed over the pink slip to a young German pre-med student and his girlfriend, she was running like a top. I honestly had a lump in my throat watching her drive away.
Fortunately, Vanagons retain an excellent resale value on the used market, and the cash payment for my 1990 will be a sizable part of the downpayment for my new all-electric VW ID.4 5 passenger SUV.
This begins a new chapter in my road trip adventures. I'll be using the ID.4 for upcoming workshops and my ongoing exploration of the world.
I placed my reservation back in February, and was able to place the order just last week. So the new car is currently being built, and I should be behind the wheel by late April. I'll keep you posted!
Adobe Photoshop's 'Super Resolution' Made My Jaw Hit the Floor
You can read the entire article on Petapixel.
Adobe just dropped its latest software updates via the Creative Cloud and among those updates is a new feature in Adobe Camera Raw (ACR) called "Super Resolution." You can mark this day down as a major shift in the photo industry.
I have seen a bit of reporting out there on this topic from the likes of PetaPixel and Fstoppers, but other than that the ramifications of this new feature in ACR have not been widely promoted from what I can see. The new Super Resolution feature in ACR essentially upsizes the image by a factor of four using machine learning, i.e. Artificial Intelligence (AI).
What does this mean practically? Well, I immediately tested this out and was pretty shocked by the results. Though it might be hard to make out in the screenshot below, I took the surfing image shown below, which was captured a decade ago with a Nikon D700 -- a 12MP camera -- and ran the Super Resolution tool on it and the end result is a 48.2MP image that looks to be every bit as sharp (if not sharper) than the original image file. This means that I can now print that old 12MP image at significantly larger sizes than I ever could before.
What this also means is that anyone with a lower resolution camera, i.e. the current crop of 24MP cameras, can now output huge image files for prints or any other usage that requires a higher resolution image file. In the three or four images I have run through this new feature in Photoshop I have found the results to be astoundingly good.
The New Donation Kit for Carefree Shipping of Found Film Cameras
We have more time around the house than ever. And you finally dove into that bedroom closet that's been begging for some organization.
If you found a film camera that you're no longer using, our new Donation Kit makes it easy to pack and ship. Just visit the Contact Form on thenimblephotographer.com, click the box next to Donating a Film Camera, and let me know what you have. In your note, be sure to include your shipping address.
If it's a camera we can use for the shop, I'll send you a Donation Kit that includes a USPS Priority Mail shipping box and prepaid label. All you have to do is tape it up, insert the camera, and add the label. USPS will pick up your shipment from the front door of your house during their regular mail delivery. It's that simple!
Your donation help get analog gear in the hands of aspiring fine art photographers, and the proceeds help support this podcast.
Virtual Camera Club News
Inner Circle Members: A big thanks to those who support our podcast and our efforts!
Second Session of Integrating iPhone into a Pro Photography Workflow Online Workshop - April 21 to May 15, 2021: The first session of "Integrating iPhone into a Pro Photography Workflow" Online Workshop has sold out. But now I've posted a second session that begins April 21, 2021. If you're interested in attending, just go to catalog page.
My Writing on Medium.com: I now have more than 25 published articles on Medium.com. And if you haven't visited the site, and enjoy good writing on a variety of topics, I suggest that you may want to take a look. You can just go to the home page and enter "Derrick Story" in the search field. And if you like what you read, then follow me!
EV Explorers for Those Who Are Interested in Electric Cars: I've created a new group on DerrickStoryOnline titled EV Explorers. The tagline for this group is: "Bringing Curiosity and Nimbleosity to the World of Electric Vehicle Transportation." Here we can share information, tips, discoveries and more about using electric vehicles for our photography adventures. If you want to join this group, click on this link for an invite. We're going to keep this as a private group for now, but you are invited to join us.
Affiliate Links - The links to some products in this podcast contain an affiliate code that credits The Digital Story for any purchases made from B&H Photo and Amazon via that click-through. Depending on the purchase, we may receive some financial compensation.
And finally, be sure to visit our friends at Red River Paper for all of your inkjet supply needs.
See you next week!
Product Links and Comments
There are product links in this article that contain affiliate tags. In some cases, depending on the product, The Digital Story may receive compensation if you purchase a product via one of those links. There is no additional cost to you.
You can share your thoughts at the TDS Facebook page, where I'll post this story for discussion.