This is The Digital Story Podcast #792, May 25, 2021. Today's theme is "How to Photograph the Upcoming Lunar Eclipse." I'm Derrick Story.
Opening Monologue
Photographing celestial events is a wonderful way to add variety to your photography. No matter what your thing is (unless you're an astrophotographer), capturing a comet or an eclipse in your viewfinder can add a dash of enthusiasm to your creative endeavors. If you agree, then I have a great opportunity for you in the wee hours of Wednesday morning, a total lunar eclipse. And on today's show, I'm going to discuss how to make the most of it.
Tune-In Via Your Favorite Podcast App!

---

Apple Podcasts -- Spotify Podcasts -- Stitcher

Podbean Podcasts -- Podbay FM -- Tune In
How to Photograph the Upcoming Lunar Eclipse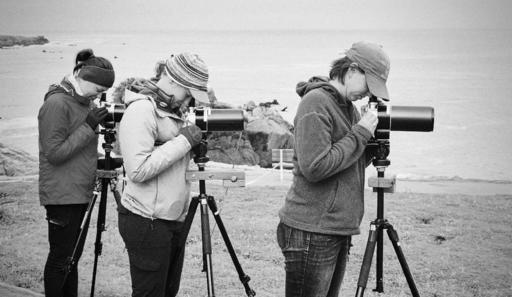 In this first segment, I cover everything you need to know to photography the upcoming lunar eclipse. If you want to read more about it, check out this great article, How to Photograph a Total Lunar Eclipse on Petapixel that I used for reference.
Adobe update brings camera phone 'portrait mode' to Photoshop
You can read the entire article on Digital Camera World.
The latest update to Adobe Photoshop will give desktop photo editors an instant portrait effect similar to that of the 'Portrait Mode' found on camera phones. The update includes a new Neural Filter called Depth Blur that lets photographers choose different focal points in their images and blurs the background intelligently, in doing so creating a bokeh effect similar to using a fast portrait-length lens.
It is already possible to create this effect in Photoshop by using various blurs and manually masking subjects, but the process can be tedious and time consuming, especially for beginners. The Depth Blur feature automates the process and, although not instant, makes achieving sharp subjects and blurred backgrounds much easier.
The new tool is part of a May 2021 update to Adobe Photoshop and can be found in the 'Filters' drop-down menu, under 'Neural Filters'. It works by creating a depth map of your image which can be adjusted with an artificial depth of field. The effect can give images that were not taken with a wide-open fast lens the appearance of one (giving you the option to focus on foreground or background objects and blur out the background or foreground respectively).
There is plenty of room for altering the strength of the effect, with Blur Strength, Focal Range, Focal Distance, as well as Haze, Warmth, and Brightness adjustment available before applying the filter. You can preview the effect these adjustments will make as well as changes to the desired focal point in the image.
New Release: Capture One Pro 21 Essential Training
Capture One Pro is a complete digital photo management and editing application for professional photographers and serious enthusiasts. Photographers who appreciate outstanding RAW processing, expert color control, and logical organization should consider Capture One Pro for its comprehensive feature set. In this course, professional photographer and instructor Derrick Story helps you learn the basics quickly, then takes you deeper into the application to master its finer points. For seasoned users, Derrick also covers all the new features in version 21, including Speed Edit, the Dehaze slider, and Style Brushes that allow you to enhance specific areas of a photo. To wrap up, he shares tips and techniques that can help you ensure your workflow is as efficient as possible.
You can check it out now by visiting LinkedIn Learning.
Photoshop's Brand New Depth Blur Feature Needs a Lot of Work
You can read the entire article on stoppers.
With the latest batch of updates, Photoshop has added a new feature to its array of neural filters: depth blur. Very much in beta, this tool has potential, but there's clearly a lot of improvements required before it becomes worth using.
Unmesh Dinda of PiXimperfect runs you through the new feature that arrived in the latest update of Photoshop, and while the depth mapping functionality will bring lots of possibilities, it's clear from this beta version of Depth Blur that Photoshop has a lot of work to do before it becomes useful to photographers working with high-resolution images. Dinda shows that existing tools within Photoshop can create far better results, and it's possible that Adobe's engineers will seek to merge these techniques to create improvements.
While Dinda's experiences show the current limitations, Adobe's potential to harness machine learning will only expand, particularly as more images become available. If you're wondering why Adobe has decided to roll out a beta feature that is still so far from producing good results, it's probably because its machine learning needs to figure out what works and what doesn't -- notice how the dialog box asks you each time if you're happy with the results. The neural filters depend on this feedback to improve.
While it's easy to scoff at these early efforts, it's quite possible that in five years you will struggle to differentiate between an image shot at f/1.4 and the same scene shot at f/5.6 with some depth blur applied. Whether this will merely increase the number of images with an insanely shallow depth of field or if it has a practical application for photographers remains to be seen.
The New Donation Kit for Carefree Shipping of Found Film Cameras
Greg C. recently wrote me this: "My father-in-law passed away recently and I would like to donate his film cameras to the Film Camera Shop. I've heard you speak of this for years on your podcast and now finally I have some good equipment to send you way."
If you've discovered a film camera that's no longer being used, our new Donation Kit makes it easy to pack and ship. Just visit the Contact Form on thenimblephotographer.com, click the box next to Donating a Film Camera, and let me know what you have. In your note, be sure to include your shipping address.
If it's a camera we can use for the shop, I'll send you a Donation Kit that includes a USPS Priority Mail shipping box and prepaid label. All you have to do is tape it up, insert the camera, and add the label. USPS will pick up your shipment from the front door of your house during their regular mail delivery. It's that simple!
Your donation help get analog gear in the hands of aspiring fine art photographers, and the proceeds help support this podcast.
Virtual Camera Club News
0 Seats Remaining for Our Ultimate B&W Photography Workshop - July 2021.
Inner Circle Members: A big thanks to those who support our podcast and our efforts! (And welcome to our new members.)
My Writing on Medium.com: I now have more than 25 published articles on Medium.com. And if you haven't visited the site, and enjoy good writing on a variety of topics, I suggest that you may want to take a look. You can just go to the home page and enter "Derrick Story" in the search field. And if you like what you read, then follow me!
EV Explorers for Those Who Are Interested in Electric Cars: I've created a new group on DerrickStoryOnline titled EV Explorers. The tagline for this group is: "Bringing Curiosity and Nimbleosity to the World of Electric Vehicle Transportation." Here we can share information, tips, discoveries and more about using electric vehicles for our photography adventures. If you want to join this group, click on this link for an invite. We're going to keep this as a private group for now, but you are invited to join us.
Affiliate Links - The links to some products in this podcast contain an affiliate code that credits The Digital Story for any purchases made from B&H Photo and Amazon via that click-through. Depending on the purchase, we may receive some financial compensation.
And finally, be sure to visit our friends at Red River Paper for all of your inkjet supply needs.
See you next week!
Product Links and Comments
There are product links in this article that contain affiliate tags. In some cases, depending on the product, The Digital Story may receive compensation if you purchase a product via one of those links. There is no additional cost to you.
You can share your thoughts at the TDS Facebook page, where I'll post this story for discussion.