This is The Digital Story Podcast #796, June 22, 2021. Today's theme is "Digital Teleconverters Are Better than You Might Think." I'm Derrick Story.
Opening Monologue
Thank you so much! Humans can have amazing memory when it comes to bad things. A linger disdain for dogs because one chased you in second grade, or a bias against digital teleconverters because you zoomed out to 10X in 2005 and were horrified by the results. But things change, and this week we're going to revisit the modest, but useful 2X teleconverter that may be languishing in your mirrorless camera. I hope you enjoy the show.
Digital Photography Podcast 796
Tune-In Via Your Favorite Podcast App!

---

Apple Podcasts -- Spotify Podcasts -- Stitcher

Podbean Podcasts -- Podbay FM -- Tune In
Digital Teleconverters Are Better than You Might Think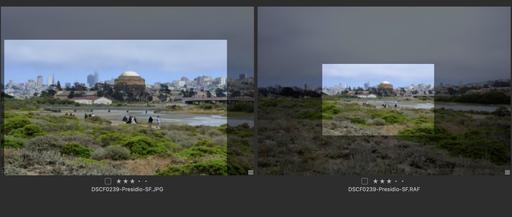 Image on the left captured with a 2X digital teleconverter on a Fujifilm X100V. Image on the right is the RAW file from the same camera.
Today I'm going to talk about the joy of digital teleconverters (pause with laughter). No, I'm serious!
I'll start with a story from Father's Day. (Tell the story of taking pictures at the Presidio in San Francisco.)
So I dashed out the door with the Fujifilm X100V and my iPhone 12 Pro Max in my pocket.
On our walk along Crisy Field, I notice a nice view of the Palace of Fine Arts with the San Francisco skyline in the background. I composed the shot with my X100V, but the lens was just too wide for the composition that I wanted. So I used the built-in digital teleconverter set to 70mm.
This digital teleconverter, like the 2X on my Olympus cameras, provides the magnification at the native resolution. So, if the RAW file is 26MP, so is the magnified Jpeg. (Footnote about the firmware improvement that allows you to use this function in RAW+Jpeg mode.) If you want a true safety net, then shoot RAW+Jpeg and record the scene with each version.
Back home, I opened both images in Capture One Pro, cropped both the RAW file and the magnified Jpeg to the same proportions, and compared the two files. Here's what I observed.
The cropped Jpeg measured 5,479 x 3,331, giving me ample resolution to print and play with. The cropped RAW file measured 2,748 x 1,755, which is fine for web work, but not much beyond.

At Fit in Window magnification, the two files looked equally sharp. It would be difficult to tell the difference.
At 200 percent magnification, the Jpeg held its own compared to the RAW file at 400 percent magnification, which was needed to provide the same framing. The Jpeg had a bit more smearing of detail, and the RAW had some pixelation due to its magnification.
Another difference I could tell between the files was the tonal gradation was a little smoother with the RAW file, than with the Jpeg. But this would likely happen without any magnification is is just the difference between these two formats.

The RAW does provide access to tools such as defringing and RAW sharpening that are not available for the Jpegs.
I've posted the full size comparison files on my Flickr account, so you can download them and look for yourself. But the bottom line is, the Fujifilm digital converter gave me the reach that I wanted, but at a small real world cost quality wise.
Canon Rebuffs Rumors That Its R3 Sensor is Made by Sony
You can read the entire article on Petapixel.
Since Canon's initial development announcement for the EOS R3, rumors have swirled that the company -- despite its statement otherwise -- was not the manufacturer of the backside illuminated sensor at its core. A report published on June 17 stated factually that the R3 sensor is made by Sony, and Canon has responded.
As PetaPixel reported on April 13, Canon stated that the upcoming EOS R3 sensor "will feature Canon's first-ever full-frame backside-illuminated stacked CMOS sensor that it designed in-house."
Nearly a month after Canon's R3 development announcement, Canon News and Canon Watch noticed that some language had been adjusted on Canon UK's website. What once stated "designed and manufactured by Canon" was adjusted to "developed by Canon." This was the first in a set of reports that would surmise that Canon was not the maker of the sensor.
On June 17, these rumors finally culminated in a story published on EOSHD that definitively stated based on documentation of a new Sony sensor -- the IMX554DQC -- the EOS R3 sensor would not be made by Canon but instead would be a Sony product.
Editor's note: After publication, the EOSHD report was edited. The below quotes are from the original story.
Olympus Lens Sale Ends June 27
There's less than a week left for the summer Olympus Lens Sale that includes free 2-day shipping for orders over $100 and 45-day returns.
Most optics are discounted between $50 and $100, but a few of the premium lenses were marked-down $150.
New Release: Capture One Pro 21 Essential Training
Capture One Pro is a complete digital photo management and editing application for professional photographers and serious enthusiasts. Photographers who appreciate outstanding RAW processing, expert color control, and logical organization should consider Capture One Pro for its comprehensive feature set. In this course, professional photographer and instructor Derrick Story helps you learn the basics quickly, then takes you deeper into the application to master its finer points. For seasoned users, Derrick also covers all the new features in version 21, including Speed Edit, the Dehaze slider, and Style Brushes that allow you to enhance specific areas of a photo. To wrap up, he shares tips and techniques that can help you ensure your workflow is as efficient as possible.
You can check it out now by visiting LinkedIn Learning.
The New Donation Kit for Carefree Shipping of Found Film Cameras
Greg Croasdill recently wrote me this: "My father-in-law passed away recently and I would like to donate his film cameras to the Film Camera Shop. I've heard you speak of this for years on your podcast and now finally I have some good equipment to send you way."
If you've discovered a film camera that's no longer being used, our new Donation Kit makes it easy to pack and ship. Just visit the Contact Form on thenimblephotographer.com, click the box next to Donating a Film Camera, and let me know what you have. In your note, be sure to include your shipping address.
If it's a camera we can use for the shop, I'll send you a Donation Kit that includes a USPS Priority Mail shipping box and prepaid label. All you have to do is tape it up, insert the camera, and add the label. USPS will pick up your shipment from the front door of your house during their regular mail delivery. It's that simple!
Your donation help get analog gear in the hands of aspiring fine art photographers, and the proceeds help support this podcast.
Virtual Camera Club News
0 Seats Remaining for Our Ultimate B&W Photography Workshop - July 2021.
Inner Circle Members: A big thanks to those who support our podcast and our efforts! (And welcome to our new members.)
My Writing on Medium.com: I now have more than 25 published articles on Medium.com. And if you haven't visited the site, and enjoy good writing on a variety of topics, I suggest that you may want to take a look. You can just go to the home page and enter "Derrick Story" in the search field. And if you like what you read, then follow me!
EV Explorers for Those Who Are Interested in Electric Cars: I've created a new group on DerrickStoryOnline titled EV Explorers. The tagline for this group is: "Bringing Curiosity and Nimbleosity to the World of Electric Vehicle Transportation." Here we can share information, tips, discoveries and more about using electric vehicles for our photography adventures. If you want to join this group, click on this link for an invite. We're going to keep this as a private group for now, but you are invited to join us.
Affiliate Links - The links to some products in this podcast contain an affiliate code that credits The Digital Story for any purchases made from B&H Photo and Amazon via that click-through. Depending on the purchase, we may receive some financial compensation.
And finally, be sure to visit our friends at Red River Paper for all of your inkjet supply needs.
See you next week!
Product Links and Comments
There are product links in this article that contain affiliate tags. In some cases, depending on the product, The Digital Story may receive compensation if you purchase a product via one of those links. There is no additional cost to you.
You can share your thoughts at the TDS Facebook page, where I'll post this story for discussion.