I've always been a fan of using fill flash, but over the last couple years I've fallen into the habit of using exposure compensation instead, rotating the adjustment ring until my subject appeared properly exposed in the electronic viewfinder. This approach works fine, but there are definitely some tradeoffs.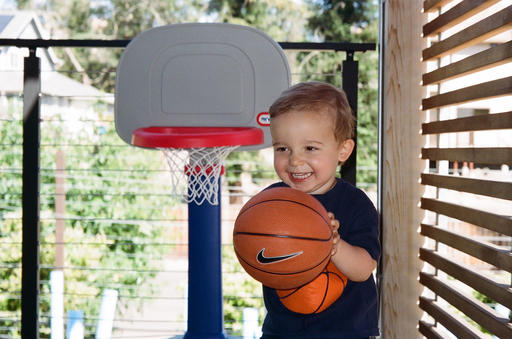 Fill flash used with an Olympus compact camera, Kodak Portrait 400 35mm film. Photo by Derrick Story.
With backlighting, for example, I often lost almost all the background detail. And sometimes that information contributes to the overall context of the shot. The above image is a good example.
The background setting is important. It lets us know that we're in a family environment and at a home. If it went pure white, as it would with exposure compensation on the child, I would be left with the boy and the basketball hoop, but not much else.
Plus, fill flash adds a twinkle to the eyes and a flattering exposure of the face. Most photo subjects benefit from the front lighting that evens out features and brightens the eyes.
What reminded me of all these benefits was my compact Olympus 35mm film camera. I had it with me for a family gathering and was using it to grab a few memories. We were congregated in a nice shady patio with bright midday light outside.
My little 35mm Olympus has an optical viewfinder, and that's it. No LCD screen, no EVF, no realtime exposure compensation feedback. But what it does have is an intelligent popup flash. That's what I used. And I love the results!
Without it, the bulk of my exposures would have had underexposed subjects and nicely lit backgrounds. Not exactly what I was looking for. But using fill, my subjects look great, and I sill have some nice context for the environment - a lovely balance.
As a result, fill flash is back on my radar. I can (and should) use it on my Fujifilm X100V and the Olympus OM-D E-M10 Mark III, both with built-in flash units.
All of this is thanks that great looking roll of film that came back from the lab. Go figure.
Product Links and Comments
There are product links in this article that contain affiliate tags. In some cases, depending on the product, The Digital Story may receive compensation if you purchase a product via one of those links. There is no additional cost to you.
You can share your thoughts at the TDS Facebook page, where I'll post this story for discussion.