Looking back to 2019 and before, I realized that we didn't understand how to conduct an online workshop that was personal and interactive. But then again, we didn't really have to. That's what physical events were for.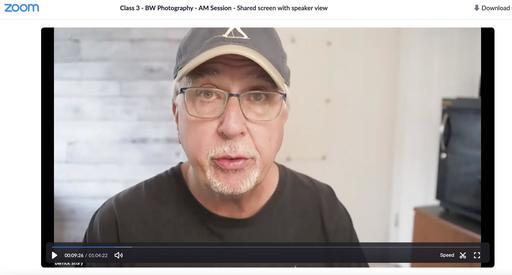 All of that has changed.
Yesterday, I've just completed my 8th online event since the pandemic began. We've covered topics such as black and white photography, infrared, iPhone techniques, and more. As we were wrapping up class presentations, we talked about some of the benefits of this new approach. Many of the comments included:
The workshop was far more personal and interactive than anticipated. (We limit class size to 10 participants.)

Having more time to work on photo assignments allowed for more exploration of techniques. (Classes are once a week with time in-between to work on assignments.)

Not having to travel felt safer and more convenient. (Classes are on Zoom with full participation for everyone and augmented by an online site with open posting and commenting.)

The lower cost fit much better in the budget. ($155 for the entire class with lifelong community access, $140 for our Patreon Members.)

Having an online site to complement the live sessions enhanced the feeling of community. (A place to ask questions, share experiences, and get feedback on work.)
For many of the participants in our online events, this was their first workshop ever, in any format. The online approach felt like a more gentle way to dip one's toes in the water to see if this is an experience that was right for them.
One of the most difficult things for photographers and writers to find is a supportive community of like-minded artists. Our online workshops provide that, not only during the event itself, but long after it's over because of the online community we maintain for workshop participants.
Once you've attended a TDS Workshop, you're in the community. For life. And you know it's a quality place to share ideas and experiences because it's comprised of other artists who have participated in these events.
If you're thinking that you might enjoy an online or physical workshop for photography or writing, take a look at our workshops page. I think you will find the experience rewarding.
Things have really changed. And in this case, for the better.
You can share your thoughts at the TDS Facebook page, where I'll post this story for discussion.