This is The Digital Story Podcast #798, July 6, 2021. Today's theme is "The Nikon Z fc: Brilliant or Brain Freeze?" I'm Derrick Story.
Opening Monologue
For those of us who love classic Nikon film cameras, it's hard not to have an impulse-buy reaction when first setting eyes on the new Nikon Z fc with heritage 28mm lens. But since we've learned that it will take a while for Nikon to get these out the door, we have the luxury of analyzing just how brilliant, or not, this camera is. I hope you enjoy the show.
Digital Photography Podcast 798
Tune-In Via Your Favorite Podcast App!

---

Apple Podcasts -- Spotify Podcasts -- Stitcher

Podbean Podcasts -- Podbay FM -- Tune In
The Nikon Z fc: Brilliant or Brain Freeze?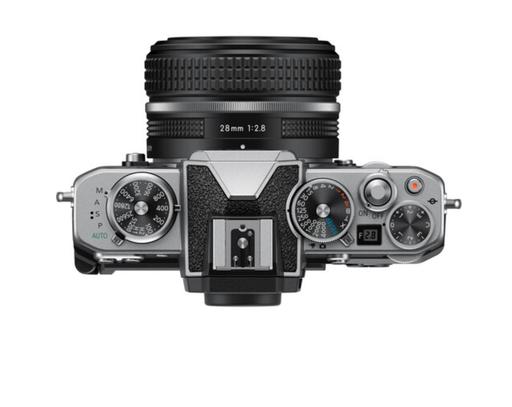 The just-announced Nikon Z fc Mirrorless Digital Camera with 28mm Lens is a 21 MP, cropped sensor beauty that looks a lot like the classic FM3 complete with machined dials and a heritage designed 28mm lens.
For many of us who have loved Nikon film cameras, the first impulse is, "I must have this!" But as we delve into the specs, the debate becomes a bit more balanced. Let's start with two lists: the things I like, and what could be improved.
Things I Like
I love its looks!
The classic 28mm lens is handsome and affordable.
It's nimble, so I don't mind the APS-C sensor (DX-Format).
The 3" 1.04m-Dot Vari-Angle Touchscreen that folds inward.
ISO 100-51200, Up to 11 fps Shooting.
Time-lapse movies.
2.36m-Dot OLED Electronic Viewfinder.
Capable HD and 4K movie recording chops.
Robust magnesium alloy chassis is both dust- and weather-resistant .
Live streaming and web conferencing via separately purchased USB Type-C cable.
3.5mm mic jack.
100 to 51200 ISO
-4 to 17 EV metering range.
What Could Be Improved
No built-in flash.
No ultrasonic sensor cleaner.
No sensor-based image stabilization.
Single Slot SD/SDHC/SDXC (UHS-I).
No MF/AF focusing mode switch.
Final Verdict
I'm still looking forward to shooting with the Nikon Z fc once I receive my review copy. And that physical experience my overcome a few of my disappointments.
I think Nikon missed a big opportunity by not including IS and sensor cleaning. Had those two features been included, this could have been a no-brainer for me.
Also, there's not pathway, that I can tell, to use my classic AI-S optics on this body, which would have been a real deal closer, especially with IS. Ken Rockwell writes, "Use the FTZ adapter and it should work with most [Nikon] DSLR AF-S lenses, but won't autofocus with AF or AF-D screw-focus lenses, and works very poorly with manual-focus AI and AI-s lenses." Hmmm, that is a bummer at best.
So in my book, the Nikon Z fc is both brilliant for its design, and a brain freeze for its lack of obvious features. You can preorder it now for $1,196 with the 28mm lens..
Workshop Swap for September
I'm adding a Infrared Photography Workshop for Sept. 22, 2021, replacing the ON1 Effects event that was originally planned for that time slot.
If you visit our TDS Workshops Page, you'll see a variety of topics including the new IR workshop.
Great Music to Go - Get Together Mini Portable Bluetooth Speakers Review
I have collected many bluetooth speakers over the years so I can enjoy and share music when away from my home HiFi components. Usually, I will like one aspect (such as the sound), but not another, (such as the form factor). When I decided to try the Get Together Mini by House of Marley, I got everything I wanted in one package.
Really, Really Good Looks
By far, they are the most handsome portable speakers I've used. The outer case is a combination of natural, solid bamboo and unique "Rewind" fabric. Not only do they look great, they feel good when walking around with them in hand. (House of Marley builds eco-friendly products and ships them in 100 percent recyclable packaging.)
Excellent Sound
The Get Together Mini delivers on sound as well. I've been listening to Rebelution's latest album, In the Moment streaming from my iPhone to the speakers via bluetooth, and the music sounds amazing. Crisp, but not tinny, rich midtones and bass, but not muddy. I was sold on both the album and speakers immediately.
Plenty of Features
The Get Together Mini features:
2.5" Woofers, 1" Tweeters.
10 hours of playtime.
Bluetooth technology allows your device to be up to 45 feet away from the speaker while still maintaining connection. Compatible with iOS and Android.
Built-in microphone so you can use it as a speaker phone to take and make calls.
Auxiliary input jack allows you to connect it to record players, TVs, and other audio devices.
USB port that allows you to charge your phone and other USB devices.
Possible Issues
On the downside, some customers had complained that the mini-USB charging port had failed preventing them from refueling the rechargeable battery. I examined the port on my kit and gave it a good workout. So far it's holding up and seems solid. I have to say, I'm not a fan of mini-USB ports in general, and look forward to the day they are all replaced by the more dependable USB-C design. As for these speakers in particular, they seem solid.
One other user complaint was the audio cues that announce connecting and disconnecting from devices. I have other speakers that include this feature. I'm not a huge fan of the announcements either, but maybe I'm just used to them. You should be aware that House of Marley uses this technology as well.
Final Verdict
I'm hoping that my Get Together Mini speakers last a long time, because I really like them. They are super portable (the same width as my MacBook 13" laptop), sound great, connect easily, an look fantastic. You can buy the Get Together Mini by House of Marley for $149 with free shipping directly from their site.
The New Donation Kit for Carefree Shipping of Found Film Cameras
Greg Croasdill recently wrote me this: "My father-in-law passed away recently and I would like to donate his film cameras to the Film Camera Shop. I've heard you speak of this for years on your podcast and now finally I have some good equipment to send you way."
If you've discovered a film camera that's no longer being used, our new Donation Kit makes it easy to pack and ship. Just visit the Contact Form on thenimblephotographer.com, click the box next to Donating a Film Camera, and let me know what you have. In your note, be sure to include your shipping address.
If it's a camera we can use for the shop, I'll send you a Donation Kit that includes a USPS Priority Mail shipping box and prepaid label. All you have to do is tape it up, insert the camera, and add the label. USPS will pick up your shipment from the front door of your house during their regular mail delivery. It's that simple!
Your donation help get analog gear in the hands of aspiring fine art photographers, and the proceeds help support this podcast.
Virtual Camera Club News
Inner Circle Members: A big thanks to those who support our podcast and our efforts! (And welcome to our new members.)
My Writing on Medium.com: I now have more than 25 published articles on Medium.com. And if you haven't visited the site, and enjoy good writing on a variety of topics, I suggest that you may want to take a look. You can just go to the home page and enter "Derrick Story" in the search field. And if you like what you read, then follow me!
EV Explorers for Those Who Are Interested in Electric Cars: I've created a new group on DerrickStoryOnline titled EV Explorers. The tagline for this group is: "Bringing Curiosity and Nimbleosity to the World of Electric Vehicle Transportation." Here we can share information, tips, discoveries and more about using electric vehicles for our photography adventures. If you want to join this group, click on this link for an invite. We're going to keep this as a private group for now, but you are invited to join us.
Affiliate Links - The links to some products in this podcast contain an affiliate code that credits The Digital Story for any purchases made from B&H Photo and Amazon via that click-through. Depending on the purchase, we may receive some financial compensation.
And finally, be sure to visit our friends at Red River Paper for all of your inkjet supply needs.
See you next week!
Product Links and Comments
There are product links in this article that contain affiliate tags. In some cases, depending on the product, The Digital Story may receive compensation if you purchase a product via one of those links. There is no additional cost to you.
You can share your thoughts at the TDS Facebook page, where I'll post this story for discussion.