This is The Digital Story Podcast #799, July 13, 2021. Today's theme is "The Return of the Glovebox Camera." I'm Derrick Story.
Opening Monologue
I've found myself taking more and more pictures with the iPhone, if for no other reason, it's my most readily available camera. And it occurred to me, that since I do have a car, why not have one of my other cameras more accessible as well? I did this before smartphones, and I think it's time to revisit the concept. I hope you enjoy the show.
Digital Photography Podcast 799
Tune-In Via Your Favorite Podcast App!

---

Apple Podcasts -- Spotify Podcasts -- Stitcher

Podbean Podcasts -- Podbay FM -- Tune In
The Return of the Glovebox Camera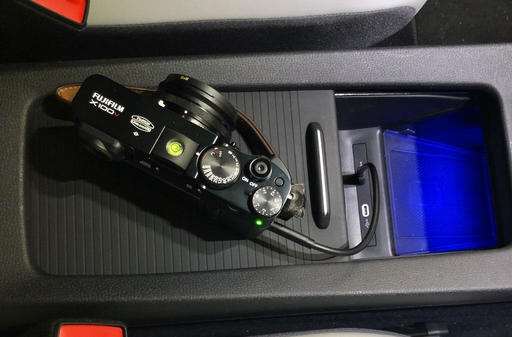 It's amazing how many wonderful things I see through my car windows. I know part of it is because of where I live in Sonoma County. And part of it is because life is endlessly interesting.
My iPhone is always there by my side, and much of what I capture when I'm on the go is with it. But lately, I've had this feeling, that no matter how good the iPhone is, I'm missing some opportunities to capture different pictures with my camera. And so I've revisited the idea of keeping one in the car with me.
Now I know the first thing you're thinking: "Derrick is that really a good idea?" My theory is how you implement it. Here are the ground rules that I'm using.
Glovebox Camera Ground Rules
Out of site, but accessible.
Bring with me when exiting the car whenever possible.
Never leave it in there on a hot day.
Keep it in a nimble case with a shoulder strap.
Keep the car locked at all times.
Modern Cars Make this Easier and More Fun
My camera actually lives in the center console with a sliding door cover. My iPhone (with wireless charging pad) and two USB-C ports are in there as well.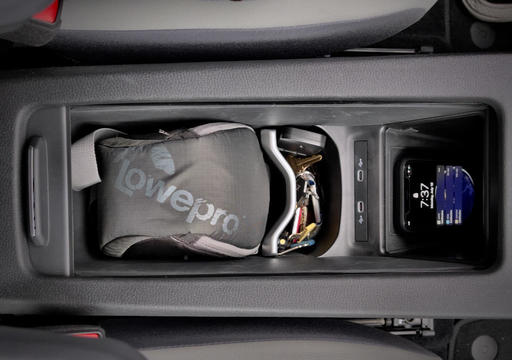 Lately, I've been keeping the Fujifilm X100V in there. It fits nicely in my Lowepro pouch with shoulder strap. And because it accepts USB charging via USB-C, I can refresh the battery in-between shoots right there at the console.
After just a week with this setup, I can tell you that I love it. I still shot plenty with my iPhone, but now I have a second option that I truly enjoy. And it's nice to be capturing more images with a device other than a smartphone.
Workshop Swap for September
I'm adding a Infrared Photography Workshop for Sept. 22, 2021, replacing the ON1 Effects event that was originally planned for that time slot.
If you visit our TDS Workshops Page, you'll see a variety of topics including the new IR workshop.
Enhance Your B&W Photos with New Silver Efex 3
All through its journey from Nik, to Google, to DxO, Silver Efex has more or less remained the same. That wasn't really a problem however because it's good. And much like a black tux that never goes out of style, so remained my favorite application for digital black and white photography.
Then along came Silver Efex 3, and truly, a good thing got better. This new version released by DxO updated the interface, added presets, now includes DxO's ClearView technology, and made the control points easier to use. If you work with Tiff files, you have the option to retain all of the edits so you can return to the image and pick up where you left off.
Two Basic Workflows
You can use Silver Efex as a standalone app or as a plugin for Lightroom Classic and Photoshop. I tried it with Capture One Pro, and it behaved like it knew what to do, but in the end the experiment failed. (In fact, make sure Capture One Pro is not open when working with Silver Efex 3 or it will muck up your workflow.) I also could not get it to work with the Creative Cloud version of Lightroom or Photos for macOS. So that left me with Photoshop for roundtripping. Ugh.
As a standalone, the app works well. I recommend exporting the file from your photo management app as a Tiff so you can return to the project and retain your edits. Silver Efex will also accept Jpegs, but without the nifty return-to-edit feature. No RAW files of any type are accepted.
The Bottom Line
Silver Efex Pro 3 remains a quirky application. The workflow is limited compared to other apps, and you have to spend a little time getting inside its head. But if you love black and white photography, it's still the premier tool for creating stunning monochrome and duotone images.
Silver Efex 3 is part of the entire Nik Collection, currently on sale for $99.
Photographers Covering the Olympics Faced With Mounting Challenges
You can read the entire article here on Petapixel.
The 2020 Olympics is set to officially begin on July 23, 2021 and while the Olympic committee is forging ahead with the event, photographers are being saddled with challenges that will make documenting it harder than ever before. As the Olympics inch closer, the pandemic looms large.
As the event inches closer it is clear that preparations are not going smoothly. Photographer Jeff Cable will be arriving on the ground on July 20 and has written a detailed blog about the evolving situation that is taking place, even now. Additionally, he spoke to PetaPixel and explained that at least for him, a team of one, the situation is thus far hectic and at times, confusing.
"I leave for Tokyo in a week and a half and I do so with very mixed emotions. Normally I am super excited to get to the Olympic city and start my preparation for the three-week adventure," he says. "But this time around is really different. I am still excited to go, but this is also mixed with the apprehension of an Olympics with major pandemic precautions."
Cable says that in preparations for the event, communication has been challenging as the situation has been changing rapidly and sometimes without warning. For example, before last week some fans were expected to be in attendance. But last Thursday, it was suddenly announced that there will be no fans at all at any of the Olympic events.
Additionally, Cable says that there has been a slew of different forms that he has needed to fill out, return, and keep log as the Olympic organizers aren't tracking who has submitted what application.
Neither Japan nor the Olympic Committee is requiring vaccinations to attend the events, either. While he and other photographers were asked if they had been vaccinated, that information was not being disseminated and it does not appear to affect how the photographers will be treated in travel to the island nation. The Olympics appear to be operating as if no one is vaccinated, and the organizers are attempting to get everyone into a "bubble" to avoid any possible transmissions of the virus.
Cable, who is fully vaccinated, has been instructed to get multiple COVID tests before boarding the plane and will also be required to take more upon arrival in Japan and intermittently through his time there for at least two weeks.
The number of precautions and tests is in response to a rising COVID infection rate in the country. According to the Center for Systems Science and Engineering (CSSE) at Johns Hopkins University, Japan reported 2,032 new cases of the virus on July 11, the most since June 6. the number of new cases in the country has been trending upwards since June 21.
As a result, Japan has entered into a new state of emergency as of July 12, and opinion polls have consistently shown that the Japanese public has major concerns about holding the international event amidst a growing wave of infections, Reuters reports.
But the Olympics are unlikely to be canceled, and instead, more restrictions are likely to be imposed on those making the journey.
Virtual Camera Club News
Inner Circle Members: A big thanks to those who support our podcast and our efforts! (And welcome to our new members.)
My Writing on Medium.com: I now have more than 25 published articles on Medium.com. And if you haven't visited the site, and enjoy good writing on a variety of topics, I suggest that you may want to take a look. You can just go to the home page and enter "Derrick Story" in the search field. And if you like what you read, then follow me!
EV Explorers for Those Who Are Interested in Electric Cars: I've created a new group on DerrickStoryOnline titled EV Explorers. The tagline for this group is: "Bringing Curiosity and Nimbleosity to the World of Electric Vehicle Transportation." Here we can share information, tips, discoveries and more about using electric vehicles for our photography adventures. If you want to join this group, click on this link for an invite. We're going to keep this as a private group for now, but you are invited to join us.
Affiliate Links - The links to some products in this podcast contain an affiliate code that credits The Digital Story for any purchases made from B&H Photo and Amazon via that click-through. Depending on the purchase, we may receive some financial compensation.
And finally, be sure to visit our friends at Red River Paper for all of your inkjet supply needs.
See you next week!
Product Links and Comments
There are product links in this article that contain affiliate tags. In some cases, depending on the product, The Digital Story may receive compensation if you purchase a product via one of those links. There is no additional cost to you.
You can share your thoughts at the TDS Facebook page, where I'll post this story for discussion.