One of the most important items I keep in the car glovebox is a good flashlight. It needs to be compact, durable, and versatile. My choice for the new VW ID.4 is the Fenix E35 V3.0 EDC Flashlight.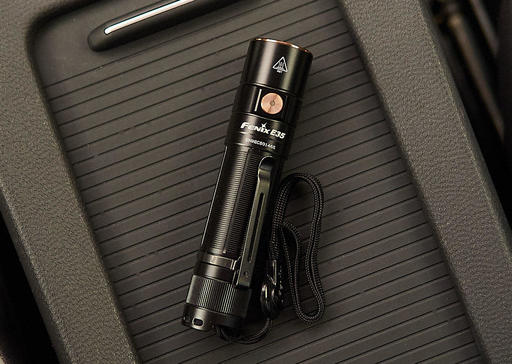 This device is impressive. And if you're a flashlight geek like me, you'll see what I mean when you look at the specs. Let's start with the output. (Keep in mind that this light is only 4.65" long and weighs just a few ounces.)
Outputs
Turbo 3000 Lumens/1.1 Hours/787 Feet
High 1200 Lumens/2.4 Hours/492 Feet
Med 450 Lumens/7.9 Hours/295 Feet
Low 150 Lumens/20 Hours/164 Feet
Eco 50 Lumens/50 Hours/98 Feet
Strobe 3000 Lumens
I use it in Eco mode for digging around in my camera bag or backpack. It's plenty bright to help me find what I want, but not so blinding that I lose my night vision. When working outside at night, Low and Medium modes provide plenty of illumination. I don't think I've needed the High mode for anything (it's really bright), but it's good to know that it's there.
One of the features that I really like is that the included rechargeable battery has a built-in USB-C port. So I can top off the flashlight right there in the car using its outputs. Very handy!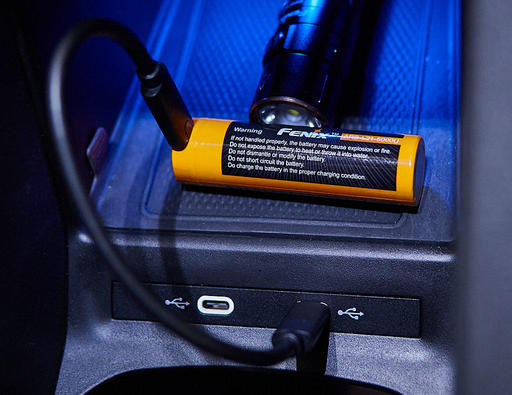 Charging the Fenix battery in the VW ID.4 via a USB-C cable.
The Fenix E35 is also quite durable.
IP68 Rated
3.2' Impact Resistance
Single Switch Control
Pocket Clip Included
Cold Resistance -35°C to 45°C
Aluminum Body A6061-T6
Intelligent memory circuit, last-used output recall
Lockout Function
You can check the battery status at any time. When the light is off, single-click the control button, and the status light on the button will illuminate. Steady green means you're in great shape all the way through flashing red that means it's time to recharge. (To turn on the flashlight, you long-click that same button.)
Other nice touches include the titanium body clip that allows you to secure the light on your bag or belt and a lanyard to keep around your wrist while in use.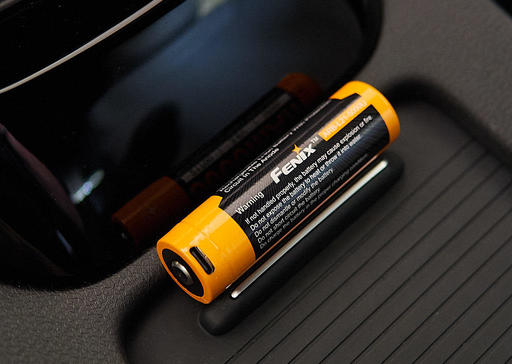 The included ARB-L21-5000U 21700 Rechargeable Battery. (Must use a Single Port Charger 1 Amp/2 Amp at 10 Watts Max).
If you haven't treated yourself to a new flashlight in a while, the Fenix E35 V3.0 EDC Flashlight is hands down my first choice. You can buy it directly from the Fenix site for $69 with free U.S. shipping. If you sign up for their newsletter, you'll get 20 percent off.
The Fenix E35 V3.0 EDC Flashlight receives a very high nimbleosity rating.
You can share your thoughts at the TDS Facebook page, where I'll post this story for discussion.