When I first looked at the catalog page for the Peak Field Pouch ($44.95), I thought that it might be too small to be useful. But I was intrigued by its handsome design and managed to get my hands on one for testing. I'm glad I did.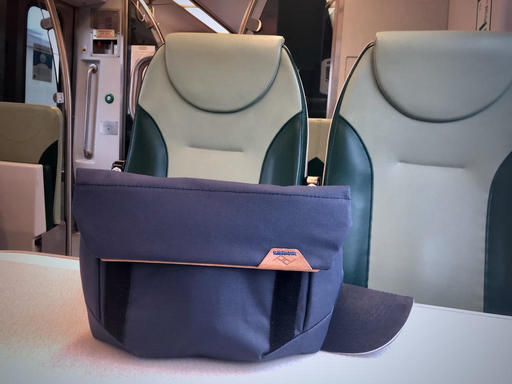 In use, it's a perfect size for a grab-and-go kit that you can keep close to your body and not attract attention. I have two basic configurations that I use it for. The first is a photography kit.
Photography Kit Configuration
Or, what I call a "get my work done while riding the train" kit.
Get Work Done Kit
iPhone 12 Pro Max
Accessories such as lens cloth, hand sanitizer, mask, sunglasses, etc.
In both configurations, the iPhone 12 Pro Max fits beautifully in the padded zippered pocket keeping it separate and protected from the other items in the bag.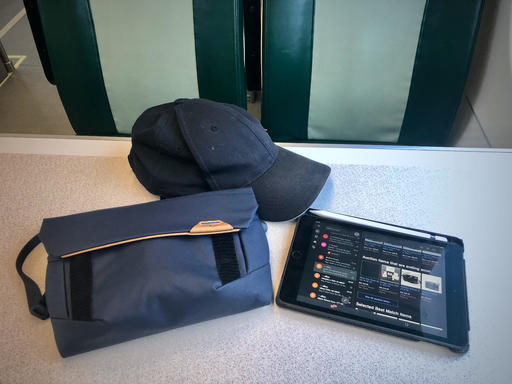 The Field Pouch V2 can accommodate the iPad mini or one of my cameras, but not both. However, the iPhone 12 Pro max does work in either configuration.
What's appealing about all of this for me is that I have a very efficient carrying solution to bring along exactly what I need, but doesn't attract attention and can even be positioned under my jacket if necessary.
The Peak Design Field Pouch V2 has a few other tricks up its sleeve. It's expandable design allows you to configure it to just the size you need. You can carry it on your belt or use the supplied shoulder strap.
There's a full-length zippered inner pocket and various mini pouches for memory cards, batteries, business cards, etc. It includes two Capture Attachment Points if you want to carry a camera on the outside of the pouch (additional hardware required). And the design is top notch, as you would expect, using weatherproof 400D nylon canvas (made from recycled plastic).
You can use the pouch inside a larger bag as an organizer, or as a nimble field pouch with a camera or small tablet. Its handsome looks makes it an appropriate accessory for practically any situation.
Going back to my original question if this bag was too small to be practical, my opinion after a couple weeks of use is that it's not small; it's efficient. If you want a pouch that holds exactly what you need, and no more, take a look at the Peak Design Field Pouch V2. I give it a very high nimbleosity rating.
Product Links and Comments
There are product links in this article that contain affiliate tags. In some cases, depending on the product, The Digital Story may receive compensation if you purchase a product via one of those links. There is no additional cost to you.
You can share your thoughts at the TDS Facebook page, where I'll post this story for discussion.