This is The Digital Story Podcast #822, Dec. 21, 2021. Today's theme is "5 Reasons Why I Still Carry a Digital Camera." I'm Derrick Story.
Opening Monologue
It's true, we live in the age of the smartphone. Then why am I so happy to pull my digital camera out of my backpack on a regular basis? I just returned from a road trip to Southern California where I used my X100V a number of times. I'm going to share 5 of them on todays TDS Photography Podcast. I hope you enjoy the show.
Digital Photography Podcast 822
Tune-In Via Your Favorite Podcast App!

---

Apple Podcasts -- Spotify Podcasts -- Stitcher

Podbean Podcasts -- Podbay FM -- Tune In
5 Reasons Why I Still Carry a Digital Camera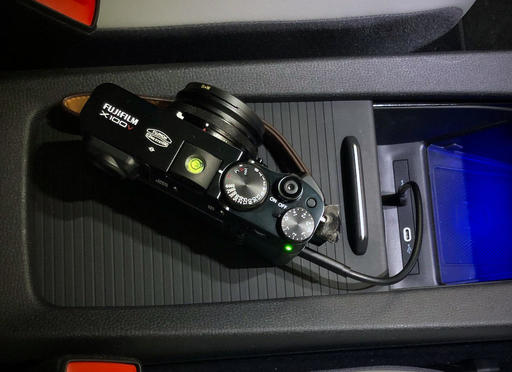 Don't get me wrong, I used my iPhone all the time on a recent trip to visit my mom, including a fun selfie of the two of us sitting in her living room.
But man o man am I glad I had my digital camera with me too. Here are 5 reasons why.
Digital Cameras Make the Best Webcams - I had a couple of workshop classes I had to lead while down there, and boy am I glad I had the X100V to serve as my webcam. The image looked great!

Digital Cameras Save Your Back and Knees - When I want a really low angle shot, which seems to be often, that flip up screen on the X100V is invaluable.

Crop, Crop, Crop! - Sometimes I don't find the best composition until way after the shot when I'm working on the MacBook. With a 26 MP sensor, I can crop, crop, crop and still have plenty of resolution.

Did Anyone Say Film Simulations? - Let's face it, the filters in the camera app for the iPhone suck. And compared to what I can get on the X100V with those lovely film simulations, they really suck.

True Flash Photography - Not only does the built-in flash on the X100V blow away that wimpy LED unit on the iPhone, but I can attach a true hot shoe flash as well.
There are also lots of other little things that I notice over time, such as real RAW files, click-stop aperture ring, more comfortable ergonomics, and more.
iPhones are great, but digital cameras rock my world.
And for a bit more about using a smartphone and digital camera together, take a look at Ditch the Bag, not the Camera on TheNimblePhotographer.com.
Tokina's second-generation 400mm F8 mirror lens is available in eight mounts for $260
You can read the entire article on DP Review.
Tokina has announced an updated version of its 400mm F8 mirror lens that tweaks the optical detain and adds a T-mount system that Tokina says improves the performance of the lens and enables the lens to be used with eight different camera mounts.
The Tokina 400mm F8 N II S mirror lens is a successor to the 400mm F8 N S mirror released back in July 2020. The updated lens is constructed of six elements in two groups--a departure from the six elements in five groups used in the original version. The lens has a minimum focusing distance of 115cm (45.3"), has a 67mm front filter thread and measures between 82-112mm, depending on whether you get the SLR or mirrorless mount versions, as the mirrorless versions have a longer adapter to account for the short flange distance of mirrorless cameras.
The 400mm F8 lens is fully manual and features an integrated T-mount that uses the standard male 42x0.75 thread; by using various adapters, which are place on the lens before being shipped out, the lens will work with Canon EF, Canon M, Fujifilm X, Micro Four Thirds, Nikon F, Nikon Z, Pentax K and Sony E-mount camera systems. Naturally, the T-mount means the lens can easily be adapted from one mount to another with a different mount adapter.
As is the case with all mirror lenses, this lens features the signature 'donut' bokeh, which is usually considered less aesthetically pleasing than the bokeh of conventional optics, but is the price paid for getting longer focal lengths in a relatively small body. Below are the only two sample photos Tokina has provided at this time:
The Tokina 400mm F8 N II S mirror lens Is currently listed on Tokina's website for around $262, but it doesn't appear as though it's possible to actually place an order at this time. The first orders, when they go live, are expected to ship starting December 24, 2021.
Mastering Capture One Pro Online Workshop - Jan. 12, 2022
Jan 12 - Feb. 2, 2022
Are you ready to move to one of the best RAW processing digital asset managers available today? If yes, then this online workshop is for you.
Over the course of four sessions, you will learn to organize, process, enhance, and share your images with Capture One Pro 22, the state-of-the-art photo management platform for professionals and serious enthusiasts. This application runs on both Mac and Windows platforms, with an iPad version scheduled to be available in January as well.
You will also have access to our online workshop community, DerrickStoryOnline, where you can ask questions, share techniques, and show off your work. Your membership to our online community extends pass the workshop itself, so you can continue to share notes with those who share your particular interests.
Our weekly meetings during the workshop itself are via Zoom, with AM and PM sessions available so you can match this event to your busy schedule. Plus, we record each session and make them available to participants future reference.
This is exactly the type of learning environment that will accelerate your mastery of this powerful application. I hope you can join us!
You can sign up today at TheNimblePhotographer.com.
Attention Inner Circle Members: Be sure to visit our Patreon site for the discount code that will save you $15 for this very affordable online workshop.
Pixelmator Photo is a Powerful AI-Driven Photo Editor for iPhone
You can read the entire article on Petapixel.
Pixelmator has announced Pixelmator Photo for iOS, what it calls the most powerful editor ever designed for a mobile device. The company even goes so far as to call it "basically Aperture for iPhone."
Pixelmator Photo has been launched for iPhone (in addition to iPad) and features desktop-class color adjustments, support for over 600 RAW image formats -- including Apple ProRAW -- deep integration with the Photos app and iCloud Photos, tools powered by what the company calls groundbreaking machine learning technologies, and more.
The company says that Pixelmator Photo contains a collection of over 30 desktop-class color adjustments that allow editors to adjust the colors in a photo in a variety of ways. The app also features classic photography essential tools like White Balance, Exposure, Highlights, and Shadows adjustments, to more advanced tools like Selective Color, wheel-based Color Balance, photographic Grain adjustment, and others.
Pixelmator says that all the adjustments were designed using advanced image processing techniques that it says will preserve color quality and eliminate image posterization artifacts even when making "extreme" edits. All adjustments made in the app work directly and nondestructively with over 600 RAW image formats, including Apple ProRAW.
The app has what the company calls deep integration with the Photos app and iCloud Photos. To edit photos, users have to open it in the browser of the Pixelmator Photo app and when edits are finished, changes automatically sync with the photo library.
The app is free for existing Pixelmator Photo users but is available for $4 for new users (it will eventually increase to $8) It requires iOS 14 or later, and full iPhone requirements can be found on the company's website.
Photos for macOS Monterey and iPhone Essential Training
You can view the course here on LinkedIn Learning.
With the free Photos for macOS software from Apple, you can manage, enhance, and share photos in a variety of ways. In this course, photographer, author, and educator Derrick Story takes you on a detailed exploration of Photos for macOS.
Derrick gives you a tour of the interface and the headline new features, then goes into detail on the ways you can use Live Text to transform your camera into your personal assistant. He shows you how to search for pictures by object type, copy images from messages to Photos, use Quick Notes with Photos, and automate common tasks with shortcuts.
Derrick walks you through the improved importing process and gives you some useful tips on organizing and editing your pictures directly in Photos. Plus, he shows you where to find more tips and techniques for working with Photos for macOS.
Virtual Camera Club News
Inner Circle Members: A big thanks to those who support our podcast and our efforts!
My Writing on Medium.com: I now have 51 published articles on Medium.com. And if you haven't visited the site, and enjoy good writing on a variety of topics, I suggest that you may want to take a look. You can just go to the home page and enter "Derrick Story" in the search field. And if you like what you read, then follow me!
The New Donation Kit for Carefree Shipping of Found Film Cameras - If you've discovered a film camera that's no longer being used, our new Donation Kit makes it easy to pack and ship. Just visit the Contact Form on thenimblephotographer.com, click the box next to Donating a Film Camera, and let me know what you have. In your note, be sure to include your shipping address.
Affiliate Links - The links to some products in this podcast contain an affiliate code that credits The Digital Story for any purchases made from B&H Photo and Amazon via that click-through. Depending on the purchase, we may receive some financial compensation.
Red River Paper - And finally, be sure to visit our friends at Red River Paper for all of your inkjet supply needs.
See you next week!
You can share your thoughts at the TDS Facebook page, where I'll post this story for discussion.