This is The Digital Story Podcast #821, Dec. 14, 2021. Today's theme is "The Ultimate Holiday Gift." I'm Derrick Story.
Opening Monologue
How could a blank picture frame be the ultimate holiday gift? Well, it depends on what you put in it. On today's show I'm going to share an idea with you that just might make that special someone in your life very happy. I hope you enjoy the show.
Digital Photography Podcast 821
Tune-In Via Your Favorite Podcast App!

---

Apple Podcasts -- Spotify Podcasts -- Stitcher

Podbean Podcasts -- Podbay FM -- Tune In
The Ultimate Holiday Gift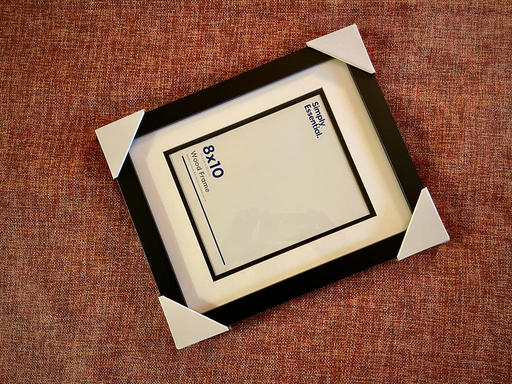 As photographers, we have the unique ability to make others very happy. Not only do we know how to make beautiful images, we understand how to present them as well.
All of this can come together as a wonderful gift for someone you care about. Here's the basic set up:
Find a nice picture frame that can accommodate an 8.5"x11" print. Preferably this frame would look great on its own with nice mats and finish.

On a fine art card, write a note that will accompany the frame. It can be something like: "This frame can hold any picture that you want. It can be a group shot of you with your children, a portrait of you and your pet companion, or a revitalized old family picture that you always wanted to hang on the wall. You tell me what you want in that frame, and I will make it happen for you."

Wrap the frame and include the card. Ideally present the gift when you have a little time to talk with the recipient about what they want to go in the frame. At a favorite coffee shop over a peppermint mocha latte is ideal, but you may not get that chance. You get the idea however. The conversation, if possible, is part of the gift.

Follow through on the gift as quickly as possible. If you're restoring an old family photograph, get to work. If it's a portrait session, get it scheduled.
The blank picture frame gift can be very special for the recipient, and gives you the opportunity to share your unique set of skills.
Happy Holidays!
Capture One Pro 22 Released
Capture One Pro 22 includes a very nice performance update for Windows users and wireless tethering for Canon users, but the headliners are panorama stitching, HDR merging, and AI-driven auto rotate.
As for the built-in pano stitching and HDR merge, I have a couple tips for you to improve your experience. The ideal overlap for panorama stitching with C1P is 30 percent. You don't need any more than that. Also, C1P is multi-row stitching capable. You can build an extremely high-resolution image in all directions, giving you a huge DNG file to work with that's fully editable directly in Capture One.
And for HDR merge, 3 frames will do it, exposing at -2.0, 0, +2.0. You don't need 5, 7, or more frames for a good merge.Then edit the resulting DNG file as you would any other RAW.
Test out Capture One 22 for yourself with a 30-day free trial; even if you've tested out Capture One before, you can still take a new trial round of Capture One 22. Get full access to all the latest features and see how it can transform your photography and enhance your storytelling.
The upgrade price for a perpetual license is $199, or $179 for a year's subscription.
Mastering Capture One Pro Online Workshop - Jan. 12, 2022
Jan 12 - Feb. 2, 2022
Are you ready to move to one of the best RAW processing digital asset managers available today? If yes, then this online workshop is for you.
Over the course of four sessions, you will learn to organize, process, enhance, and share your images with Capture One Pro 22, the state-of-the-art photo management platform for professionals and serious enthusiasts. This application runs on both Mac and Windows platforms, with an iPad version scheduled to be available in January as well.
You will also have access to our online workshop community, DerrickStoryOnline, where you can ask questions, share techniques, and show off your work. Your membership to our online community extends pass the workshop itself, so you can continue to share notes with those who share your particular interests.
Our weekly meetings during the workshop itself are via Zoom, with AM and PM sessions available so you can match this event to your busy schedule. Plus, we record each session and make them available to participants future reference.
This is exactly the type of learning environment that will accelerate your mastery of this powerful application. I hope you can join us!
You can sign up today at TheNimblePhotographer.com.
Attention Inner Circle Members: Be sure to visit our Patreon site for the discount code that will save you $15 for this very affordable online workshop.
Photos for macOS Monterey and iPhone Essential Training
You can view the course here on LinkedIn Learning.
With the free Photos for macOS software from Apple, you can manage, enhance, and share photos in a variety of ways. In this course, photographer, author, and educator Derrick Story takes you on a detailed exploration of Photos for macOS.
Derrick gives you a tour of the interface and the headline new features, then goes into detail on the ways you can use Live Text to transform your camera into your personal assistant. He shows you how to search for pictures by object type, copy images from messages to Photos, use Quick Notes with Photos, and automate common tasks with shortcuts.
Derrick walks you through the improved importing process and gives you some useful tips on organizing and editing your pictures directly in Photos. Plus, he shows you where to find more tips and techniques for working with Photos for macOS.
Virtual Camera Club News
Inner Circle Members: A big thanks to those who support our podcast and our efforts!
My Writing on Medium.com: I now have 48 published articles on Medium.com. And if you haven't visited the site, and enjoy good writing on a variety of topics, I suggest that you may want to take a look. You can just go to the home page and enter "Derrick Story" in the search field. And if you like what you read, then follow me!
The New Donation Kit for Carefree Shipping of Found Film Cameras - If you've discovered a film camera that's no longer being used, our new Donation Kit makes it easy to pack and ship. Just visit the Contact Form on thenimblephotographer.com, click the box next to Donating a Film Camera, and let me know what you have. In your note, be sure to include your shipping address.
Affiliate Links - The links to some products in this podcast contain an affiliate code that credits The Digital Story for any purchases made from B&H Photo and Amazon via that click-through. Depending on the purchase, we may receive some financial compensation.
Red River Paper - And finally, be sure to visit our friends at Red River Paper for all of your inkjet supply needs.
See you next week!
You can share your thoughts at the TDS Facebook page, where I'll post this story for discussion.