Over the years, I've stashed business cards in my camera pouches in case I left gear behind (which I've done) in the hope that an honest person would contact me if found. Now, thanks to AirTags, they will "call" me if I wander too far away from my devices. This is a remarkable improvement.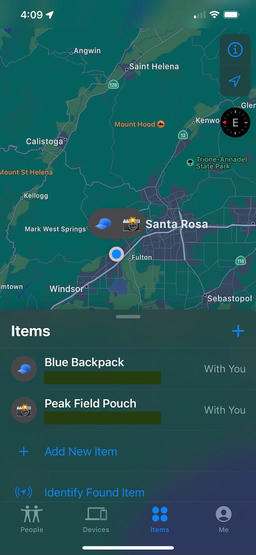 I have a 4-pack of Apple AirTags. I've put two of them to use, and I'm still contemplating how to use the others. Currently, one of the active units is in my everyday backpack, and the second one is in my Peak Field Pouch 2 that I use for urban photography with the Fujifilm X100V. And after a couple weeks of use, I can tell you that I'm never going back to life without them.
I particularly like an AirTag in the Field Pouch because I'm more likely to accidentally leave it behind if I get distracted at a coffee shop or set the bag down on location. Did I leave it at the studio? Is it in the car? Maybe it's at home?
I can find the answer to these questions instantly by opening the Find My app on the iPhone and tapping on the Items tab at the bottom. Both of my AirTags are displayed on the screen, each with their current location. (I've grayed out the actual address that would be displayed on my phone.)
And I've taken it a step further by configuring them to notify me if too great a distance comes between us.
The tag in my Field Pouch fits snugly in one of the memory card sleeves. I never have to fiddle with it. It's never in the way. The battery is replaceable, so this is a quality investment that will serve me well for years. And they work really well!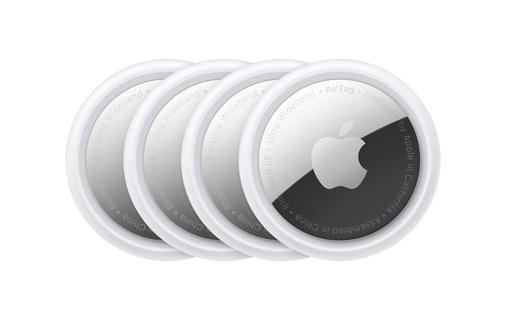 How to Set Up AirTags
You'll need an iPhone, iPad, or iPod touch with iOS 14.5 or iPadOS 14.5 or later and two-factor authentication turned on.
To be able to use Precision Finding and to see the most accurate location for your AirTag, turn on Location Access for the Find My app.
Go to Settings > Privacy > Location Services, then scroll down and tap Find My. Check While Using the App or While Using the App or Widgets. Then turn on Precise Location.
Follow these steps to activate an AirTag
If your AirTag is new, remove the wrap around the product and pull out the tab to activate the battery. Your AirTag will play a sound.
Hold your AirTag near your iPhone, iPad, or iPod touch, then tap Connect. If you have multiple AirTags and see "More than one AirTag detected", make sure that only one AirTag is near your device at one time.
Select an item name from the list, or select Custom Name to name your AirTag and choose an emoji. Then tap Continue.
To register your AirTag with your Apple ID, tap Continue again.
Tap Done.
BTW: If there's an active AirTag around you that isn't yours, your iPhone will alert you.
Final Thoughts
The Find My app has saved my bacon more than once over the years, mainly to locate a misplaced iPhone. Now, being able to use that same technology to keep track of my cameras and valuables is very comforting. AirTags are easy to use, and a bit of fun as well.
A 4-pack of AirTags costs $99.
Product Links and Comments
There are product links in this article that contain affiliate tags. In some cases, depending on the product, The Digital Story may receive compensation if you purchase a product via one of those links. There is no additional cost to you.
You can share your thoughts at the TDS Facebook page, where I'll post this story for discussion.