This is The Digital Story Podcast #831, Feb. 22, 2022. Today's theme is "Lightroom vs CP1 with a Dash of Neo on the Side." I'm Derrick Story.
Opening Monologue
For the longest time, Fujifilm photographers have heard that Capture One Pro is the best Raw processor for their files. But is that true? We review a head to head test with Lightroom to find out. Oh, and Luminar Neo is now available. How does it standup against Luminar 4 and AI. All of this and more on today's TDS Photography Podcast.
Digital Photography Podcast 831
Tune-In Via Your Favorite Podcast App!

---

Apple Podcasts -- Spotify Podcasts -- Stitcher

Podbean Podcasts -- Podbay FM -- Tune In
Lightroom vs CP1 with a Dash of Neo on the Side
In the FStoppers article, Which Program Handles Fujifilm Raw Files Better, Lightroom or Capture One?, they pit the two premier RAW processors against one another with Fujifilm files. Some of their findings were quite interesting. Here are some excerpts from the article:
With Fujifilm medium format cameras, there is virtually no difference in how each of the film simulations are rendered. There is some back and forth between how Lightroom and Capture One work, however, for the most part, there's no clear winner.
On the other hand, it's quite a different story when it comes to Fujifilm APS-C cameras. Lightroom seems to have some problems with X-Trans sensors. Also, there are subtle differences in how the film profiles are rendered too.
Capture One has slightly more saturated red tones in the skin. This appears more pleasing in comparison to the Lightroom file, which leans more into the yellows tones. This is, of course, a matter of preference; however, the point is that for Fujifilm X-Trans cameras, there is a difference in how the film profiles are rendered.
The first thing to notice is that the Capture One image appears to have more contrast and vibrance. Due to these subtle differences, most people may likely prefer the results from Capture One. Also, Lightroom does do a better job at managing the vignette, but once again, some may prefer the darker corners.
Additionally, Lightroom seems to have a problem when it comes to rendering green tones from an X-Trans sensor. In the previous image, the blue and yellow tones were perfectly fine in how Lightroom rendered them; however, green seems to cause a lot of problems.
From the images that have been tested over the last month, it seems Lightroom mostly struggles with the color green. All of the other images tested did not demonstrate any issues. Effectively, this worming issue is going to be a problem if what you photograph contains a lot of green tones, for example, landscape photography.
If you're a landscape photographer, you will likely come across this issue in your images. If you're creating content for social media, then this may be a forgivable issue. If you're a professional photographer, it may be wise to avoid Lightroom and use Capture One instead.
Final Thoughts In this series of articles, we covered Canon, Sony, and now Fujifilm. With Canon and Sony, the choice between Lightroom and Capture One was entirely down to personal preference. There was no clear way to determine a winner because both programs produced great results. With Fujifilm, there are objective differences that cannot be ignored.
If you shoot with medium format cameras such as the GFX 100S and the new GFX 50S II, then the differences are negligible. Capture One and Lightroom perform admirably with Fujifilm medium format cameras. This may also be the case with some Fujifilm APS-C cameras that use a Bayer sensor. However, with Fujifilm X-Trans cameras, it's clear that Capture One is the better choice.
Luminar Neo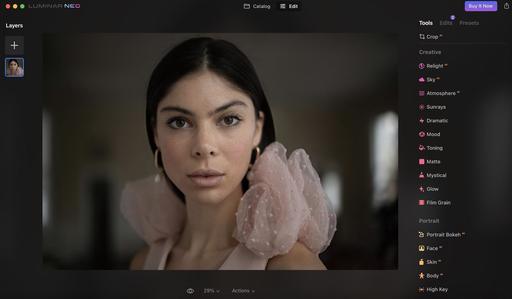 What is Luminar Neo? Have you ever wanted to achieve more with your images? Luminar Neo is an innovative image editor powered by AI technologies of the future that simplifies complex editing routines and enables creators to bring their boldest ideas to life. And enjoy it.
Get speed and flexibility in your editing with our brand-new core engine and layers workflow.
The new engine we built for Luminar Neo is based on all the best solutions from our combined and evolved experience for maximum performance and creativity and is developed for achieving complex creative results.
Adjust the light in your photo for creative control over the lighting in a scene. You can control the exposure of an image based on the distance from the lens to independently adjust the background and foreground exposure.
Automatically remove spots on your images caused by dust and dirt on your lens and sensor.
Clean up unwanted power lines from the skies in your cityscapes.
Experiment with infinite creative possibilities by effortlessly combining two or more images in a shot.
The new technologies and innovative user experience in Luminar Neo make creative image editing simple and fun.
How Do You Listen to the TDS Podcast?
Here are the Poll Results from our Inner Circle Members.
Apple AirPods
Car Audio Speakers
Using the Built-In Speakers on My Laptop or Mobile Device
Wired Earbuds
Over-the-Ear Headphones
Home Audio System
Some comments included:
"The car was always my favourite place for podcasts, but I don't commute now, so it's starting to move more to playing it in the house on HomePod. Occasionally, I will listen on a walk with AirPods but it has to be cold enough to wear a beanie or they won't stay in my ears!" - Andrew
"I almost always listen while driving. If I do listen at home, It is usually when doing yard work using over the ear heradphones. If I try to just listen, usually get so distracted with something that I never actually listen and have to go back and listen again." - Jeff
Transistor Radio was not an option... - John
The 2022 TDS Workshop Season
We have great events lined up for this year, and there are a few more coming. Here's a recap of what we have so far:
April 2022 - Humboldt Redwoods Workshop (physical)
May 2022 - Infrared Photography Workshop (online event)
August 2022 - Ultimate B&W Photography Workshop (online)
Sept. 2022 - Eastern Sierra Photo Workshop (physical)
Nov. 2022 - Oregon Coast Photography Workshop (physical)
You can learn more about all of these events and register by visiting TheNimblePhotographer.com.
Free Battery + 3-Year Extended Warranty with Purchase of OM-1!
You can read the entire article at on the Olympus Site.
To celebrate the introduction of our newest flagship camera, the OM SYSTEM OM-1, we're happy to provide you additional peace of mind through our special extended warranty offer. Simply complete your product registration and we'll give you a complementary 3-Year Extended Limited Warranty on the OM-1 body, which stretches your limited warranty coverage to four years from the date of your original camera purchase!
Preorder the OM SYSTEM OM-1 or OM SYSTEM OM-1 and M.Zuiko Digital ED 12-40mm F2.8 PRO II kit from your favorite OM SYSTEM retailer.
Receive an additional OM SYSTEM BLX-1 Battery for free with your OM-1.
Register your OM-1 camera at GetOlympus.com/register within 45 days of purchase.
Receive an email confirmation of your Three Year Extended Limited Warranty. Hold on to that email confirmation; you'll need it along with the valid receipt from your camera purchase as proof of your extended warranty if you ever need assistance.
Offer valid from February 15, 2022 to March 3, 2022 for OM-1 preorders made in the US and Canada.
If you're going to order from B&H, please use this link.
Virtual Camera Club News
Inner Circle Members: A big thanks to those who support our podcast and our efforts!
My Writing on Medium.com: I now have 51 published articles on Medium.com. And if you haven't visited the site, and enjoy good writing on a variety of topics, I suggest that you may want to take a look. You can just go to the home page and enter "Derrick Story" in the search field. And if you like what you read, then follow me!
The New Donation Kit for Carefree Shipping of Found Film Cameras - If you've discovered a film camera that's no longer being used, our new Donation Kit makes it easy to pack and ship. Just visit the Contact Form on thenimblephotographer.com, click the box next to Donating a Film Camera, and let me know what you have. In your note, be sure to include your shipping address.
Affiliate Links - The links to some products in this podcast contain an affiliate code that credits The Digital Story for any purchases made from B&H Photo and Amazon via that click-through. Depending on the purchase, we may receive some financial compensation.
Red River Paper - And finally, be sure to visit our friends at Red River Paper for all of your inkjet supply needs.
See you next week!
You can share your thoughts at the TDS Facebook page, where I'll post this story for discussion.