When I was contemplating buying my first instant camera in decades, I did a little research on the Fujifilm Instax Mini Evo Hybrid camera. Some reviewers thought that the instant film side was good, but the digital specs were lacking. I mean, who puts a 1/5" sensor in a camera these days?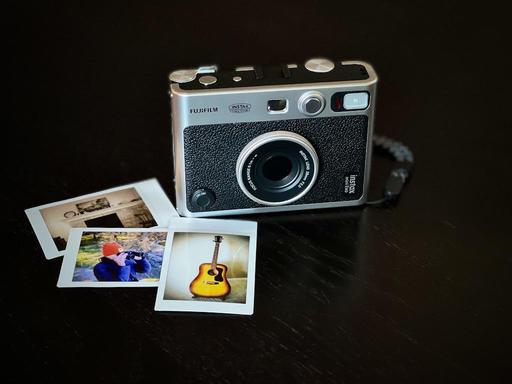 Now that I have the Mini Evo, I understand what Fujifilm was thinking, and what some reviewers missed.
It's not supposed to be a digital camera. The hybrid functions are designed to give us more flexibility with the instant shots. So instead of pressing the shutter and waiting for the print to emerge, we can take as many pictures as we want, then choose the best of them on its 3" LCD, output that and leave the rest as digitals. Not only is the Mini Evo clever, it's efficient.
Digital Designed for Analog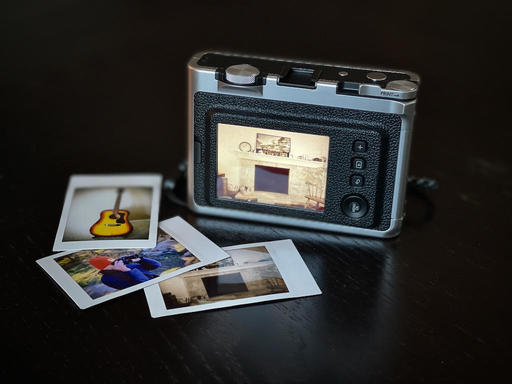 The Mini Evo captures Jpegs with its 1/5" CMOS sensor. You can review the images on the 3.0" 460k-dot LCD screen, and they can be saved to a mini-SD card that is accessed via a slot hidden in the bottom of the camera.
If you import the pictures on to your computer, you get a 1920 x 2560 Jpeg that's 1.3 MB with basic metadata including ISO, shutter speed, EV compensation, aperture, and timestamp. Applied lens and film effects are added to the Jpeg. They look quite nice, in a 2010 kind of way.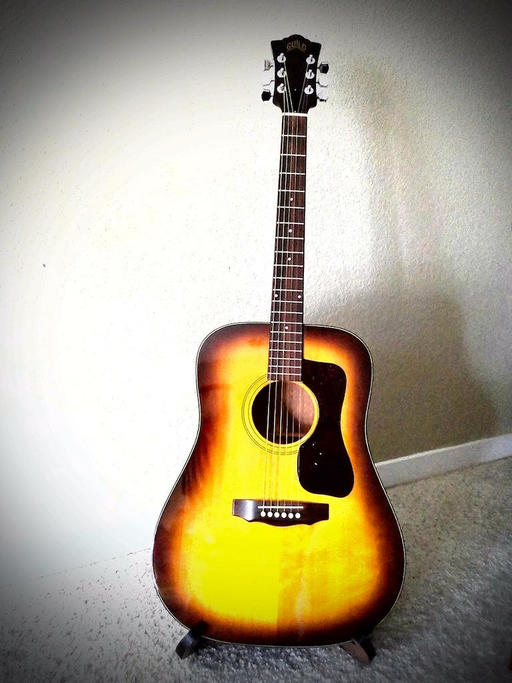 Exported image with lens effect and film simulation.
If you instant-printed one of these images via the camera, you can send that image to your smartphone. It has less resolution, 800 x 800, but includes the cool-looking Polaroid-style framing.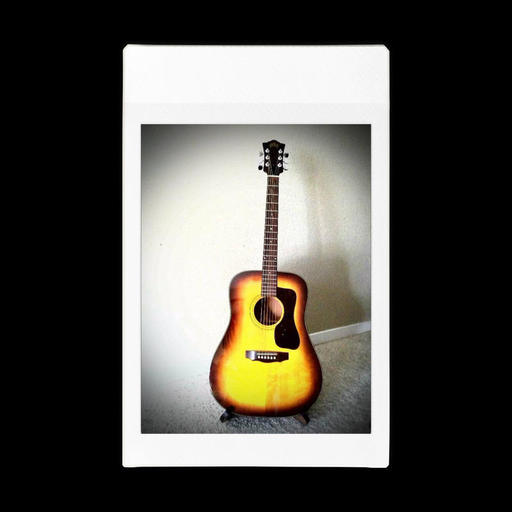 Export of a printed image.
So yes, you can use the Mini Evo as a digital camera, but that's not its intended use. What it excels at is being a very flexible, fun, and efficient instant print camera.
Instant Printing with the Mini Evo
The way I've been using the camera is to experiment with its 10 different lens effects and 10 film simulations, taking as many pictures as I want (never even coming close to filling up the mini-SD card), reviewing them on the 3" LCD, then printing the best of the bunch.
The 2" x 3" photos look great, and they fit perfectly in the wallet making them wonderful keepsakes marking occasions and experiences that we enjoyed.
I've been purchasing the Mini Film Value Pack that includes 6 packs of 10 exposures for only $34.88. In the world of analog photography, and instant in particular, that's a deal.
Plenty of Settings and Features
The camera's Bluetooth communicates effortlessly with the Instax Mini Evo app (Android and iOS), allowing you to transfer printed images from camera to phone, enable remote shooting, and use the Mini Evo as a printer for your smartphone pictures. That's right. Why buy a separate instant printer when you can have all of this in about the same size?
The Instax Mini Evo app on an iPhone 12 Pro Max.
Camera features include controllable flash, exposure compensation, white balance, face detection, multi-segment metering, autofocus, AF illuminator, and macro mode. The 28mm (equivalent) lens has a maximum aperture of f/2.0
There's a top function button, two shutter buttons, a selfie mirror, and a cool film advance lever that serves as the print initiator. The whole package weighs 10 ounces and measures 4.8 x 3.4 x 1.4", so it's easy to bring along.
The Bottom Line
The Fujifilm Instax Mini Evo Hybrid camera is now available in the U.S. for $199. Even though the camera itself costs more than many other instant film models, you get many more features, and its efficiency will save you money in the long run.
The Mini Evo is a camera for photographers as well as instant film fans. Its collection of features, configurable settings, film simulations, lens effects, and smartphone compatibility more than justify its place in your jacket pocket for family events and outings.
Product Links and Comments
There are product links in this article that contain affiliate tags. In some cases, depending on the product, The Digital Story may receive compensation if you purchase a product via one of those links. There is no additional cost to you.
You can share your thoughts at the TDS Facebook page, where I'll post this story for discussion.