This is The Digital Story Podcast #835, March 22, 2022. Today's theme is "6 Camera Bags (and no more!)." I'm Derrick Story.
Opening Monologue
The process of thinning out one's gear is not an easy one, especially when it comes to camera bags. But I am determined to whittle down my collection to 6 essential carrying solutions. Today, I will share the list of my leading contenders, and why I'm hanging on to them. I hope you enjoy the show.
Digital Photography Podcast 835
Tune-In Via Your Favorite Podcast App!

---

Apple Podcasts -- Spotify Podcasts -- Stitcher

Podbean Podcasts -- Podbay FM -- Tune In
6 Camera Bags (and no more!)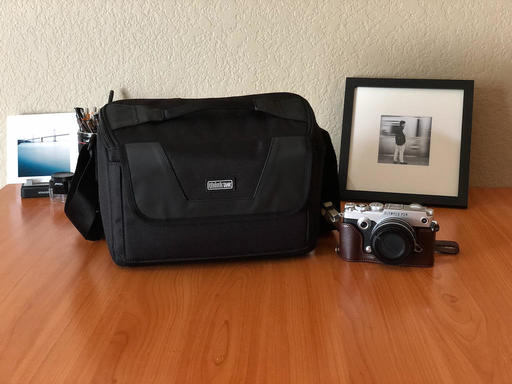 As I've mentioned in the show a few times, I'm in the process of reorganizing one of the rooms upstairs at the studio. This has been a slow, arduous project that is tapping new depths of my patience.
When it's completed, I will be thrilled. But I have a ways to go, and my current challenge is thinning out my extensive camera bag collection. It hasn't helped that I've worked for both Lowepro and Think Tank over the years. But I can no longer justify the wall of bags, many of which are no longer used.
I've used a few guidelines to help my prune. First, if I haven't used a particular item in a couple years, it needs to find a new home. If there are multiple variations of a style, only one can stay. And if it's not in great shape, it's time for a new home.
I then determined the best bag for six different activities: event photography, business travel, family vacation, street photography, workshops, and day hikes. And here are the six survivors to this point.
Event Photography - Think Tank Spectral 10 - When I first scored this mid-sized shoulder bag, I never dreamed it would be my go-to for events. But it holds everything I need (2 bodies, lenses, flash) without any wasted space. And it looks just as good today as the day I got it.

Business Travel - Tenba Cooper 13 Slim - This wonderful travel bag was in competition with the Think Tank Vision 13 (which I also really like). The Cooper 13 slides over the handle of my roller bag and looks fantastic. Has a back zippered pocket for my laptop, padded, removable insert for my camera gear, and plenty of accessory pockets. It looks just as good in a business meeting as it does in the airport lounge.

Family Vacation - LowePro Photo Hatchback 18L AW - This is truly a fun bag that can be used for casual day hikes, afternoon car trips, and chillin' on the plane. It can accommodate both my iPad mini and the 11" MacBook Air (my vacation laptop). It has two large mesh side pouches for water bottles. Plenty of accessory pockets. And it's beautiful blue color reminds me that I'm on vacation.

Street Photography - Think Tank Mirrorless Mover 25i - There is a lot of competition in this category including the Think Tank Urban Approach 5. But I like the bread loaf dimensions of the Mirrorless Mover that isn't too deep and is just the right amount of wide. My iPad mini fits wonderfully in the inside sleeve. The clever dividers have storage pockets, the top flap can be zippered for security or secured lightly with a magnetic latch (no velcro). Plus handy little side pockets, handsome hardware, rain cover, and a belt loop in the back.

Workshops - Classic Tamrac shoulder bag - Even though this canvas-styled shoulder bag was made bag in the film photography days, I love it. Big top flap with a removable "film pouch" in the lid, spacious interior that's not too big or small, leather-trim top handle, big front pouch, and securable by both buckles or zipper. I just love the classic design, and it's very functional.

Day Hikes/Adventure - Lowepro ProTactic 350 AW - In some ways, this is my most dependable backpack. Access pockets on both sides, top, and back. Suspended laptop sleeve inside the bag for ultimate protection, tactical loops on the outside for accessories such as additional pouches, water bottle, or straps for tripod and hiking sticks. Interior is high configurable, grab handles on top and bottom, and built-in all weather cover. If the going gets tough, this is the backpack that I want to protect my gear.
So there you have it: two backpacks and four shoulder bags. It's going to be difficult for me to let the others go. But I have a feeling that I will be just fine.
Video: Mac Studio teardown gives us a close look at M1 Ultra and reveals SSD storage is upgradeable
You can read the entire article on DP Review.com
The new Mac Studio is a great computer. In our review, we called Apple's new M1-powered desktop 'The Apple desktop we've been waiting for.' The new desktop computer looks like a Mac mini on steroids, and it can be configured to extreme, pro-oriented specifications. The new desktop can be built to include an Apple M1 Ultra with a 20-core CPU, 64-core GPU and 32-core Neural Engine, plus 128GB of RAM and 8TB of SSD storage. That option will set you back $7,999. The base model starts at $1,999.
Gone are the days of being able to order a base model of an Apple computer and upgrading it later as you see fit. The Mac Pro, which still comes with Intel processors, is unique in Apple's lineup for its user-replaceable components. Or is it? A new Mac Studio teardown video by Max Tech shows that the Mac Studio is, in fact, upgradable by the end user. Sort of. The computer is not designed to be opened. Max Yuryev of Max Tech decided to disassemble the Mac Studio by pulling up the rubber ring on the machine's bottom. With the rubber remove, you can see four screws. With the bottom of the case removed, there are more screws to remove. Lo and behold, visible without taking the computer itself apart is a port to put additional SSD storage. If you don't max out the storage when you buy the Mac Studio, there will be an empty storage slot available.
On the Apple Store, Apple recommends users to configure the Mac Studio with enough storage because it's not 'user accessible.' However, as we can see, storage is user accessible. Granted, it's not super straightforward, but it isn't that complicated either. RAM, of course, is not user-upgradable because Apple Silicon is system on a chip (SoC). The RAM is built right into the M1-series chip that you purchase. Of course, that hasn't stopped a Chinese engineer Yang Changshun from doing it on an M1 Mac. Of course, compared to that incredibly difficult and risky maneuver, upgrading the SSD on the Mac Studio seems like a walk in the park.
The 2022 TDS Workshop Season
We have great events lined up for this year, and there are a few more coming. Here's a recap of what we have so far:
April 2022 - Humboldt Redwoods Workshop (physical)
May 2022 - Infrared Photography Workshop (online event)
August 2022 - Ultimate B&W Photography Workshop (online)
Sept. 2022 - Eastern Sierra Photo Workshop (physical)
Nov. 2022 - Oregon Coast Photography Workshop (physical)
You can learn more about all of these events and register by visiting TheNimblePhotographer.com.
Still No OM-1 Shipment
Here's an update about receiving my shipment of the OM-1 with the new 12-40mm Pro zoom
Virtual Camera Club News
Inner Circle Members: A big thanks to those who support our podcast and our efforts!
I did get the gig at the Sonoma International Film Festival later this month, as I discussed in last week's podcast. Later this week we begin the job. Will provide an update during next week's show.
My Writing on Medium.com: I now have 51 published articles on Medium.com. And if you haven't visited the site, and enjoy good writing on a variety of topics, I suggest that you may want to take a look. You can just go to the home page and enter "Derrick Story" in the search field. And if you like what you read, then follow me!
The New Donation Kit for Carefree Shipping of Found Film Cameras - If you've discovered a film camera that's no longer being used, our new Donation Kit makes it easy to pack and ship. Just visit the Contact Form on thenimblephotographer.com, click the box next to Donating a Film Camera, and let me know what you have. In your note, be sure to include your shipping address.
Affiliate Links - The links to some products in this podcast contain an affiliate code that credits The Digital Story for any purchases made from B&H Photo and Amazon via that click-through. Depending on the purchase, we may receive some financial compensation.
Red River Paper - And finally, be sure to visit our friends at Red River Paper for all of your inkjet supply needs.
See you next week!
You can share your thoughts at the TDS Facebook page, where I'll post this story for discussion.