This is The Digital Story Podcast #836, March 29, 2022. Today's theme is "A Pat on the Back and a Slap in the Face." I'm Derrick Story.
Opening Monologue
The four days leading up to Sunday's Academy Awards was a deep dive into great filmmaking as I covered the Sonoma International Film Festive as a photographer for SIFF. In what should have been the crowning finish to the week sank awkwardly to the bottom with a sad display of toxic male behavior. Here's more about the people I met in Sonoma and my thoughts there after.
Digital Photography Podcast 836
Tune-In Via Your Favorite Podcast App!

---

Apple Podcasts -- Spotify Podcasts -- Stitcher

Podbean Podcasts -- Podbay FM -- Tune In
A Pat on the Back and a Slap in the Face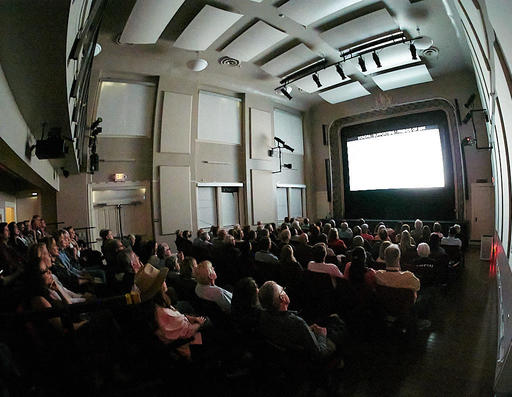 Before I take you back to Thursday morning with my first assignment of covering the now award-winning film, Rosie and Frank, I want to say that my understanding of the law is that it is not justifiable to assault another person based on something they say. So, do not count me among those standing in ovation of Will Smith.
OK, let's get to the other side of the coin.
Rosie and Frank
I arrived at Andrews Hall at 9:15 Thursday morning to cover my first film of the festival, Rosie and Frank. In attendance was co-director Peter Murphy and the lead actress. For the next 115 minutes I was transported to a small town in Ireland where a grieving widow (Rosie) finds her footing again with the help of a stray dog (Frank).
The movie provides insights about community, loss, inner strength, compassion, pettiness, and sacrifice. Afterward, the filmmakers shared their insights about the challenges of the project.
And as I left the theater, my faith in humanity and respect for independent filmmaking were glowing. On Sunday afternoon, Rosie and Frank earned the audience award for Best Feature.
Blind Ambition
I saw four more films before returning to Andrews Hall on Friday morning for the screening of the documentary, Blind Ambition, where a team of Zimbabwean refugees turned sommeliers shake up the international wine establishment when they compete in the World Wine Tasting Championships.
Directors Warwick Ross and Rob Coe show us the grit determination, undying optimism, and ultimate triumph of four young men who reinvent themselves before our very eyes. There are no excuses in Blind Ambition. But there is ample display of belief in self and emotional intelligence as these men build a new life for them and their families.
After the movie, co-director Warwick Ross clearly communicated his respect for his film stars and his love of the project.
Blind Ambition went on to win the Audience Award for Best Documentary.
Pretty Problems
Five more movies at different venues before I returned to Andrews Hall on Saturday afternoon for the screening of Pretty Problems. Fresh off a win at SXSW, this crew of young filmmakers had created a comedy that follows a flailing couple on a getaway trip with affluent strangers: down the rabbit hole, and into the most unhinged weekend of their lives.
Word was circulating about the movie after its first screening, and there was a line out to the street to attend the second showing. Most were turned away because the house was already full.
The director, writers, and many cast members were there to watch to audience laugh and sometimes grown as the stars of the movie wrestled with the notion that money does not buy happiness.
After the standing ovation, they stood before the glowing audience clearly moved by the success of their hard work. Big smile, misty eyes, and the revelation that they had a real shot at success in the craft that they all loved so much.
As the photographer covering the story, I try to keep a professional relationship with my subjects. But afterward, I couldn't resist approaching the movie's screenwriter and commending he and his team for such a wonderful movie.
He shook my hand and said, "My name is Michael. What is yours?" Then he thanked me, sincerely, for expressing appreciation for their work. Michael stood outside and interacted with every person who wished to speak with him, and did not leave until folks had had their say.
Pretty Problems went on to win the Jury Award for Best English Language Feature.
Overall Impressions of Thursday through Saturday
I met artists who had been in the business for 40 years and others celebrating their first recognized feature film. When I headed home late Saturday night, I was glowing with pride and respect for a community of artists who represented themselves and their craft quite well.
Sunday Night
Coming off the film festival, you can imagine how excited I was to see the Academy Awards on Sunday night. I had seen nearly all of the nominated films. My personal favorites were Belfast, Coda, and MacBeth.
One of the first things I noticed that night was the biting humor. Some of it was funny, but some was not. I was uncomfortable with the "COVID Test" bit where male actors were brought up on stage as part of a man-hunk bit. They looked uncomfortable as well. This was quite different than my previous three days.
But the ultimate downer was the immature display of male toxicity that transpired between Will Smith and Chris Rock. I might add, Best Actor nominee and ultimate winner Will Smith. It was foul and disgusting.
I'm sure as Jane Campion watched this unfold before her, she much have thought that her movie nailed an aspect of our culture. There is was, a real life Phil Burbank before her very eyes.
I think that it's ironic, that for me in this crazy whirlwind of a week immersed in filmmaking, that I saw the best and worst of its community.
The best in acceptance speeches by Troy Kotsur (Coda), Ariana DeBose (West Side Story), Kenneth Branagh (Belfast), and Ahmir "Questlove" Thompson (Summer of Soul). And the dozens of filmmakers that I met in Sonoma who open-heartedly shared their struggles and triumphs.
Photographers and filmmakers are kindred spirits in many ways. We can learn a lot from one another. And my view is let's not reward those few bad apples whose actions tarnish the integrity of our craft.
Keep an eye out for the movies that I mentioned here. They represent what I respect in filmmaking.
Mac Studio Teardown Reveals SSD is Upgradable, But Blocked By Apple
You can read the entire article on PetaPixel.com
According to a pair of recent YouTube videos from Max Tech and Luke Miani, the M1 Ultra Mac Studio might actually be upgradeable, but only by Apple. The SSD is removable, but upgrades appear blocked on a software level.
Though this practice has become expected, YouTubers Max Tech and Luke Miani discovered a few surprising things after opening up a new Mac Studio to address concerns that it did not appear easy to access the interior of the new computer to clean the fans, as spotted by The Verge and DPReview.
After opening up the computer, which Apple apparently did not make an easy process, they discovered that there is an extra SSD port visible after removing the first layer of components and casing of the device. After just removing the rubber ring on the bottom of the machine and the screws for the very bottom case, the extra SSD port was clearly visible in the corner of the device. The two determined that this meant that if a buyer opted to not max out the storage when placing an order for a Mac Studio, it would theoretically then be possible to add a new SSD in this extra slot at a later date.
In the continued teardown, it is shown that Apple wastes no space with its design, but diving deeper, Miani discovers that even with the extra port, the device still cannot be upgraded as it appears to be blocked by Apple on a software level.
The 2022 TDS Workshop Season
We have great events lined up for this year, and there are a few more coming. Here's a recap of what we have so far:
April 2022 - Humboldt Redwoods Workshop (physical)
May 2022 - Infrared Photography Workshop (online event)
August 2022 - Ultimate B&W Photography Workshop (online)
Sept. 2022 - Eastern Sierra Photo Workshop (physical)
Nov. 2022 - Oregon Coast Photography Workshop (physical)
You can learn more about all of these events and register by visiting TheNimblePhotographer.com.
Best Enthusiast Mirrorless Cameras for Around $2000 in 2022
You can read the entire article on ImagingResource.com
In this article, we're going to provide recommendations for excellent enthusiast-class mirrorless cameras from several manufacturers. However, we're also breaking up our list of suggestions into two categories. The first one will focus on enthusiast mirrorless cameras priced under $2000, which is a popular price ceiling that many camera buyers are likely to limit themselves. However, when assessing the field of potential cameras to recommend, we noticed that several options are *just above* that $2000 mark, and it would be a shame to leave them out. Therefore, we have a second list of recommendations with a few remaining options priced a bit higher than $2000 but still within this same general "Enthusiast Mirrorless" territory.
Fuji X-T4
Nikon Z6 II
Olympus OM-D E-M1 Mark III
Panasonic S5
Sony A7 III
Sony a6600
Canon R6
OM System OM-1
Sony A7 IV
Virtual Camera Club News
Inner Circle Members: A big thanks to those who support our podcast and our efforts!
My Writing on Medium.com: I now have 51 published articles on Medium.com. And if you haven't visited the site, and enjoy good writing on a variety of topics, I suggest that you may want to take a look. You can just go to the home page and enter "Derrick Story" in the search field. And if you like what you read, then follow me!
The New Donation Kit for Carefree Shipping of Found Film Cameras - If you've discovered a film camera that's no longer being used, our new Donation Kit makes it easy to pack and ship. Just visit the Contact Form on thenimblephotographer.com, click the box next to Donating a Film Camera, and let me know what you have. In your note, be sure to include your shipping address.
Affiliate Links - The links to some products in this podcast contain an affiliate code that credits The Digital Story for any purchases made from B&H Photo and Amazon via that click-through. Depending on the purchase, we may receive some financial compensation.
Red River Paper - And finally, be sure to visit our friends at Red River Paper for all of your inkjet supply needs.
See you next week!
You can share your thoughts at the TDS Facebook page, where I'll post this story for discussion.