This is The Digital Story Podcast #841, May 3, 2022. Today's theme is "Mother's Day and Other Great Family Photos" I'm Derrick Story.
Opening Monologue
Some folks will be spending time with their family this weekend thanks to Mother's Day on Sunday. Generally speaking, Moms don't like having their picture taken. But I have a few tips for you in today's show that will not only help you get her in front of the camera, but will also ensure she looks great in the picture. I hope you enjoy the show.
Digital Photography Podcast 841
Tune-In Via Your Favorite Podcast App!

---

Apple Podcasts -- Spotify Podcasts -- Stitcher

Podbean Podcasts -- Podbay FM -- Tune In
Mother's Day and Other Great Family Photos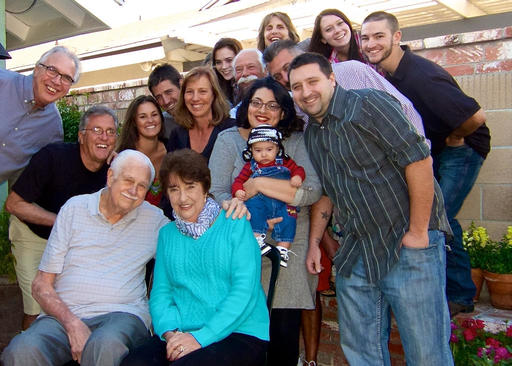 Here are my 5 tips for great Mother's Day photos.
No Solo Portraits - Very few moms will stand for a solo portrait. But if you get the kids involved, she will gladly pose with them. And that's the secret: small group photos with those she loves.

Work Fast - Whatever trust you gained with the group photo approach, you can just as quickly lose if you take too long to complete the picture. Before the gathering begins, set up your camera so it is ready to go and all you have to do is compose, focus, and shoot.

Use Fill Flash Outdoors - There's a reason why so many wedding photographers use fill flash outdoors: it is flattering for the subject. Bringing light from the front softens textures and adds a twinkle to the eye.

Bring an Instant Printer - Making prints on the spot is a hit. And you can let people take their favorites with them when they return home. I use a FUJIFILM INSTAX MINI EVO Hybrid Instant Camera ($199) for this purpose. I send the pictures from my camera to the iPhone, crop and edit as needed, then send the image to the Fujifilm camera/printer.

Email Photos to Everyone - If you establish a track record of following through and sending everyone shots of the day as promised, you'll find that they will more eagerly pose for you during family events.
And finally, those of you lucky enough to spend time with your Mom and other family members this weekend, take a moment to appreciate the gift you are receiving. And to all the moms listening, Happy Mother's Day, and thank you for everything you do.
The 2022 TDS Workshops Update
We have great events lined up for this year, and there are a few more coming. Here's a recap of what we have so far:
May 2022 - Infrared Photography Workshop (online event) - Sold Out
August 2022 - Ultimate B&W Photography Workshop (online) - Sold Out
Sept. 2022 - Eastern Sierra Photo Workshop (physical) - 2 Seats Available
Nov. 2022 - Oregon Coast Photography Workshop (physical) - 3 Seats Available
You can learn more about all of these events and register by visiting TheNimblePhotographer.com.
OM SYSTEM M.ZUIKO DIGITAL ED 40-150MM F4.0 PRO REVIEW
You can read on amateurphotographer.com.
OMDS says the lens is, in effect, a scaled-down version of the Olympus M.Zuiko Digital ED 40-150mm F2.8 PRO, with an optical formula derived from its larger-aperture sibling. This is likely to be a good thing, given that the 40-150mm f/2.8 gives excellent image quality. However, like the Olympus M.Zuiko Digital ED 12-45mm F4.0 PRO and the aforementioned 20mm f/1.4, the new lens also employs a simplified physical design, with neither a programmable L-Fn button on the barrel, nor a focus ring that can be snapped back towards the camera to engage manual focus.
At £799, the 40-150mm f/4 neatly occupies the middle ground between its £1099 f/2.8 sibling and the entry-level M.Zuiko Digital ED 40-150mm F4-5.6 R, which costs around £210. It's clear that OMDS views it mainly as a travel-friendly option that should nicely complement small cameras like the Olympus OM-D E-M5 Mark III, rather than an action-friendly option for E-M1 or OM-1 users. But how does it stack up in practice?
In many respects, the OM System M.Zuiko Digital ED 40-150mm F4 PRO delivers nicely on its promise. Like the 12-45mm f/4, it adapts the optical design of its larger, more expensive f/2.8 sibling to deliver lovely crisp images from a small, lightweight package. Indeed, it's remarkably small for a 300mm equivalent lens with premium optics. You don't even have to go searching for a sweet spot in terms of focal length and aperture, as it delivers plenty of detail at f/4. The real trick is not to stop down too far.
There are, however, some compromises to accept in return for the compact size. Naturally the f/4 maximum aperture isn't great for blurring backgrounds, while autofocus isn't quite as good at keeping up with fast-moving subjects compared to more expensive optics, either. But I suspect many users will happily accept these drawbacks in return for the lens's sheer portability.
Overall, then, the 40-150mm f/4 is a fine little lens that neatly fills a gap in the M.Zuiko line-up between the entry-level and f/2.8 Pro zooms that cover the same range. It's a particularly good match for compact Micro Four Thirds bodies such as the E-M5 Mark III, but is just as good a choice for E-M1/OM-1 users looking to travel light. It would make an excellent companion for either the 12-40mm f/2.8 or 12-45mm f/4.5 standard zooms.
Recommended - 4.5 Stars
Dorothea Lange Words and Pictures
You can read on LensCulture.com.
"All photographs can be fortified by words," Lange wrote. For her, words could extend the power of an image, not just causing an emotional response but also urging the viewer to not only see but to read, to listen carefully. She wrote that her image captions should carry "not only factual information, but also added clues to attitudes, relationships and meanings," calling these captions "connective tissue." Some of her image titles exhibit a matter of factness, a dry wit, On the Road to Los Angeles, California (1937) features two men walking down a dirt road towards a billboard advising to take the train next time. An image of men in front of a building is titled Six Tenant Farmers Without Farms, Hardeman County, Texas (1937).
The power of words also extended beyond image titles, to encompass the voice of her subjects. Whilst photographing, Lange took copious field notes on her assignments recording where, when, and who she was depicting and what they had to say. The exhibition shines a light on these collections and how in pairing the photographs with the subjects' own words, Lange empowered their voices. The endpapers of her book An American Exodus, which she worked on with her husband, the agricultural economist Paul Taylor, hold the words of her subjects. Upon entering the gallery, these words feature prominently, as an introduction to the images on view, giving voice to the protagonists of her work.
Throughout the show, wall text enriches the images with fragments of Lange's own notes and extended quotes from those she photographed. This combination of words and pictures hits both head and heart; the photographs touch the viewer but the words allow them to do more than that, they shine a light on the injustices of the wider world through experience and fact. They also illuminate the inner thoughts and methods of a photographer committed to bringing change to the world with the tools at hand.
Even through the show has come and gone, the book from it is available on Amazon.com.
Virtual Camera Club News
Will return with another installment from My Favorite Adventure Series.
Inner Circle Members: A big thanks to those who support our podcast and our efforts!
My Writing on Medium.com: I now have 51 published articles on Medium.com. And if you haven't visited the site, and enjoy good writing on a variety of topics, I suggest that you may want to take a look. You can just go to the home page and enter "Derrick Story" in the search field. And if you like what you read, then follow me!
The New Donation Kit for Carefree Shipping of Found Film Cameras - If you've discovered a film camera that's no longer being used, our new Donation Kit makes it easy to pack and ship. Just visit the Contact Form on thenimblephotographer.com, click the box next to Donating a Film Camera, and let me know what you have. In your note, be sure to include your shipping address.
Affiliate Links - The links to some products in this podcast contain an affiliate code that credits The Digital Story for any purchases made from B&H Photo and Amazon via that click-through. Depending on the purchase, we may receive some financial compensation.
Red River Paper - And finally, be sure to visit our friends at Red River Paper for all of your inkjet supply needs.
See you next week!
You can share your thoughts at the TDS Facebook page, where I'll post this story for discussion.