This is The Digital Story Podcast #842, May 10, 2022. Today's theme is "The Bias Against Teleconverters and Conversion Lenses." I'm Derrick Story.
Opening Monologue
Photographers tend to like their cameras clean and their lenses lean. Anything that might compromise image quality such as teleconverters, conversion lenses, and sometimes even filters is frowned upon. But how legitimate are our concerns? I re-examine my biases in today's TDS Photography Podcast. I hope you enjoy the show.
Digital Photography Podcast 842
Tune-In Via Your Favorite Podcast App!

---

Apple Podcasts -- Spotify Podcasts -- Stitcher

Podbean Podcasts -- Podbay FM -- Tune In
The Bias Against Teleconverters and Conversion Lenses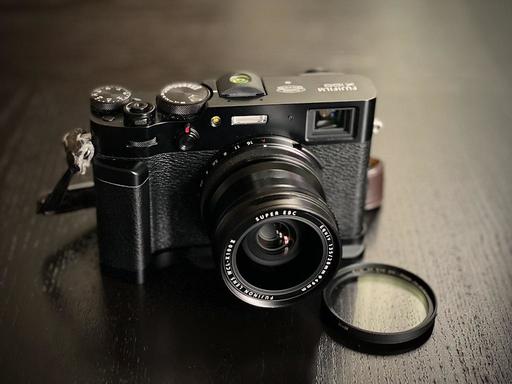 My concerns about teleconverters and conversion lenses stretches all the way back to the film days. I can still remember the disappointment I felt when I got my prints back from the lab after using a $20 2X tele converter on my 70mm-210mm zoom lens. The pictures were so soft they were almost fuzzy.
And that letdown happened after suffering through the picture taking process where I could barely focus my camera because the viewfinder was so dark from the 2 stops loss of light.
I also experimented with low-cost conversion lenses that extended the range or allowed me to get closer with my standard optic. Again, the results were far from satisfying.
And so I swore off optical enhancers all together. If my lens could get the job done natively, then I would either have to go without or buy another lens that met my needs. And like so many other scenarios in photography, the opinion I formed years ago remains with me today. Or at least it did.
My first modern breakthrough was the Olympus MC-14 M.Zuiko Digital 1.4x Teleconverter that I use with my 40-150mm PRO zoom. Now granted, the Olympus teleconverter is matched to their own optics, and it costs $349, not $29. And the performance is every bit as good as with a native zoom.
My latest breakthrough is the FUJIFILM WCL-X100 II Wide Conversion Lens for my X100V. I had been using a DIY rig that I cobbled together, but I finally saved up and got the matched optic from Fujifilm. And what a joy it is.
It is handsome, compact, smart, and provides excellent image quality. And it costs $349.
I've started to change my opinion about these accessory optics, and a few of the reasons are:
Mirrorless Cameras and AF End the Focusing Problem - Thanks to great AF systems and electronic viewfinders, we no longer pay an "ease of focusing price" with teleconverters.

Matched Optics Are Better than Generics - When I buy Olympus for Olympus or Fujifilm for Fujifilm, those optics are designed for specific lenses and not just generic magnifiers.

More Expensive Does Mean Better - The coatings and construction for my FUJIFILM WCL-X100 II are on par with the lens it fits over. These are real optics, not toys.

Match Features Enhance User Experience - Niceties such as automatic viewing frame adjustment and correct EXIF data readout feel very much like an interchangeable lens camera.

More Compact than a Full Size Lens - This is especially true with the teleconverters, but even with the wide angle conversion lens.
So then it comes down to image quality. And as I look at my shots at 100 percent magnification in Capture One Pro, I see sharpness, detail, and good color. There certainly may be a tradeoff compared to an expensive prime lens, but considering the other benefits combined with very good image quality, it's hard to argue against these optical accessories for light-packing nimble photographers.
The 2022 TDS Workshops Update
We have great events lined up for this year, and there are a few more coming. Here's a recap of what we have so far:
May 2022 - Infrared Photography Workshop (online event) - Sold Out
August 2022 - Ultimate B&W Photography Workshop (online) - Sold Out
Sept. 2022 - Eastern Sierra Photo Workshop (physical) - 2 Seats Available
Nov. 2022 - Oregon Coast Photography Workshop (physical) - 3 Seats Available
You can learn more about all of these events and register by visiting TheNimblePhotographer.com.
My Favorite Adventure Series - Helicopter Flight Over Hoover Dam
This idea came out of a group conversation that we had in the Humboldt Redwoods where the guys were interested in some of my big assignments from the past. We kiddingly nicknames these stories, "Back in the Day."
I decided to take them up on their suggestion and run semi-regular spots highlighting really cool photography adventures that I've been lucky enough to experience. Here's another one.
I had a chance to shoot with a preproduction model of the Panasonic DMC-TZ5 at PMA in January 2008. The "TZ" stands for travel zoom, and this is a terrific "on the go" camera.
Starting with the 10X Leica DC Vario-Elmarit optical zoom (28-280mm equivalent), the little compact can handle a variety of shooting situations. The image stabilization works wonderfully, and having the option of choosing among aspect ratios (4:3, 3:2, or 16:9) is a creative plus. This latest version provides HD movie capture at 1280 x 720 @ 30 fps. The accompanying audio is recorded with an onboard mic, so it isn't as good as the visuals, but still a great option to have while traveling.
The picture of Hoover Dam that I shot with the TZ5 is featured on the fourth page of The Digital Photography Companion across from the credits. I was able to add the image just as we were going to production.
Shooting from a helicopter is tricky business. You have to photograph through glass that is often curved and full of reflections. Unlike with other through-glass shooting, you can't put your camera lens up against the surface because of the rotor vibration while flying. I was dealing with all of these factors while capturing this image of Hoover Dam with Lake Mead in the background at the Arizona/Nevada border in Southwestern USA.
So here's how I did it. I used a Panasonic LUMIX TZ5 (just announced at PMA) in aerial scene mode. What that does (and what you can do on your own) is activate image stabilization and "warm up" the white balance to offset the coolness of shooting from above. I then looked for a patch of clean glass and held the camera as close to it as possible without touching it. I watched the reflections as the pilot maneuvered, and shot when the reflections weren't apparent.
You can increase your odds of success by wearing dark clothing (that doesn't reflect in the glass as much) and bringing a polarizer filter. Both help minimize reflections in the glass. If you're using a compact, bring one that has as wide a focal length as possible. The TZ5 goes to 28 mm, which helped considerably for capturing big scenes.
ProGrade Digital announces $460 512GB V90 UHS-II SDXC Cobalt series memory card
You can read the entire story> on DPreview.com.
ProGrade Digital has announced a 512GB version of its Cobalt UHS-II SDXC memory card, which offers maximum read and write speeds up to 300MB/s and 250MB/s, respectively.
This new 512GB Cobalt SD card offers V90 performance, guaranteeing the minimum write speeds never drop below 90MB/s, an important specification for times when you're recording high bit-rate video directly onto the card. ProGrade Digital, which was founded by industry veterans from Lexar and SanDisk, says each component of the card is tested 'down to individual memory chips' to ensure the best performance and reliability possible.
The 512GB Cobalt SD card is both X-ray and shockproof, and capable of operating between -25ºC (-14ºF) and 85ºC (185ºF). It also features built-in error correction that detects and corrects data write and data transfer errors.
The ProGrade Digital 512GB UHS-II SDXC memory card is available to pre-order for $460, which amounts to roughly $.90/GB. There are also 256GB, 128GB and 64GB models available, but those have been available for well over a year now.
Virtual Camera Club News
Inner Circle Members: A big thanks to those who support our podcast and our efforts!
My Writing on Medium.com: I now have 51 published articles on Medium.com. And if you haven't visited the site, and enjoy good writing on a variety of topics, I suggest that you may want to take a look. You can just go to the home page and enter "Derrick Story" in the search field. And if you like what you read, then follow me!
The New Donation Kit for Carefree Shipping of Found Film Cameras - If you've discovered a film camera that's no longer being used, our new Donation Kit makes it easy to pack and ship. Just visit the Contact Form on thenimblephotographer.com, click the box next to Donating a Film Camera, and let me know what you have. In your note, be sure to include your shipping address.
Affiliate Links - The links to some products in this podcast contain an affiliate code that credits The Digital Story for any purchases made from B&H Photo and Amazon via that click-through. Depending on the purchase, we may receive some financial compensation.
Red River Paper - And finally, be sure to visit our friends at Red River Paper for all of your inkjet supply needs.
See you next week!
You can share your thoughts at the TDS Facebook page, where I'll post this story for discussion.