This is The Digital Story Podcast #843, May 17, 2022. Today's theme is "The Camping Gear Special for Photographers." I'm Derrick Story.
Opening Monologue
Camping and photography are the peanut butter and chocolate of outdoor actives. It's an understatement to say they go together well. And over the years I've learned that the more comfortable I am in nature, the better my pictures turn out. In that spirit I'm sharing with you some of my favorite camping gadgets and tips to help you maximize your experiences. I hope you enjoy the show.
Digital Photography Podcast 843
Tune-In Via Your Favorite Podcast App!

---

Apple Podcasts -- Spotify Podcasts -- Stitcher

Podbean Podcasts -- Podbay FM -- Tune In
The Camping Gear Special for Photographers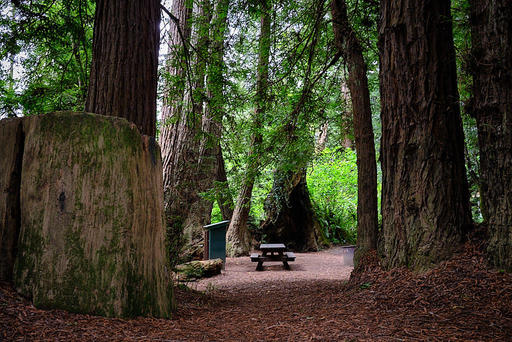 Before going forward, let's step back for a minute, quite a ways back. I remember the very moment that I decided that I needed to buy a camping vehicle. It happened during a frosty October morning in the Eastern Sierra when the ground was as hard as concrete.
I struggled a bit to get my jeans on in the two-man tent, crawled out the front opening on my hands and knees, and staggered toward the camp stove to begin a cup of coffee. As I stretched the kinks out of my back, I thought to myself, there has got to be a more comfortable way to do this.
One month later I bought the VW Vanagon with fold out double bed. And my outdoor life has never been the same.
The Vanagon has moved on to a new owner, but my camping life continues to improve. These days, I'm sleeping soundly, eating well, and brimming with creativity as I work outdoors.
A few carefully selected items have mad all the difference. And the totality of them fit easily in the electric SUV. I thought you might enjoy learning about the gear that has transcended my wilderness mornings from creaky to comfortable. Here are my recommendations.
Clean, Convenient Fire
Fire is at the heart of any camping experience. It cooks your food, adds glowing ambience to the evening, and helps warm the bones. Let's start with the most essential item: the camp stove.
Coleman 2 Burner Grill/Stove $89 - If you don't like washing dishes and pots while camping, and you want to keep packaging waste to a minimum, then a grill is definitely the way to go.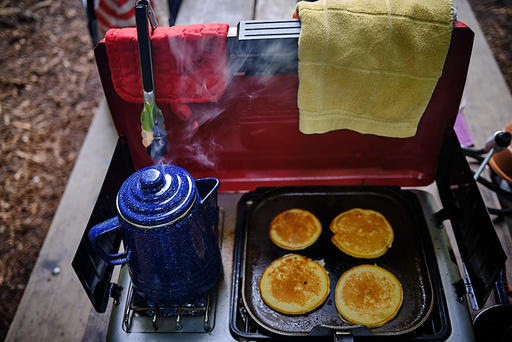 This Coleman combo works great, is easy to clean, and includes a regular burner as well for that pot of breakfast coffee. Even though the stove is affordable, it has held up well over time for me.
Tip: an 11" x 11" griddle fits perfectly over the grill making it easy to cook pancakes and eggs for breakfast.
Ignik Refillable Gas Growler Deluxe 5-Pound Propane Tank $149 This refillable propane tank is quite compact, yet it replaces 5 Coleman bottles that end up in the landfill.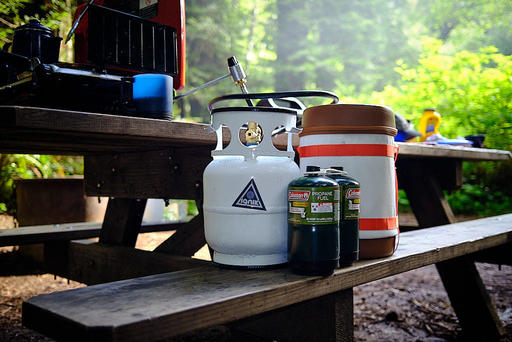 The kit comes with a 5-Pound tank, adapter hose for your propane stove, and a carry case. It all zips up nicely and fits in the back of your vehicle without taking up much room. So much better than disposable 1-lb bottles, and far more compact that a full size tank. And enough fuel for days of camping.
Portable Propane Gas Fire Pit Outdoor Firebowl $135 - Sitting around a fire ring is fun, but the smoke and mess isn't. You can still tell scary stories around a fire with a propane-powered fire pit.
This is a perfect match for the propane growler tank I mentioned earlier. It's compact, easy to set up, smoke free, and you don't have to worry about hazardous embers. And yes, you can make s'mores over its flames.
Turning Your Car into a Home
SlimShady Awning OG $249 This lightweight room-mounted awning transforms your car campsite into a homy patio. You'll get the best price directly from Yakama, but you will need crossbars for your roof rack if you don't have them already.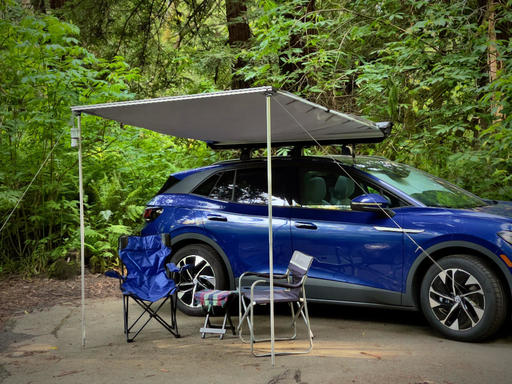 You can set it up solo in about 15 minutes, but it's much easier with 2 people. I like the 6.5' awning that's comfortable for a couple chairs and a table. Be prepared to answer a few questions from others in the campground, because people seem to really like this rig.
Breathable Mesh Car Window Shades - I sleep much better in the back of my VW ID.4 now that I have mesh screens for the rear windows. This allows me to have cross ventilation at night which is both refreshing and eliminates condensation inside the car.
The most important thing is that they fit your window snugly so you don't have to worry about pests entering the cabin at night. They also help keep your car cool during the day because you can leave the screens in place and roll down the rear windows all the way.
Camco Aluminum Side Table $17 - These portable side tables fold flat taking up very little storage space, but provide great utility in camp.
I recommend getting a couple of them. One to serve as a side table for snacks and drinks while lounging in your camp chair, and a second as an ottoman to raise your feet. I clip a braided placemat to the top to make it even more comfortable for my legs.
Bessport Camping Blanket $32 - Lightweight camping blankets come in so handy around the site. Great for draping over legs as the sun goes down, using as a morning cape while brewing coffee, or adding an extra layer of warmth to your bed. I keep one in the VW at all times, but use it most in the campsite.
RoverTac Camping Accessories Gear Tools Multitool Hatchet Survival Gear Axe $21 - Great for pounding in tent stakes, chopping up tinder, and dozens of other uses.
Bonus Item
Bisquick Shake 'n Pour Pancake Mix - Remember my quest for no messy dishes or bowls? Just add 1 1/2 cups of water to the Shake n Pour container, shake for 30 seconds, and pour the batter on to a hot griddle. In just a few minutes you will have delicious, fluffy pancakes.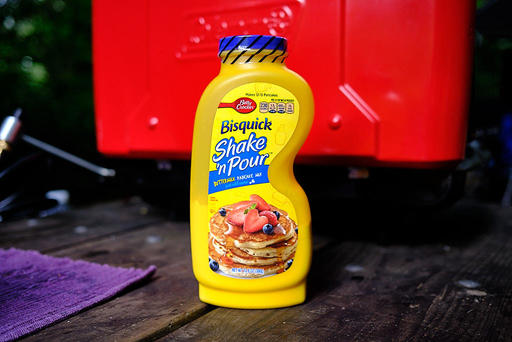 Makes enough for four with egg and fruit side dishes, or plenty for two with just the cakes. Once the batter is gone, recycle the container, wipe off the griddle, and you're done.
Bonus Tip: I use paper plates for my camping. All I have to wash are my utensils.
Final Thoughts
These little comforts make a big difference during the outing. Not only will you be more comfortable, but I'm betting more creative as well.
The 2022 TDS Workshops Update
We have great events lined up for this year, and there are a few more coming. Here's a recap of what we have so far:
May 2022 - Infrared Photography Workshop (online event) - Sold Out
August 2022 - Ultimate B&W Photography Workshop (online) - Sold Out
Sept. 2022 - Eastern Sierra Photo Workshop (physical) - 2 Seats Available
Nov. 2022 - Oregon Coast Photography Workshop (physical) - 3 Seats Available
You can learn more about all of these events and register by visiting TheNimblePhotographer.com.
OM System OM-1 review
You can read the entire review at Preview.com.
The OM-1 excels in situations such as wildlife shooting, where its power and compact telephoto lenses mean it's able to offer an unmatched combination, but it can also be a pretty capable sports camera or a general, everyday photographers' camera expected to shoot a bit of everything. So, while it can't generally match a comparably priced full-frame camera for image quality, but there's nothing else that offers this level of all-round capability (shooting speed, AF performance, IS performance, weather sealing) in such a small package.
The OM-1 brings speed, improved AF and more detailed video to a system that already offered great image stabilization and small and light camera/lens combinations. This makes it a powerful all-rounder with particular strengths for wildlife. That compactness comes as a trade-off for absolute image quality but a series of computational multi-shot modes can help close the gap in certain circumstances. It's a lot of capability for the money.
Overall Score: 87 percent with a Silver Award. More than 1,600 comments.
Virtual Camera Club News
Inner Circle Members: A big thanks to those who support our podcast and our efforts! We are having a blast at our new Inner Circle hangout, the private group I've set up at DerrickStoryOnline. We'd love it if you join us. You can become an Inner Circle Member by signing up at our Patreon site. You will automatically be added to the new hangout.
My Writing on Medium.com: I now have 51 published articles on Medium.com. And if you haven't visited the site, and enjoy good writing on a variety of topics, I suggest that you may want to take a look. You can just go to the home page and enter "Derrick Story" in the search field. And if you like what you read, then follow me!
The New Donation Kit for Carefree Shipping of Found Film Cameras - If you've discovered a film camera that's no longer being used, our new Donation Kit makes it easy to pack and ship. Just visit the Contact Form on thenimblephotographer.com, click the box next to Donating a Film Camera, and let me know what you have. In your note, be sure to include your shipping address.
Affiliate Links - The links to some products in this podcast contain an affiliate code that credits The Digital Story for any purchases made from B&H Photo and Amazon via that click-through. Depending on the purchase, we may receive some financial compensation.
Red River Paper - And finally, be sure to visit our friends at Red River Paper for all of your inkjet supply needs.
See you next week!
You can share your thoughts at the TDS Facebook page, where I'll post this story for discussion.