This is The Digital Story Podcast #846, June 7, 2022. Today's theme is "It's Official: Capture One for the iPad in June" I'm Derrick Story.
Opening Monologue
Capture One users and those thinking about migrating to the robust photo management app finally get the news they have been waiting for: the iPad version will be released this month! Our lead story will look at what's included and what isn't. Plus a few top of mind thoughts on the new MacBook Pro 13" M2, and more. I hope you enjoy the show.
Digital Photography Podcast 846
Tune-In Via Your Favorite Podcast App!

---

Apple Podcasts -- Spotify Podcasts -- Stitcher

Podbean Podcasts -- Podbay FM -- Tune In
It's Official: Capture One for the iPad in June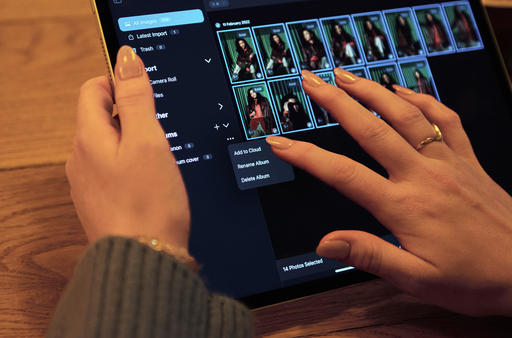 "No wine will be released before its time," and such is the case with Capture One software as well. But finally they are confident enough in the iPad version to share it with the world.
Cost and Availability
The software will be available on June 28 at 1 PM CEST, will cost $4.99 a month, and will be available through the App Store.
Version 1 Features
More will be added to C1P iPad in the future, but for starters users can expect:
Import from camera roll, files, a plugged-in camera or an SD card - Create albums - Sort and filter.

Culling with Star rate and Color tag.

Quick Editing with styles and presets - Create styles and presets - Import styles and presets.

Crop and Rotate.

Editing: White balance (wb & tint) - Exposure (exposure, contrast, brightness, saturation) - Dynamic Range (highlights, shadows, whites, blacks) - Clarity and structure - Dehaze (auto and manual) - Basic color editor, with color picker - HSL - B&W conversion - Vignetting - Sharpening (amount, radius, threshold, halo) - Noise reduction (luminance, details, color, single pixel) - Film grain (modes, impact, granularity) - Moiré - Histogram.

Before/After - Undo/Redo/Reset - Display basic metadata - Copy and apply (selective adjustments).

Add album to the cloud, to be imported into CO Pro desktop - Export jpgs (predefined recipes) - Export EIPs - Watermark (text-only) - Share to any relevant app, including cloud storage ones, or save to files - Airdrop.
Upcoming Features
Tethering, Masks and Layers, Cloud improvements for file transfer and ultimately, synchronization.
Understanding Their Approach
Capture One iPad app is not intended to be a replacement for the desktop app, but instead its best companion. Even though the iPad app works perfectly well on its own, it is built to be a part of an ecosystem where you can work smoothly across devices to get the most out of your time, money, and images.
With the Capture One iPad app you can plug your camera directly into your iPad, import hundreds of photos, organize them and get to culling. See your images in all their glory on the iPad screen, quickly swipe through them, and rate or color tag them. Filter your best ones and start editing using either Styles or manual adjustments.
Once you are done editing, you can show your images directly on the screen to team members and clients when together on location or by exporting them as JPEGs. If you would like to refine your images even further when you get home, upload your album to the cloud, import it into Capture One Pro on desktop, and continue working exactly from where you left off.
The 2022 TDS Workshops Update
We have great events lined up for this year, and there are a few more coming. Here's a recap of what we have so far:
May 2022 - Infrared Photography Workshop (online event) - Sold Out
August 2022 - Ultimate B&W Photography Workshop (online) - Sold Out
Sept. 2022 - Eastern Sierra Photo Workshop (physical) - Sold Out
Nov. 2022 - Oregon Coast Photography Workshop (physical) - 3 Seats Available
You can learn more about all of these events and register by visiting TheNimblePhotographer.com.
What the Heck Was Apple Thinking with the New 13" MacBook Pro?
Since I'm still working with all Intel processor Macs, I was hoping that the M2 MBP 13" would be the computer that I could upgrade to. I guess I'll have to keep waiting.
First, let's start with the basic specs:
13.3-inch Retina display
Apple M2 chip
Up to 24GB memory
Up to 2TB storage
Up to 20 hours battery life
Touch Bar and Touch ID
Two Thunderbolt/USB 4 Ports
One Headphone/Mic jack
Starting price: $1,299 - Available in July.
Those are nearly the exact same specs as the new MacBook Air that starts at $1,199, but includes a slightly bigger screen and a MagSafe power port. The new Air doesn't include the TouchBar (that practically nobody cares about) and gets 18 hours of battery life compared to 20.
So tell me, what is Pro about the 13" MacBook Pro? Only 2 Thunderbolt ports (one of which has to be used for charging since there is not a MagSafe port), no SD card slot, and no other ports period.
I guess we'll see what happens next time.
Fujifilm announces X-H2S high-end APS-C stills/video hybrid
You can read the entire article on DP Review.com.
Fujifilm has announced the X-H2S, a high-end stills/video APS-C mirrorless camera. It's built around a stabilized 26MP Stacked CMOS sensor that lets it shoot at up to 40 frames per second with full AF. It can also shoot 4K video at up to 120p in a wide range of codecs.
The X-H2S uses its fast-readout sensor and new X-Processor 5 chip to add subject recognition AF (Humans, Animals, Trains, Planes, Motorbikes, Cars and Birds), and more sophisticated AF tracking even with subject-detection disengaged. This combines with the ability to shoot at up to 40fps and a buffer that allows up to 184 JPEG or 175 Raw files at this fastest rate, and over 1000 JPEGs or 400 Raw images at 15fps using its mechanical shutter.
On the video side of things the X-H2S can capture DCI or UHD 4K at up to 60p using the full width of its sensor to give footage sampled from 6.2K width. It can also shoot 3:2 6.2K footage using its entire sensor area or 4K at up to 120p from a 1.29x cropped area. Footage can be recorded in a choice of 8-bit H.264, 10-bit H.625 or ProRes 422HQ, 422 or 422 LT with the option of ProRes Proxy capture in parallel. 4K at up to 120p can be output over HDMI or a Raw stream for encoding as ProRes RAW or BRaw using external recorders.
The Fujifilm X-H2S will be available from early July at a recommended price of $2499.
Virtual Camera Club News
Have you been unsubscribed? A number of listeners have let me know that they were unceremoniously unsubscribed from the show. If that happens to you, just go back to the app and click on subscribe.
Inner Circle Members: A big thanks to those who support our podcast and our efforts! We are having a blast at our new Inner Circle hangout, the private group I've set up at DerrickStoryOnline. We'd love it if you join us. You can become an Inner Circle Member by signing up at our Patreon site. You will automatically be added to the new hangout.
My Writing on Medium.com: I now have 51 published articles on Medium.com. And if you haven't visited the site, and enjoy good writing on a variety of topics, I suggest that you may want to take a look. You can just go to the home page and enter "Derrick Story" in the search field. And if you like what you read, then follow me!
The New Donation Kit for Carefree Shipping of Found Film Cameras - If you've discovered a film camera that's no longer being used, our new Donation Kit makes it easy to pack and ship. Just visit the Contact Form on thenimblephotographer.com, click the box next to Donating a Film Camera, and let me know what you have. In your note, be sure to include your shipping address.
Affiliate Links - The links to some products in this podcast contain an affiliate code that credits The Digital Story for any purchases made from B&H Photo and Amazon via that click-through. Depending on the purchase, we may receive some financial compensation.
Red River Paper - And finally, be sure to visit our friends at Red River Paper for all of your inkjet supply needs.
See you next week!
You can share your thoughts at the TDS Facebook page, where I'll post this story for discussion.