One of the new features in the Capture One Pro 15.3 update is a redesigned tools panel. This is where you access everything from Exposure to Spot Removal. And if you haven't customized your Tools panel in a while, the timing couldn't be better to do so.
Start by Removing Tool Tabs You Don' Need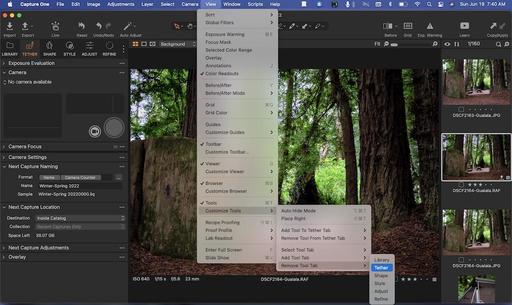 Removing tools you don't need.
First you want to clear up a little space at the top of the Tool Tab by removing any Tool Tabs that aren't part of your daily workflow. In my case, the Tether Tab is the first to go. I rarely use is, and I don't need it taking up valuable real estate.
Go to View > Customize Tools > Remove Tool Tab and select from the list the one you want to take off the top of the column. Keep in mind that this Tool Tab isn't deleted, just repositioned.
Also note that you can customize the tools within any tab. So if you want to remove the Refine Tab, but want Sharpening easily available, you could add that tool to another tab such as the new Quick Tab.
Customize Within the Tool Tabs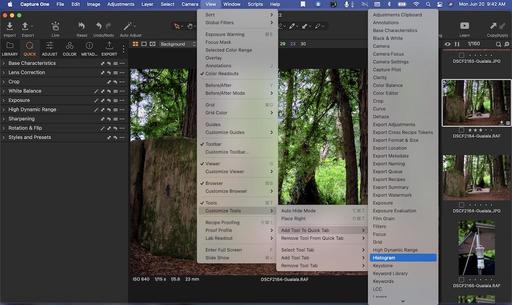 Adding a Tool to a Tool Tab
Once you get your basic categories set at the top of the Tools column, you will probably want to customize a few of the Tools within each tab. Open the Tab you want to modify, then go to View > Customize Tools > Add Tool to [selected] Tab. You can also remove tools as well to tailor each Tab exactly to your liking.
If you want to reorder the Tab icons at the top of the Tools column, hold down the Command key and drag the icon to its new location.
Save Your Workspace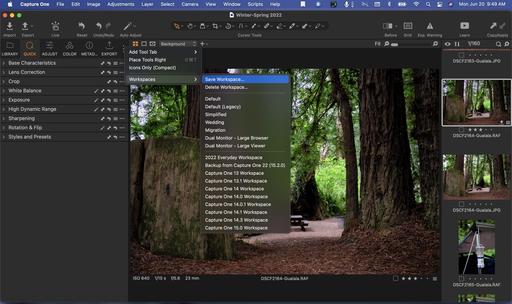 It's a great feeling to get your Capture One Pro house in order. Now is the time to save your Workspace so you can return to it at any time. This is particularly handy if you have different workspaces for different workflows, or if you have multiple photographers using the same computer.
Click on the three vertical dots at the top of the Tool Tab column. Save the Workspace, and you're set. This is also where you can move the Tool Tabs column from one side of the interface to the other.
Final Thoughts
Customizing your Tools workspace feels good and improves efficiency. And now that we have new tabs with a fresh design, this is the perfect time to tidy up your Capture One Pro interface.
You can share your thoughts at the TDS Facebook page, where I'll post this story for discussion.