This is The Digital Story Podcast #851, July 12, 2022. Today's theme is "5 Great Vintage Lenses for Your Digital Camera." I'm Derrick Story.
Opening Monologue
Creative photography is often about character. How can we create looks that are unique and convey the intended emotion. One of my favorite starting points for this is to adapt a vintage lens to my Olympus PEN-F. Everything changes, from process to outcome. And the images are truly different. In today's podcast, I share 5 of my favorite vintage optics for digital photography. I hope you enjoy the show.
Digital Photography Podcast 851
Tune-In Via Your Favorite Podcast App!

---

Apple Podcasts -- Spotify Podcasts -- Stitcher

Podbean Podcasts -- Podbay FM -- Tune In
5 Great Vintage Lenses for Your Digital Camera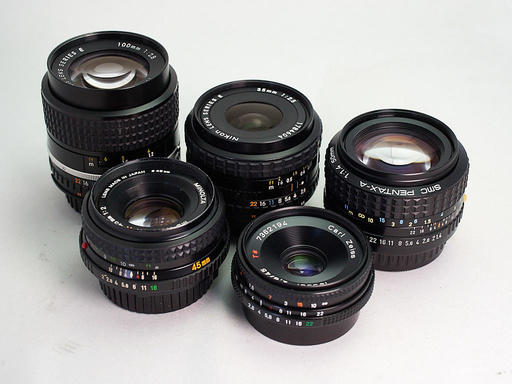 If you're interested in this technique, there are a few things you will need. First, a mirrorless camera that you like to experiment with, not so much your workhorse. You want to be able to leave the optic on the camera to grab when inspiration strikes.
You'll need an adapter. These are reasonably priced and are specific to the lens mount and camera. I have a small collection of these so I can adapt a variety of optics to my PEN-F and Fuji X100S. And finally, you'll need the lens itself, preferably a prime that is f/2.8 or faster.
As a bonus, I do like to have a film body to go with the lens. Every now and then it's fun to load up a roll of 35mm and experiment further.
OK, so all of that being said, here are five vintage optics that I've really enjoyed using.
Minolta MD Rokkor-x 45mm f/2.0
This is a relatively easy to find optic that is very compact, fast, and produces great images. It's a terrific portrait optic on Micro Four Thirds cameras because the equivalent focal length is 90mms.
I do like the compact primes for this work because even with the adapter, they still look good on the camera and are easy to handle and shoot with.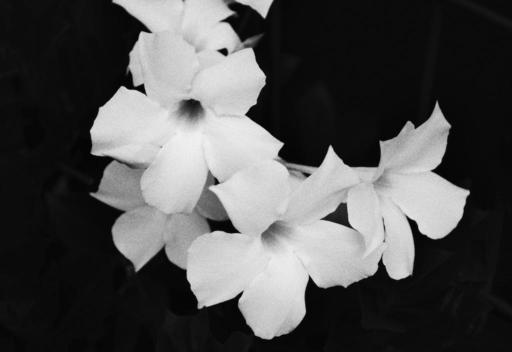 Backyard flowers captured with the Zeiss 45mm f/2.8 on a PEN-F. Photo by Derrick Story.
Carl Zeiss Tessar T* 45mm f/2.8
This is my favorite vintage optic on the PEN-F. It costs a bit more than the Minolta 45mm, but it is even more compact, and truly looks like it was designed for the camera.
The Tessar is sharp, contrasty, and produces great color or B&W images. I particularly like it with the Mono setting on the PEN-F for contrasty, artistic B&W work.
This lens is an absolute beauty.
SMC Pentax-A 50mm f/1.4
Surprisingly compact for such a fast optic with a beautiful front objective lens. The Pentax is a bit heftier than the Minolta or Zeiss 45s, but you get crazy-fast wide aperture with impressive falloff and creamy backgrounds.
The Pentax 50mm is also relatively easy to find, and also is available and f/1.7 and f/2.0 versions. You won't be disappointed with either color or B&W output.
Nikon Series E 100mm f/2.8
I first fell in love with the Series E 100mm for film work, but then was enchanted all over again when adapted to the Fujifilm X100s medium format camera.
With a crop factor of 0.79, the Nikon becomes a cool 79mm portrait lens on the GFX. And just as a point of interest, the Fujifilm does have a 35mm setting on the camera for this application.
Nikon Series E 35mm f/2.5
This is such a handy lens that works well on a variety of digital cameras. If you mount on a Nikon full frame DSLR, it's a versatile 35mm lens, put it on a MFT body, and it becomes a lovely 70mm portrait optic, and on the GFX medium format camera, it goes wide at 28mm.
The Series E lenses are affordable, but not always easy to come by, so you need to keep your eyes open for when one pops up on the used market.
And then if you want to go for the grand slam, score a Nikon film body too and head out for a little analog street photography.
Final Thoughts
All of these lenses give you a different look from their modern counterparts. But there are other factors involved that contribute to the unique outcome. Manual focus slows you down and often makes for more interesting compositions, and motivation to experiment with other settings on the camera such as Art Filters and monochrome further pushes the creative envelope.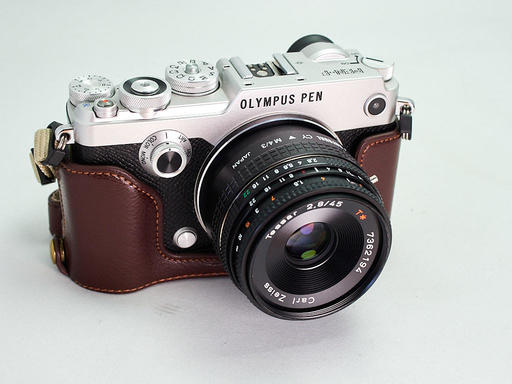 Olympus PEN-F with adapter and Zeiss 45mm f/2.8 vintage lens.
If you're photography is feeling a bit in the rut, a vintage lens might just get you rolling again in the creative fast lane.
Become a Medium Member and Support Independent Writers
The articles that I publish on Medium.com are an important part of our overall ecosystem. That work introduces new members to our community and what we're doing here.
If you enjoy the vast array of great writing on Medium, including the photography articles, consider becoming a member to support me and the other writers there.
Please use this link to do so.
2021 Was Leica's Best Financial Year Ever
You can read the entire article on PetaPixel.com.
Leica has announced that 2021/22 was its best financial year in its more than 100-year history. It increased revenue by 16% to 450 million euros.
The financial year was between April 1, 2021, and March 31, 2022 which resulted in the best business result in the company's history of more than 100 years.
Leica CEO Matthias Harsch says that in addition to these numbers, sales of cameras and sports optics were also up and allowed the company to accelerate international growth despite the COVID-19 pandemic and its effect on supply chains and retail stores.
"We are convinced that our products 'made in Germany' fulfill the strongly growing consumer demand for high-quality sustainable brands and that our new product categories will generate increasing enthusiasm for the world of Leica photography in younger target groups," Harsch says.
The company says that a significant factor in its growth was the expansion of its global sales and retail network as well as the online business sector.
"With the realignment of US business activities and the founding of regional organizations in the Middle East and Scandinavia, the company further consolidated its activities in strategically important premium markets," Leica reports.ctions in camera design.'
Tell a Friend
I was thinking the other day about how people love to tell me about their favorite podcasts, which I appreciate!
Then, I started thinking, we should be telling our friends about The Digital Story podcast. It's available on every service that's commonly used: Apple Podcasts, Google Play, Amazon, Spotify, and on and on.
If each or our regular listeners told just one friend about this podcast and encouraged them to listen, those should be substantial numbers.
So let's try it! Tell a friend about the TDS Photography Podcast.
How to Create a Photography Website and Print Store
You can read the entire article on thewanderinglens.com.
Good article that covers the basic considerations for creating a photography website.
Virtual Camera Club News
Have you been unsubscribed? A number of listeners have let me know that they were unceremoniously unsubscribed from the show. If that happens to you, just go back to the app and click on subscribe.
Inner Circle Members: A big thanks to those who support our podcast and our efforts! We are having a blast at our new Inner Circle hangout, the private group I've set up at DerrickStoryOnline. We'd love it if you join us. You can become an Inner Circle Member by signing up at our Patreon site. You will automatically be added to the new hangout.
My Writing on Medium.com: I now have 51 published articles on Medium.com. And if you haven't visited the site, and enjoy good writing on a variety of topics, I suggest that you may want to take a look. You can just go to the home page and enter "Derrick Story" in the search field. And if you like what you read, then follow me!
The New Donation Kit for Carefree Shipping of Found Film Cameras - If you've discovered a film camera that's no longer being used, our new Donation Kit makes it easy to pack and ship. Just visit the Contact Form on thenimblephotographer.com, click the box next to Donating a Film Camera, and let me know what you have. In your note, be sure to include your shipping address.
Affiliate Links - The links to some products in this podcast contain an affiliate code that credits The Digital Story for any purchases made from B&H Photo and Amazon via that click-through. Depending on the purchase, we may receive some financial compensation.
Red River Paper - And finally, be sure to visit our friends at Red River Paper for all of your inkjet supply needs.
See you next week!
You can share your thoughts at the TDS Facebook page, where I'll post this story for discussion.