This is The Digital Story Podcast #854, August 2, 2022. Today's theme is "One Half 'Somewhat Satisfied' with Their Backup System." I'm Derrick Story.
Opening Monologue
One thing has led to another, and our ongoing conversation about Peakto has led to a bigger discussion about backup strategy in general. So I presented a poll to our Inner Circle Members, and I'm going to share those results, and some tips, on today's TDS Photography Podcast. I hope you enjoy the show.
Digital Photography Podcast 854
Tune-In Via Your Favorite Podcast App!

---

Apple Podcasts -- Spotify Podcasts -- Stitcher

Podbean Podcasts -- Podbay FM -- Tune In
One Half "Somewhat Satisfied" with Their Backup System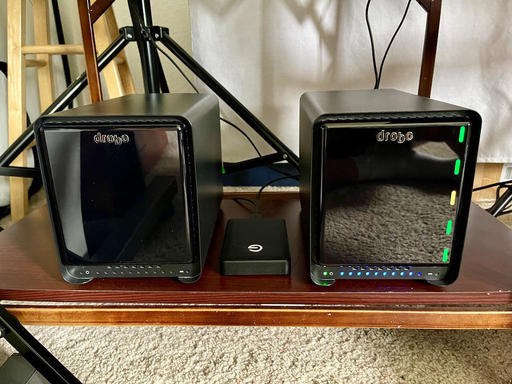 In a recent poll of our Inner Circle Members, 54% of the respondents said, "My backup system is a work in progress, but I am more satisfied than not with it." And to add to that, another 28% noted that, "I have a great backup system and am perfectly satisfied with the safety of my data." That means that a whopping 82% of those respondents believe they data is in good shape. I think that's great.
So I thought you might be interested in some of their comments as you're thinking about your own data protection. Let's see what they have to say.
----------------------------------
"I have a Drobo 5N, Drobo 5N2 and a Qnap. all have 16 TB with "hot" spare and data redundancy. I keep all 3 in sync. With the news I'm hearing on Drobo I'm glad I put the Qnap into the mix." Richard.
----------------------------------
"I have a system where I use very large 3.5" drives in the 16TB range plugged into a "toaster" interface that serves as central backup to all my smaller 2.5" drives. I have duplicated that setup at work so that I have a backup in case of fire. I rely on carbon copy to make the backups. One critical part is to ensure the health of the drives and that the files are copied without errors. I lost a few files due to bit rot. That's always heartbreaking. I am still looking into potentially having a sinology system instead of my toaster ... not completely convinced yet." Arnaud.
----------------------------------
Windows guy here. I have an external RAID drive connected to my desktop that has my photos as well as my Lightroom Classic backups folder. I sync my external drive to a Synology 4-disc unit as well as to my Backblaze account. I have another external drive that syncs photos from my wife's desktop via the network. That way, all of our images are on drives local to my desktop and I only need the one Backblaze account. Backblaze doesn't backup network drives.
A word about Backblaze. A couple of years ago, for reasons I cannot explain other than really dumb user error, my wife lost about six months worth of photos from several years earlier. I just happened to be looking for something else when I noticed that the folders were missing (we both use dates to organize our images). I was able to locate the missing files on the BB web interface, but it was too much to easily recover via the web. Fortunately, they have the option where they'll send you an external hard drive with the files you need. You simply need to copy the files over and ship back the drive. No extra cost.
Well worth the $70 per year. Henry
----------------------------------
"My MacBook Pro's internal SSD is 1TB. I have a 2TB Thunderbolt 3 SSD always plugged in that holds my Lightroom catalogs, any Final Cut Projects, and (what I call) "On the Road Imports."
When plugged in at home, I have (2) Drobos. One in Thunderbolt2 the newer one is TB3. As a side note the TB2 Drobo failed a year or 2 ago, but the problem was the power supply block. I found a suitable replacement on Amazon." Larry.
----------------------------------
Also windows. Currently running multiple external drives and multiple internal drives. I have all my images from many years on an internal drive and my images from the current year on an internal SSD. These are backed up onto two external drives using Backvp 2. This scans any folders I select and everything is backed up on the external drives.
I know I'm missing the 3 in 1-2-3.
I also keep running out of room on my internal 1TB SSD.
As I keep learning and increasing my library, I have changed how I store my photos over the years. I never really tagged them, because I didn't have "that many" to worry about. Now as I shoot more and am putting more thought into my photography, I'm doing a better job of tagging and storing my photos.
I'm looking to get a Synology in the near future so I can stop all this nonsense of having to keep moving libraries from one drive to another. Jeff.
----------------------------------
I use Apple Photos. An iMac has a full copy of all files. I use Carbon Copy Cloner to copy the Photos library to a specific folder on a local Synology device. I also have a second Synology at a friend's home in another state. The Synology's are set to sync those specific folders automatically. A little pricy to begin with, but I'm not paying monthly charges to an online company. Steve H.
----------------------------------
I use a DROBO 5D with 5 8TB drives set up as a RAID 1, everything including iOS Time Machine backed up with Backblaze, Dropbox for 2TB of important files and iCloud backup for Photos. Since DROBO uses a proprietary software system, I am concerned about future support with newer versions of Mac iOS. I've looked at OSW DAS RAID, Synology NAS RAID and Sandisk G-Drives. None of them seem to have the same flexibility of DROBO. SSD drives seem to be the future but for large amounts of storage, prices are still too high for managing large amounts of storage.
It will be nice to know the path forward with software upgrades and support.
----------------------------------
To put a bow on some of these thoughts. A lot of people are using Drobo, myself included, and seem to be having relatively good experiences with them. But in general, Drobo users are nervous about the future.
There were numerous references to Snylogy. These are network-enabled multi-drive systems. A very popular unit is the Synology DiskStation DS920+ 4-Bay NAS Enclosure for $549 (drives not included).
4 x 3.5/2.5" Bays | 2 x M.2 2280 Slots
2.0 GHz Intel Celeron J4125 Quad-Core 4GB DDR4 RAM
2 x Gigabit Ethernet Ports
2 x USB 3.0 Type-A | 1 x eSATA
RAID 0, 1, 5, 6, 10, Hybrid, Basic, JBOD
Sequential Reads up to 225.99 MB/s
Sequential Writes up to 225.9 MB/s
AES-NI Hardware Encryption Engine
Synology DiskStation Manager OS
Another popular system is the QNAP TR-004-44W-US 12TB 4-Bay USB 3.2 Gen 1 Type-C RAID 5 Array (4 x 4TB) for $649 (drives included).
4 x 4TB 3.5" SATA III Hard Drives
4 x 3.5" / 2.5" Drive Bays
USB 3.2 Gen 1 Type-C Host Interface
Supports RAID 0, 1, 5, 10, JBOD & Single
Pre-Configured for RAID 5
Hardware Controller
120mm Smart Fan
Windows, Mac, and Linux Compatible
And then of course there is some Cloud backup involved, such as Backblaze.
Roll this all up, and that's where many of our Inner Circle Members are right now. I hope you found this useful.
Update on Peakto
I had some correspondence with the Peakto folks that I want to share, especially in regard to the Capture One previews.
Capture One uses an 'obscure' format to store the High Resolution thumbnails. As a result we cannot decode it and we are limited to the small resolution images (we understand how it is built but without C1 engineers involvement we cannot exploit it). Changing the Preview settings in C1 will have no effect. We are trying to convince C1 to help us decode those formats (via a plugin so they can keep their recipe secret) and we now have good contacts with them. Until now, all our demands were rejected. But I am hopeful that we can find a solution.
I'd like, also, to give you a short update on we are currently working on:
Dramatic improvements on performance when ingesting, especially when dealing with files and folders.
A free to download trial version (weighting only 120Mb).
Smart re-ingest (super fast, to ensure perfect sync).
Smart albums and complex queries.
Annotation within Peakto.
A map tool.

Peakto Pricing

Peakto is available three ways:

$9.99 Monthly with Zero Risk 7 day free trial.
$99 Yearly per seat with 15 day free trial.
$189 One time per seat with 30 day Money back guarantee.

5 Learnable Skills That Every Professional Photographer Must Have

You can read the entire article on FStoppers.com.

As photographers, we often are bogged down in what gear to buy, what lens to choose, what has better specs, and so on. To everyone's satisfaction or disappointment, these things will only make a marginal difference in most cases. As a photographer, you need to have more skills than gear. I am here to tell you the five most important ones.

Skills you need to have as a photographer might seem like the old list of being able to expose, compose, and remove people from a landscape photo in Photoshop. While there is no denying that these are all valid things you need to do as a photographer, they are very basic, and in order to really gain a competitive advantage and set yourself apart, you need to have more transferrable skills that are not industry-specific. This list is of skills you need to hone repeatedly in order to master photography.

Learning and Unlearning Fast - One of the beautiful things about having an art career is that there are new things coming out every day. Being able to keep an open mind and unlearn old ways of doing things will certainly help you be a much better photographer.

Productivity - In an industry where keeping with trends is a method of staying afloat, productivity is key. You need, really need, to hit deadlines on time. No one will wait for you to make it perfect. Done is better than perfect in this case.

Marketing - There is no way you can be a successful business owner if you can't market your product to customers.

Business and Accounting - Keeping it to business talk, you need to possess the ability to run a business. This starts from the knowledge of how to register it, how to issue invoices, how to file taxes, and do other paperwork.

Style - Style is something that can be counted as a skill for me, as it involves a long process of learning, developing, and ultimately being formed and perfected to automation.

Tell a Friend

I was thinking the other day about how people love to tell me about their favorite podcasts, which I appreciate!

Then, I started thinking, we should be telling our friends about The Digital Story podcast. It's available on every service that's commonly used: Apple Podcasts, Google Play, Amazon, Spotify, and on and on.

If each or our regular listeners told just one friend about this podcast and encouraged them to listen, those should be substantial numbers.

So let's try it! Tell a friend about the TDS Photography Podcast.

Virtual Camera Club News

Have you been unsubscribed? A number of listeners have let me know that they were unceremoniously unsubscribed from the show. If that happens to you, just go back to the app and click on subscribe.

Inner Circle Members: A big thanks to those who support our podcast and our efforts! We are having a blast at our new Inner Circle hangout, the private group I've set up at DerrickStoryOnline. We'd love it if you join us. You can become an Inner Circle Member by signing up at our Patreon site. You will automatically be added to the new hangout.

My Writing on Medium.com: I now have 51 published articles on Medium.com. And if you haven't visited the site, and enjoy good writing on a variety of topics, I suggest that you may want to take a look. You can just go to the home page and enter "Derrick Story" in the search field. And if you like what you read, then follow me!

The New Donation Kit for Carefree Shipping of Found Film Cameras - If you've discovered a film camera that's no longer being used, our new Donation Kit makes it easy to pack and ship. Just visit the Contact Form on thenimblephotographer.com, click the box next to Donating a Film Camera, and let me know what you have. In your note, be sure to include your shipping address.

Affiliate Links - The links to some products in this podcast contain an affiliate code that credits The Digital Story for any purchases made from B&H Photo and Amazon via that click-through. Depending on the purchase, we may receive some financial compensation.

Red River Paper - And finally, be sure to visit our friends at Red River Paper for all of your inkjet supply needs.

See you next week!

You can share your thoughts at the TDS Facebook page, where I'll post this story for discussion.