This is The Digital Story Podcast #857, August 23, 2022. Today's theme is "Slideshows from the Past." I'm Derrick Story.
Opening Monologue
Of all the eye-popping revelations from the dawn of the digital age, multimedia slideshows burned on to an optical disk were one of the most alluring marvels. The ability to assemble digital images, transitions, and music via DVD made us feel like Hollywood talent. But, 20 years later, how do those creations hold up? And do you even know where they are stored. A look back at our digital roots on today's TDS Photography Podcast.
Digital Photography Podcast 857
Tune-In Via Your Favorite Podcast App!

---

Apple Podcasts -- Spotify Podcasts -- Stitcher

Podbean Podcasts -- Podbay FM -- Tune In
Slideshows from the Past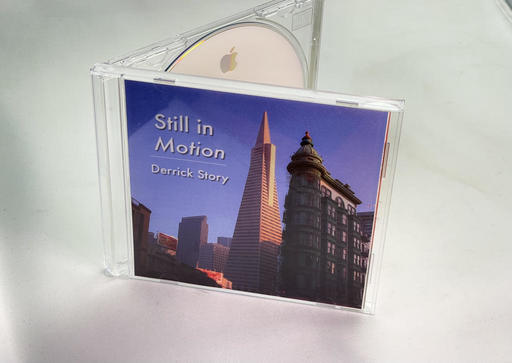 I reached the pinnacle of my self-produced DVDs in 2002 with the title, Still in Motion.
The disc featured a dozen slideshows divided into categories including: Feature Presentations, Technology Conferences, Weddings, and more.
Most of the images were captured with a Canon G2, processed on a Apple PowerBook G4, and authored using iDVD software. During my studio reorganizing project, I came across the work, and took a coffee break in front of the computer watching the various presentations. During this viewing, five things came to mind.
DVDs are Remarkably Robust - I don't know how much longer I should push my luck with these originals, but they still play great 20 years later. DVDs were a great invention.
I Had a High Tolerance for Image Noise - I was captivated by my Canon G-Series digital cameras. They were far more affordable and portable than their DSLR counterparts. But as soon as the light went below ISO 400, they were noisy buggers. That didn't seem to deter me from shooting in all lighting conditions with them.
The Secret Sauce was Music - It was fun to revisit many of those images, like shots of Jeff Bezos when he still had some hair. But the aspect that made every slideshow enjoyable was the music that went with them. And boy did it sound good via DVD.
The Story Trumps Technology - After a few moments, I forgot about the technical aspects of the images and became entranced by the story they were telling me.
Age Does, and Doesn't Matter - It does matter in the sense of seeing people I know 20 years in the past. Things and people have changed so much in two decades, that these presentations truly feel historical.
Age doesn't matter in the sense of picture quality and production. As I mentioned earlier, I acknowledged the time and tools used to create the pictures, then moved on to the stories themselves.
Final Thoughts
Watching Still in Motion got me wondering, "Are we obsessing about the right things today? Are we putting features and image quality above storytelling and longevity?"
I don't think anyone ever watched a Ken Burns movie with a top of mind thought, "I wished the pictures had a bit more dynamic range."
I think a good exercise is to revisit some of your slideshows from the past, and think about the ones you liked better than others. Maybe there are clues there to help you better understand the work you are creating today.
Canon G9 Review - Vintage Digital
Since we're talking about projects created with vintage digital cameras, I thought I would fire up one of mine and see how it compares to today's compact. I chose the 2007 Canon PowerShot G9. First let me read from what DP Review published in their report in October 2007.
DP Review's Observations (circa 2007)
Until the arrival of the G7 last September the majority of observers had written off Canon's 'prosumer' G range, presuming that the arrival of affordable digital SLRs had effectively killed the market for high-end compacts such as this. Barely a year later the G7 has been replaced by the G9, a relatively minor update that increases the pixel count from 10MP to 12MP and the screen size from 2.5 to 3.0 inches and - more importantly given the outcry caused by its omission from the G7 - the return of raw shooting capabilities. Other minor tweaks include a better grip and the addition of wireless flash capabilities. Everything else; the 6x stabilized zoom, flash hot shoe, classic all-metal design and solid build, expansive feature set and extensive manual control system is carried over from the G7.
12.1 Megapixels (1/1.7" sensor) with RAW mode for maximum image control
6x optical zoom lens (35mm-210mm) with optical Image Stabilizer and SR coating
DIGIC III and iSAPS for lightning fast response, superb image quality and advanced Noise Reduction
Face Detection AF/AE/FE and Red-Eye Correction in playback
3.0" high-resolution, PureColor LCD II with extra wide viewing angle
ISO 1600 and Auto ISO Shift
Compact body with dedicated ISO and Multi Control dials
25 shooting modes including full manual control and 2 custom settings
Extra telephoto reach with Digital Tele-Converter and Safety Zoom
Hot shoe support for Canon Speedlite flashes and optional lens accessories
DP Review Conclusion: IQ-wise the G9 is about as good as it gets in a compact camera (at low ISO - once you get to ISO 400 the gap between most decent cameras is very narrow), and physically it puts virtually everything else to shame. But inside, at the heart of the image capture system, sits the same (or an almost identical) sensor you'll find in a Casio, Canon or Sony point and shoot camera, in all it's 12 megapixel glory. When I mentioned giving Canon credit for listening to feedback on the G7 (and boy was there a lot of feedback) I don't remember anyone crying out for even more megapixels. Whatever drove Canon's top brass to look at the G7 and decide 'I know what it needs! More Pixels!' it certainly wasn't consumer demand.
Derrick's Test Drive
First of all, in terms of size, controls, quality of build - this camera is every bit as fine as something you could buy today. If fires up quickly, has snappy response, and plenty of control. And 12 MPs is nothing to sneeze at.
It accepted a 32 GB SD card no problem, and its RAW files can be read by all of my software. At low ISO, the images looked absolutely fantastic and were very editable.
What's lacking compared to today's cameras is high ISO performance (anything above 400 with the G9 is noisy),WiFi, Bluetooth, and close focusing. But honestly, its performance exceeded my expectations for a 15 year old digital camera.
For fun, I shot some B&W at ISO 800 to see how they would look. The monotone was good, but the ISO 800 noise just wasn't pretty. So I would have to tone that down in post.
All in all, however, I had a blast with the Canon G9. I have 3 batteries, a compact charger, and a lovely soft case for it. I think I'm going to leave it out and do some more experimenting.
PS: You can read my original review of the Canon G9 here Oct. 2007.
Tell a Friend
I was thinking the other day about how people love to tell me about their favorite podcasts, which I appreciate!
Then, I started thinking, we should be telling our friends about The Digital Story podcast. It's available on every service that's commonly used: Apple Podcasts, Google Play, Amazon, Spotify, and on and on.
If each or our regular listeners told just one friend about this podcast and encouraged them to listen, those should be substantial numbers.
So let's try it! Tell a friend about the TDS Photography Podcast.
Best Cameras Under $300
You can read the entire article on Amateur Photographer.
The main features to consider when looking for a camera under £300/$300 are the ISO range, burst mode capability and video quality. If you're going to be shooting a lot in low light, a larger ISO range will be desirable. If video is a requirement, then check the maximum video recording output. If you want to capture action, then you'll need a camera with a higher burst mode feature. You may need to compromise when shopping on a budget so try to prioritise just one or two features to ensure you can find a camera that ticks both your budget and your needs.
Fujifilm X-T10
Canon EOS 6D
Olympus OM-D E-M5 Mark II
Sony A6000
Nikon D600
Canon EOS 5D Mark II
Olympus OM-D E-M10 Mark III
Pentax K-5 Mark II
Virtual Camera Club News
Inner Circle Members: A big thanks to those who support our podcast and our efforts! We are having a blast at our new Inner Circle hangout, the private group I've set up at DerrickStoryOnline. We'd love it if you join us. You can become an Inner Circle Member by signing up at our Patreon site. You will automatically be added to the new hangout.
My Writing on Medium.com: I now have 51 published articles on Medium.com. And if you haven't visited the site, and enjoy good writing on a variety of topics, I suggest that you may want to take a look. You can just go to the home page and enter "Derrick Story" in the search field. And if you like what you read, then follow me!
The New Donation Kit for Carefree Shipping of Found Film Cameras - If you've discovered a film camera that's no longer being used, our new Donation Kit makes it easy to pack and ship. Just visit the Contact Form on thenimblephotographer.com, click the box next to Donating a Film Camera, and let me know what you have. In your note, be sure to include your shipping address.
Affiliate Links - The links to some products in this podcast contain an affiliate code that credits The Digital Story for any purchases made from B&H Photo and Amazon via that click-through. Depending on the purchase, we may receive some financial compensation.
Red River Paper - And finally, be sure to visit our friends at Red River Paper for all of your inkjet supply needs.
See you next week!
You can share your thoughts at the TDS Facebook page, where I'll post this story for discussion.