This is The Digital Story Podcast #858, August 30, 2022. Today's theme is "So, Which Filter for What?." I'm Derrick Story.
Opening Monologue
You'd think that as smart as our current cameras are, they would eliminate the need for adding filters to the front of our lenses. And to some degree, many of our glass versions have been replaced by digital settings. But not all of them! In today's show I will cover when to use which filter for what, whether it be glass or digital. I hope you enjoy the show.
Digital Photography Podcast 858
Tune-In Via Your Favorite Podcast App!

---

Apple Podcasts -- Spotify Podcasts -- Stitcher

Podbean Podcasts -- Podbay FM -- Tune In
So, Which Filter for What?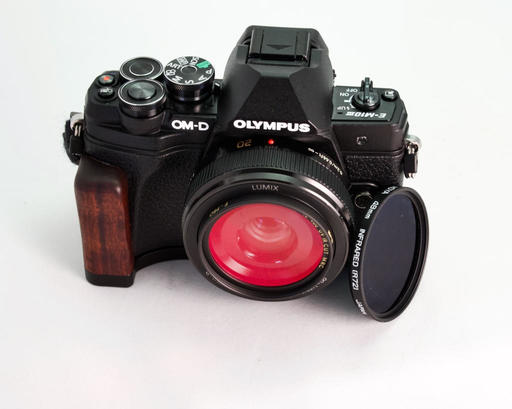 We'll start with glass filters today, then move into a handful of digital replacements that many of us have available on our mirrorless cameras.
Protection Filters: Yes or No?
Protection filters are a broad class of types that include pure glass, UV coated, and mild color coating often referred to as Skylight.
Many photographers, myself included, feel more comfortable with a high quality protection filter in front of my expensive pro lenses. I like them because they are much easier to clean in the field using practically any soft cloth from a microfiber to a T-shirt.
The key here is to use a multi-coated, optical glass filter that doesn't compromise image quality.
Polarizers and NDs
A circular 2-stop polarizer is the one mandatory filter in my camera bag. They help reduce glare, saturate colors, and slow down shutter speeds.
A neutral density filter does not have the same polarizing effect, but can be purchased in varying densities to slow down shutter speeds for artistic photography.
Many cameras now include a digital ND Filter setting in the menu system. This is something that you want to look for, because Digital NDs are easier to use and always with you. I prefer this to the glass versions, although you can get more extreme effect with the tradition screw-in type.
Filters for B&W Photography
You can better manage tonal rendering at capture if you understand how digital B&W filters work. Look for them in your camera settings.
Cameras that I use by Fujifilm and Olympus allow me to apply digital versions of: yellow, orange, red, and green filters. These settings simulate filtering the light as a physical glass filter would, changing the camera's response to the scene.
Yellow Filter - The most versatile of B&W filters. It darkens the sky a bit, sometimes helping clouds "pop" just a bit more, while at the same time lightening greens a little.
Orange Filter - More dramatic effects on landscape than yellow with darker skies and snappier rendering of plants and flowers.
Red Filter - Boldly darkens skies and brings clouds forward, plus cuts haze and adds contrast. Red filters are good for robust architecture compositions.
Green Filter - Helps to lighten up foliage that sometimes can go very dark in non-filtered B&W photography. The effect varies, but worth a look with lots of green in a scene.
The luxury of having these digital filters and previewing their effects in your electronic viewfinder has a wonderful impact on your compositions while standing there before a scene.
Filters for Infrared Photography
Because I have a modified infrared camera, there are six basic filters that I use to create a variety of effects. And even if you don't have a modified camera you can still shoot infrared, but in a more narrow wavelength.
550nm Filter - For modified cameras. Allow in the most visible light color in this set. Good choice for those who like intense infrared color shots.

590nm Filter - For modified cameras. A pleasing balance of visible light and IR color. The most versatile color filter in the set. Good choice for those who like lots of options for their infrared color shots.

665nm Filter - For modified cameras. Less visible light than the other color options in this set. I like it for cool tones and white foliage for color work. Good choice for those who like a bit more constrained color palette for their infrared color shots.

720nm Filter - For modified and unmodified cameras. Mostly used for B&W infrared, but the 720 does let in a little color if you want it. You can use it on both modified and unmodified cameras. Good choice for those just starting out with IR photography. A popular version of this is the Hoya R72 Infrared Filter.

850nm Filter - For modified cameras. Hard core B&W infrared. Can be very dramatic and pleasing. Good choice for those who like crunchy B&W IR.
For more information about infrared filters, their use, and to purchase them, visit Kolari Vision web site.
Final Thoughts
There are plenty of other filters out there, such as graduated neutral density, pro mist, softeners, and more. But getting your head around these will provide you with a great foundation. Then you can take it from here.
Viltrox representative reports Canon told the company 'to stop selling all RF mount products'
You can read the entire article on DP Review.
Two weeks ago, DPReview forum member Stig Nygaard made a post in the Canon EOS R Talk forum inquiring why the product page and all accompanying information surrounding Viltrox's AF 85mm F1.8 lens for RF mount cameras was no longer available.
Over the following days, various forum members speculated the reason all mention of the product was removed, with many coming to the same conclusion - that Canon must've told Viltrox to cease selling the product or face some kind of legal consequence. As it turns out, that appears to be exactly what happened, according to a Viltrox representative.
Assuming the information from the representative is true, it's still unclear why Canon would issue such a warning. Past reports have suggested Samyang received a similar notice from Canon after announcing its 14mm F2.8 and 85mm F1.4 AF RF-mount lenses. It's unclear whether third-party lens manufacturers using electronic connections with Canon's RF-mount alone is the issue or whether it's the code, reverse-engineered or otherwise, enabling AF that's causing the issue.
What is clear is that unless Canon reverses course and starts licensing its AF protocol technology to third-party manufacturers, it appears as though any third-party lenses with native RF-mount AF support won't be making it to market.
Interestingly, the Viltrox AF 85mm F1.8 RF II Lens for Canon RF is still available to purchase from B&H Photo for $399, although it's not clear how much longer you'll be able to purchase it.
Tell a Friend
I was thinking the other day about how people love to tell me about their favorite podcasts, which I appreciate!
Then, I started thinking, we should be telling our friends about The Digital Story podcast. It's available on every service that's commonly used: Apple Podcasts, Google Play, Amazon, Spotify, and on and on.
If each or our regular listeners told just one friend about this podcast and encouraged them to listen, those should be substantial numbers.
So let's try it! Tell a friend about the TDS Photography Podcast.
When and where to watch the Fujifilm X Summit on September 8 2022!
You can read the entire article on Digital Camera World.
Fujifilm's X Summit events are the thing to watch if you want to find out firsthand about the company's latest product launches. Luckily, the X Summit is usually a global livestream event that can be watched live around the world - wherever you are online!
We already know that the next Fujifilm X Summit will take place on September 8 2022 at 2pm Eastern Daylight Time (EDT)/ 6pm (GMT), in New York. The link for the live stream isn't up yet, but it usually gets added to the Fujifilm X Series YouTube channel (opens in new tab) close to the event day.
The X system has seen some fantastics flagship APS-C cameras since its launch 10 years ago, and the best Fujifilm cameras (opens in new tab) offer specs to suit many types of photographers. With that in mind, where do we think Fujifilm will go next, and what do we know ahead of the Fujifilm X Summit (opens in new tab) on September 8?
What we can't say - because we just don't know - is what the camera will be called. One guess is just simply the Fujifilm X-H2, or, the Fujifilm X-H2R (with the R standing for resolution). We've written more about what we think the Fujifilm X-H2R could hold (opens in new tab), including a high-resolution 40MP version that's said to be in development.
We'll be adding the livestream link to this page as soon as it goes up, so keep checking back to this page for the latest updates. We'll also be blogging live from the next Fujifilm X Summit on 8 September - follow us then, too!
Virtual Camera Club News
Inner Circle Members: A big thanks to those who support our podcast and our efforts! We are having a blast at our new Inner Circle hangout, the private group I've set up at DerrickStoryOnline. We'd love it if you join us. You can become an Inner Circle Member by signing up at our Patreon site. You will automatically be added to the new hangout.
My Writing on Medium.com: I now have 51 published articles on Medium.com. And if you haven't visited the site, and enjoy good writing on a variety of topics, I suggest that you may want to take a look. You can just go to the home page and enter "Derrick Story" in the search field. And if you like what you read, then follow me!
The New Donation Kit for Carefree Shipping of Found Film Cameras - If you've discovered a film camera that's no longer being used, our new Donation Kit makes it easy to pack and ship. Just visit the Contact Form on thenimblephotographer.com, click the box next to Donating a Film Camera, and let me know what you have. In your note, be sure to include your shipping address.
Affiliate Links - The links to some products in this podcast contain an affiliate code that credits The Digital Story for any purchases made from B&H Photo and Amazon via that click-through. Depending on the purchase, we may receive some financial compensation.
Red River Paper - And finally, be sure to visit our friends at Red River Paper for all of your inkjet supply needs.
See you next week!
You can share your thoughts at the TDS Facebook page, where I'll post this story for discussion.