This is The Digital Story Podcast #859, September 6, 2022. Today's theme is "How to Travel Light and Shoot Creatively." I'm Derrick Story.
Opening Monologue
Your odds of creatively capturing any photo subject increase dramatically when you feel energized and light on your feet. So how do you balance lugging around the gear that you might need with managing ounces, not pounds, of camera equipment. I have some suggestions on today's TDS Photography Podcast. I hope you enjoy the show.
Digital Photography Podcast 859
Tune-In Via Your Favorite Podcast App!

---

Apple Podcasts -- Spotify Podcasts -- Stitcher

Podbean Podcasts -- Podbay FM -- Tune In
How to Travel Light and Shoot Creatively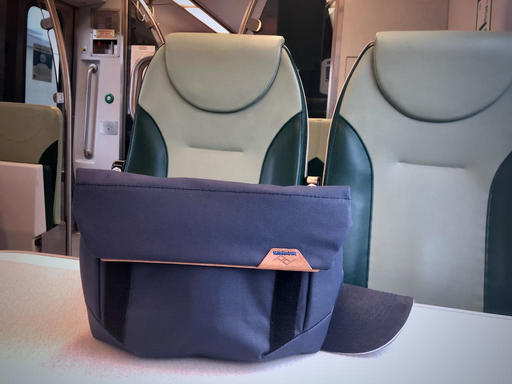 My approach over the past few years is to find high performance cameras with compact form factors, then add a select few accessories that give me the greatest options with the lightest weight.
In that spirit, I've put together a list of approaches for your to consider, then adapt to your own brand preferences and needs. Let's take a look.
Starts with the Camera Itself
My two favorite cameras for day tripping are the Fujifilm X100V with the Fujifilm WCL-X100II 28mm lens accessory, and the Olympus PEN-F with the Olympus M.Zuiko Digital ED 14-42mm f/3.5-5.6 EZ Lens. Both cameras are versatile picture takers with many options both in-camera and via accessories. If you want to go prime lens with the PEN-F, then the Olympus M.Zuiko Digital 17mm f/1.8 Lens is a great option.
Filters
I carry two filter in my day tripper kit - A circular polarizer and the Hoya R72 Infrared Filter.
The polarizer is the most versatile including giving me 2 stops of density if I need it, and the R72 allows me to capture B&W IR images on the fly without carrying my whole infrared kit.
Day Tripping Bag
The Peak Design Field Pouch v2 accommodates either the PEN-F or the X100V plus accessories and is very discrete. Plus the build quality is fantastic.
Instant Photography/Portable Printer
The FUJIFILM INSTAX MINI EVO Hybrid Instant Camera is a super creative instant camera that also allows you to print from your smartphone. I've sent pictures from my X100V to the iPhone and printed them on the Mini Evo in just minutes.
Additional Fun and Noteworthy Accessories
Final Thoughts
With just these very few tools, you can travel light and create fantastic, unique images.
Hasselblad teases X system launch event for September 7
You can read the entire article on DP Review.
Hasselblad has posted a teaser on its website for a product launch event on September 7, 2022. The teaser is short on details, but does show off what appears to be an X-series mirrorless camera with a similar design to the company's X1D system.
It also appears as though the lens attached to the camera is new with both an aperture and focus ring. From a cursory glance at the teaser image, the lens has a minimum aperture of F32 and a minimum focusing distance of 45cm (1.5ft).
The livestream event is set to take place at 15:00 CEST (UTC +2) on September 7, 2022. You can set a reminder for yourself on Hasselblad's teaser page.
Tell a Friend
I was thinking the other day about how people love to tell me about their favorite podcasts, which I appreciate!
Then, I started thinking, we should be telling our friends about The Digital Story podcast. It's available on every service that's commonly used: Apple Podcasts, Google Play, Amazon, Spotify, and on and on.
If each or our regular listeners told just one friend about this podcast and encouraged them to listen, those should be substantial numbers.
So let's try it! Tell a friend about the TDS Photography Podcast.
TTArtisan's New 25mm f/2 APS-C Compact Lens Costs Just $55
You can read the entire article on PetaPixel.
The company says that it is the "best budget lens" and is making it available for Sony E, Fujifilm X, EOS-M, Micro Four Thirds, Canon RF, Nikon Z, and Leica L mounts and is claiming a massive 95% off sale that makes the lens a very affordable $55. For some reason, TTArtisan thinks that it can claim this lens is worth $10,000 and is just significantly discounted.
At any rate, the company says it has an equivalent focal length to full-frame of 37.5mm, which it says is "close to the natural field of human eyesight" and therefore meets the shooting needs of a variety of subjects. More specifically, it has an angle of view of 61-degrees. TTArtisan says the compact design improves its portability and makes it convenient for use every day.
It is constructed of seven elements in five groups and is a fully manual focus lens with no electronic connection with any of the cameras for which it is designed to work. It features a front filter diameter of 43mm and the lens weighs "around 166 to 189 grams" which is a rather wide range, but that's the best that TTArtisan can provide.
The lens is a relatively fast f/2 that TTArtisan says not only makes shooting in low light possible but also produces a "beautiful bokeh" in the out-of-focus areas. It has a full aperture range of f/2 through f/16 via a seven-bladed diaphragm which is, like the focus, fully manually controlled.
The 25mm f/2 has a close focusing distance of 0.25 meters (about 9.8 inches) that TTArtisan says makes it possible to shoot objects at a closer distance for showcasing detail.
Whether or not the $10,000 value on TTArtisan's website is meant to be taken seriously, $55 for a compact lens with a maximum aperture of f/2 is a very good deal even if the lens doesn't perform super well. For new photographers looking to experiment with a new lens, it is a very low barrier to entry at under $60.
The TTArtisan 25mm f/2 APS-C Compact Lens is available directly from the company's website starting today.
Virtual Camera Club News
Inner Circle Members: A big thanks to those who support our podcast and our efforts! We are having a blast at our new Inner Circle hangout, the private group I've set up at DerrickStoryOnline. We'd love it if you join us. You can become an Inner Circle Member by signing up at our Patreon site. You will automatically be added to the new hangout.
My Writing on Medium.com: I now have 70 published articles on Medium.com. And if you haven't visited the site, and enjoy good writing on a variety of topics, I suggest that you may want to take a look. You can just go to the home page and enter "Derrick Story" in the search field. And if you like what you read, then follow me!
The New Donation Kit for Carefree Shipping of Found Film Cameras - If you've discovered a film camera that's no longer being used, our new Donation Kit makes it easy to pack and ship. Just visit the Contact Form on thenimblephotographer.com, click the box next to Donating a Film Camera, and let me know what you have. In your note, be sure to include your shipping address.
Affiliate Links - The links to some products in this podcast contain an affiliate code that credits The Digital Story for any purchases made from B&H Photo and Amazon via that click-through. Depending on the purchase, we may receive some financial compensation.
Red River Paper - And finally, be sure to visit our friends at Red River Paper for all of your inkjet supply needs.
See you next week!
You can share your thoughts at the TDS Facebook page, where I'll post this story for discussion.