This is The Digital Story Podcast #861, September 20, 2022. Today's theme is "Packing Up the VDub for the Sierra." I'm Derrick Story.
Opening Monologue
Highway 395 between Topaz and Bishop is my favorite stretch of U.S. roadway. The world is a different place on the eastern side of the Sierra. And if you enjoy expansive views, roadside motels, and the freedom of everything you need packed in your car, then there's no better place on earth. And that's where I'll be next week for our Eastern Sierra Workshop.
Digital Photography Podcast 861
Tune-In Via Your Favorite Podcast App!

---

Apple Podcasts -- Spotify Podcasts -- Stitcher

Podbean Podcasts -- Podbay FM -- Tune In
Packing Up the VDub for the Sierra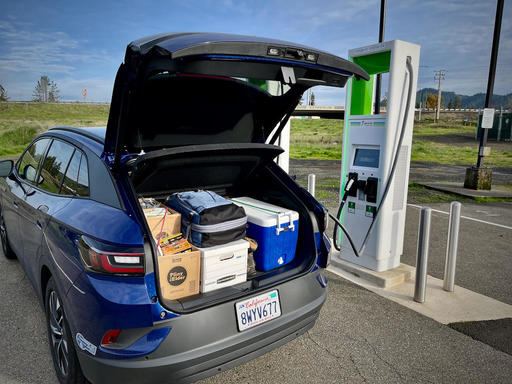 I want to start with the car when talking about this road trip, because that makes the most sense. One year and three months ago, I drove a 2021 VW ID.4 off the lot and have been exploring the West with it ever since.
It's interesting to read the press about electric vehicles when you own one. They make it sound so hard. I'm going to camp the first night in Coleville on the East side of the Mountain. I'll make one charging stop before that for lunch, top off via the RV hookup in my campsite, and then I have an Electrify America charging station waiting for me in Bridgeport, which is where our HQ for the workshop is located.
People have asked me, "Aren't you nervous taking an EV on a wilderness workshop?" I'm thinking, no radiator, no transmission, no oil pan, no overpriced gas - no problem. Those of you who have road tripped in an EV know what I'm talking about.
Plus, I can seat 5 and all their gear, I have a pull out awning for shade and relaxation, the back converts into a bed for camping, and the car drives like a dream.
Our Beautiful Locations
With a storm passing through right now, we should have great photography conditions, and with luck, some good Fall color. Plus we're going to try a few ambitious shoots.
We're going to photograph Mono Lake twice in one day - first thing in the morning, then last thing at twilight. It's going to be great to see these different shots during the presentation.
I'm saving our Bodie shoot for the end of the day this year. We've always gone in the morning, but this time I want to be there when they close the place down.
In addition too all of the color, we're going to be working with B&W and Infrared Photography. This instantly changes any scene into a completely different look.
And then I have some cool spots down by June lake that are just plain fun to shoot, nice hiking, and very peaceful.
Lab Time is Fun Time
One of my favorite activities of any of our workshops is lab time where we work on our pictures in a group setting. This trip is particularly nice because we get to use the Cain House that's on the premises of the Silver Maple. Built in the 1800s, completely restored, and a lovely place to hang out with our fellow photographers.
The Grand Finale - The Group Presentation
One of the things that make our group presentations so special its that we've developed a group chemistry during the week that carries over to the presentation creating a supportive environment. What a great way to finish the week.
The New Nimble Photographer Weekly Newsletter
The Nimble Photographer Newsletter is now publishing every Thursday. Readers will enjoy a variety of content spanning from short photo essays, to commentary on weekly events, to reviews of the latest and coolest photo gear.
Because of this rotating content, you won't see the same layout each time. There will be a certain freshness about The Nimble Photographer Newsletter that you typically don't see with other publications.
The Nimble Photographer Newsletter is a valuable addition to our existing community benefits that include TheDigitalStory Podcast, The Nimble Photographer website, TheFilmCameraShop, and Derrick Story on Medium.com.
I'm looking forward to sharing lots of great content with you.
---
Cosina is bringing its Voigtlander 40mm F1.2 Nokton, 35mm F2 Macro APO-Ultron lenses to Nikon Z-mount
You can read the entire article on DPreview.com.
Cosina has announced it's bringing two of its Voigtländer prime lenses to Nikon mirrorless cameras. According to Cosina, the Voigtländer Nokton 40mm F1.2 Aspherical and Macro APO-Ultron 35mm F2 will be available for Nikon Z-mount cameras systems.
The Nokton 40mm D F1.2 Aspherical was previously only available for Leica M-mount and Sony E-mount camera systems. That will soon change though, as Voigtländer will offer a manual focus Z-mount version that has an integrated chip and electronic contacts for transmitting EXIF data and integrating with Nikon's sensor-shift image stabilization capabilities on compatible cameras.
Like the existing models, the Z-mount version is constructed of eight elements in six groups, including two double-sided aspherical elements. It features a 10-blade aperture diaphragm, has an aperture range of F1.2 through F22, uses a 52mm front filter thread and (although unconfirmed in the information) will likely have the same minimum focusing distance of 50cm (19.7").
Cosina is also bringing its X-mount Macro APO-Ultron D 35mm F2 lens to Nikon Z-mount cameras. As you'd expect from a lens designed for a crop-sensor system, however, this model will be limited to APS-C Nikon Z-mount cameras or full-frame Z-mount cameras when shot in Nikon's DX-format crop mode.
This lens will use the same design as its X-mount predecessor, including an optical construction consisting of nine elements in six groups, including three abnormal partial-dispersion glass elements. The lens features a 10-blade aperture diaphragm, an F2 to F22 aperture range, has a minimum focusing distance of 16.3cm (6.4") and uses a 49mm front filter thread.
As with the Nokton 40mm F1.2, this lens has an integrated chip and electronic contacts for transmitting EXIF data and will work with Nikon's sensor-shift image stabilization capabilities on compatible cameras.
The Macro APO-Ultron D 35mm F2 lens is set to be released in October 2022 for $685.
Virtual Camera Club News
Inner Circle Members: A big thanks to those who support our podcast and our efforts! We are having a blast at our new Inner Circle hangout, the private group I've set up at DerrickStoryOnline. We'd love it if you join us. You can become an Inner Circle Member by signing up at our Patreon site. You will automatically be added to the new hangout.
My Writing on Medium.com: I now have 51 published articles on Medium.com. And if you haven't visited the site, and enjoy good writing on a variety of topics, I suggest that you may want to take a look. You can just go to the home page and enter "Derrick Story" in the search field. And if you like what you read, then follow me!
The New Donation Kit for Carefree Shipping of Found Film Cameras - If you've discovered a film camera that's no longer being used, our new Donation Kit makes it easy to pack and ship. Just visit the Contact Form on thenimblephotographer.com, click the box next to Donating a Film Camera, and let me know what you have. In your note, be sure to include your shipping address.
Affiliate Links - The links to some products in this podcast contain an affiliate code that credits The Digital Story for any purchases made from B&H Photo and Amazon via that click-through. Depending on the purchase, we may receive some financial compensation.
Red River Paper - And finally, be sure to visit our friends at Red River Paper for all of your inkjet supply needs.
See you next week!
You can share your thoughts at the TDS Facebook page, where I'll post this story for discussion.