This is The Digital Story Podcast #863, October 11, 2022. Today's theme is "ON1 Photo RAW 2023, DxO PhotoLab 6, Hit the Streets." I'm Derrick Story.
Opening Monologue
AI technology is simplifying the workflow across many of our photo editing apps. And the latest release of ON1's Photo RAW 2023 is a great example. For many visual creatives, ON1 software is already a staple in their bag of tricks. This latest release will most likely expand that user base further. We'll take a look why in today's TDS Photography Podcast, plus an overview of PhotoLab 6 as well. I hope you enjoy the show.
Digital Photography Podcast 864
Tune-In Via Your Favorite Podcast App!

---

Apple Podcasts -- Spotify Podcasts -- Stitcher

Podbean Podcasts -- Podbay FM -- Tune In
ON1 Photo RAW 2023, DxO PhotoLab 6, Hit the Streets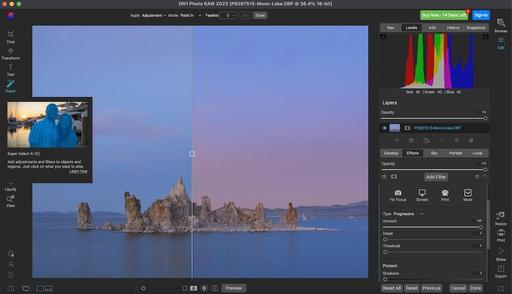 Having just spent a couple editing sessions with ON1 Photo RAW 2023, and can say that the features work as advertised. And there are a number of new tools to work with. Let's review what's been added to this robust image editor.
Super Select AI Tool -- Applying adjustments to areas in your photos couldn't be easier than the new Super Select AI Tool. Just tap on the areas you want to adjust and then pick an adjustment. Want the sky darker? Click-click-done. How about greener grass? Click-click-done. It's a speedy and natural way to edit that will change how you approach editing your photos for the better.

Mask AI -- Say goodbye to tedious brushing when you need to mask or target a specific area. Mask AI uses state-of-art machine learning to segment photos, identifying objects like people or animals and regions like the sky, mountains, flora, water, and ground. You can select subjects or areas from the list when masking layers, effects, or local adjustments. Mask AI will create great-looking masks instantly. You can even choose regions to apply filters or adjustments to when you add them, making it easy to get just the adjustment you want.

AI-Powered Adaptive Presets -- Presets just got even more powerful. They can automatically target common subjects like people, water, skies, and buildings. The incredible new subject-aware presets give you one-click solutions to challenging problems like brightening the subject, darkening the sky, or adding detail to foliage. Best of all, you can create your own subject-aware presets.

Quick Mask AI -- We've rebuilt the Quick Mask tool to make it faster and more intuitive. The AI segments the photo into regions and objects automatically. Then click on the segments you want to mask, which automatically builds a high-quality mask, no brushing needed.

Tack Sharp AI -- State-of-the-art sharpening and deblurring is now part of NoNoise AI, your single solution for simultaneously removing noise and sharpening photos. It can detect and remove motion blur as well as save out-of-focus shots. Stop throwing out the perfect shot just because it's a little soft.

Keyword AI -- No one likes adding keywords, but we do like finding our photos. Keyword AI in Browse uses AI semantics and metadata to suggest keywords for you automatically. It can see hundreds of objects and regions, identify locations, find people, and understand photographic properties. These all become searchable terms to help you find your photos faster.

Content-Aware Crop -- If you have ever had to crop or level a photo and have lost important details near the edges, the new content-aware crop will be a lifesaver. It can expand the photo canvas and fill the new edges with realistic detail.

Improvements to Sky Swap AI -- Leveraging the new Mask AI technology, we continue improving the sky's AI detection and masking. We are adding options for adjusting the angle of the sky and for better matching of edges like trees when going from a light to a dark sky.

Auto Color Fringe Reduction -- Determining the right amount of color fringe removal is a thing of the past. The new auto option detects the color fringe or chromatic aberrations and removes them automatically.

ON1 Application Manager -- The ON1 Application Manager makes it easier to find and install ON1 Apps and keep them up to date. If you are a subscriber, you can find all your apps, and new apps will be available automatically.

In-App Notifications -- Learn about new courses, videos, and creative assets in the app with new account in-app notifications.

Full Screen Preview of Presets -- You can now get a huge, full screen preview of a preset applied to your photo simply by mousing over the thumbnail of the preset. This makes shopping and select the right preset much faster.

Support for new cameras and lenses -- Added support for GoPro GPR raw format. We will also be adding support for a range of new cameras and lenses, which will be shared as we get closer to the release.
During the podcast I discuss these features plus my overall impressions of using the app.
You can ON1 Photo RAW 2023 for $99.99. It's available right now. If you use my coupon code: THEDIGITALSTORY20 - you will get a big discount and be able to purchase the app for $79.99. That is a lot of photo editing firepower for the money.
DxO announces PhotoLab 6 and ViewPoint 4: More powerful raw editing, new tools and improved performance
You can read the entire article on DPReview.com.
DxO has announced the latest version of its all-in-one raw photo editor, DxO PhotoLab 6. The French company has also announced a new version of its geometric correction software and plug-in, DxO ViewPoint 4.
DxO PhotoLab 6 - Looking first at PhotoLab 6, it includes numerous new improvements to image quality, editing tools, workflow and performance. PhotoLab 6 includes the new DeepPRIME XD denoising technology to improve image quality. XD stands for eXtreme Details. Compared to DeepPRIME, DeepPRIME XD promises better sharpness and color and less noise. It's ideal for high ISO images and promises an improvement in image quality of about 2.5 stops. This means that if you captured an image at ISO 4000, it would look similar to an image shot at ISO 500, all else equal, in terms of noise, color and clarity.
DeepPRIME XD, like the regular version of DeepPRIME, performs raw demosaicing and denoising simultaneously, which promises better sharpness and less noise than competing software solutions. DeepPRIME XD uses a neural network trained using billions of images and samples.
On the workflow side, PhotoLibrary 6 includes nesting for projects, better support for Exif and IPTC tags and adds color labels. You don't import images into PhotoLab, but rather keep your images in their original locations and point the software toward them. There aren't any catalogs. The color labels are included in .xmp sidecar files so that other apps can also read them.
DxO PhotoLab 6 is available now in Essential and Elite editions. The Essential edition is $139 for new users and $75 as an upgrade for DxO PhotoLab 4 or 5 owners. The Elite edition, which includes the new DeepPRIME XD denoising technology, X-Trans sensor support and more, is $219 for new users and $99 to upgrade. DxO doesn't offer subscriptions, so you purchase a lifetime license for its software. You can download a fully-featured 30-day free trial for PhotoLab 6 by visiting DxO.
The New Nimble Photographer Weekly Newsletter
The Nimble Photographer Newsletter is now publishing every Thursday. Readers will enjoy a variety of content spanning from short photo essays, to commentary on weekly events, to reviews of the latest and coolest photo gear.
Because of this rotating content, you won't see the same layout each time. There will be a certain freshness about The Nimble Photographer Newsletter that you typically don't see with other publications.
The Nimble Photographer Newsletter is a valuable addition to our existing community benefits that include TheDigitalStory Podcast, The Nimble Photographer website, TheFilmCameraShop, and Derrick Story on Medium.com.
How to Sign Up
You can Sign Up for Free to the Nimble Photographer Newsletter and receive each edition weekly in your inbox.
I'm looking forward to sharing lots of great content with you.
Virtual Camera Club News
Inner Circle Members: A big thanks to those who support our podcast and our efforts! We are having a blast at our new Inner Circle hangout, the private group I've set up at DerrickStoryOnline. We'd love it if you join us. You can become an Inner Circle Member by signing up at our Patreon site. You will automatically be added to the new hangout.
My Writing on Medium.com: I now have 51 published articles on Medium.com. And if you haven't visited the site, and enjoy good writing on a variety of topics, I suggest that you may want to take a look. You can just go to the home page and enter "Derrick Story" in the search field. And if you like what you read, then follow me!
The New Donation Kit for Carefree Shipping of Found Film Cameras - If you've discovered a film camera that's no longer being used, our new Donation Kit makes it easy to pack and ship. Just visit the Contact Form on thenimblephotographer.com, click the box next to Donating a Film Camera, and let me know what you have. In your note, be sure to include your shipping address.
Affiliate Links - The links to some products in this podcast contain an affiliate code that credits The Digital Story for any purchases made from B&H Photo and Amazon via that click-through. Depending on the purchase, we may receive some financial compensation.
Red River Paper - And finally, be sure to visit our friends at Red River Paper for all of your inkjet supply needs.
See you next week!
You can share your thoughts at the TDS Facebook page, where I'll post this story for discussion.