This is The Digital Story Podcast #863, October 4, 2022. Today's theme is "Inside a Group Photo Presentation." I'm Derrick Story.
Opening Monologue
Have you ever wondered what it's like to have your images projected on a screen in front of a group of photographers? What would they say? Would it be fun or nerve wracking? In this week's TDS Photography Podcast, I bring you inside a group presentation that took place in the Eastern Sierra. I think you'll find it fascinating. All of that, and more, on today's show.
Digital Photography Podcast 863
Tune-In Via Your Favorite Podcast App!

---

Apple Podcasts -- Spotify Podcasts -- Stitcher

Podbean Podcasts -- Podbay FM -- Tune In
Inside a Group Photo Presentation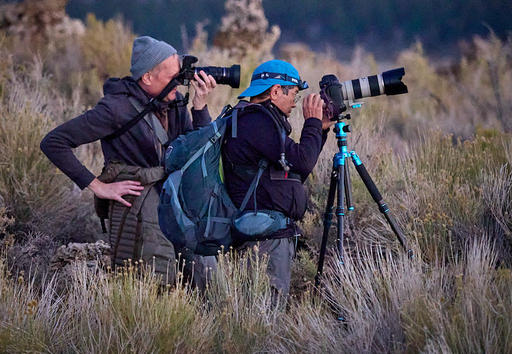 Audio recorded by Jim Kuzman during a group photo presentation on Sept. 30, 2022.
How Do You Critique Your Own Photos?
You can read the entire article on FStoppers.com.
One of the toughest parts of being a photographer is learning how to be objective about your own work. It is not fun to be brutally honest about photos you have invested a lot of time and effort in, but if you want to grow as a creative and put your best foot forward professionally, it is something you have to master. This excellent video tutorial features an experienced landscape photographer discuss how to go about critiquing your work.
Coming to you from Alister Benn with Expressive Photography, this great video tutorial discusses the topic of learning to critique your own work. No doubt, this is not something most of us enjoy doing, but it is a crucial skill, particularly if you are a professional. Unfortunately, if your portfolio features 20 great images and one questionable one, that single bad photo will stick in the minds of potential clients and sink you. As much as we sometimes get attached to our work, it is important that we be brutally honesty about its quality before we present it to the world. Check out the video above for the full rundown from Benn.
The New Nimble Photographer Weekly Newsletter
The Nimble Photographer Newsletter is now publishing every Thursday. Readers will enjoy a variety of content spanning from short photo essays, to commentary on weekly events, to reviews of the latest and coolest photo gear.
Because of this rotating content, you won't see the same layout each time. There will be a certain freshness about The Nimble Photographer Newsletter that you typically don't see with other publications.
The Nimble Photographer Newsletter is a valuable addition to our existing community benefits that include TheDigitalStory Podcast, The Nimble Photographer website, TheFilmCameraShop, and Derrick Story on Medium.com.
How to Sign Up
You can Sign Up for Free to the Nimble Photographer Newsletter and receive each edition weekly in your inbox.
I'm looking forward to sharing lots of great content with you.
7Artisans announces $150 4mm F2.8 APS-C circular fisheye lens for APS-C cameras
You can read the entire article on DPreview.com.
7Artisans has released its new fully-manual 4mm F2.8 circular fisheye lens for APS-C mirrorless camera systems and compatible drones.
The lens, which lacks any sort of communication protocols and requires complete manual control, offers a roughly 6mm full-frame equivalent focal length with a 225º field of view. It's constructed of 10 elements in eight groups, uses a seven-blade aperture diaphragm, has a minimum focusing distance of 8.5mm (.3") and uses a de-clicked aperture ring.
The lens is made of metal and weighs just 201g (7oz). It's available for Canon EOS-M, Fujifilm X, Micro Four Thirds and Sony E-mount camera systems. 7Artisans also notes it can be paired with DJI drones for fisheye images captured from the sky.
The 7Artisans 4mm F2.8 fisheye lens is available for $150 through the company's online shop.
Virtual Camera Club News
Inner Circle Members: A big thanks to those who support our podcast and our efforts! We are having a blast at our new Inner Circle hangout, the private group I've set up at DerrickStoryOnline. We'd love it if you join us. You can become an Inner Circle Member by signing up at our Patreon site. You will automatically be added to the new hangout.
My Writing on Medium.com: I now have 51 published articles on Medium.com. And if you haven't visited the site, and enjoy good writing on a variety of topics, I suggest that you may want to take a look. You can just go to the home page and enter "Derrick Story" in the search field. And if you like what you read, then follow me!
The New Donation Kit for Carefree Shipping of Found Film Cameras - If you've discovered a film camera that's no longer being used, our new Donation Kit makes it easy to pack and ship. Just visit the Contact Form on thenimblephotographer.com, click the box next to Donating a Film Camera, and let me know what you have. In your note, be sure to include your shipping address.
Affiliate Links - The links to some products in this podcast contain an affiliate code that credits The Digital Story for any purchases made from B&H Photo and Amazon via that click-through. Depending on the purchase, we may receive some financial compensation.
Red River Paper - And finally, be sure to visit our friends at Red River Paper for all of your inkjet supply needs.
See you next week!
You can share your thoughts at the TDS Facebook page, where I'll post this story for discussion.