This is The Digital Story Podcast #866, October 25, 2022. Today's theme is "Putting the AI in ImAge with Aaron Hockley." I'm Derrick Story.
Opening Monologue
Like any disruptive technology, Artificial Intelligence has its share of misconceptions. It's not that it's coming, it's here! To help make sense of what's going on right now, I sit down with photography technologist Aaron Hockley to discuss the role of AI in imaging today. I hope you enjoy the show.
Digital Photography Podcast 866
Tune-In Via Your Favorite Podcast App!

---

Apple Podcasts -- Spotify Podcasts -- Stitcher

Podbean Podcasts -- Podbay FM -- Tune In
Putting the AI in ImAge with Aaron Hockley
Aaron Hockley is the author of The Computer Ate My Photos and runs the website, Tech Photo Guy. He sits down with me in the Santa Rosa Studio to talk about how Artificial Intelligence is permeating our daily photography life.
ON1 Resize AI 2022 review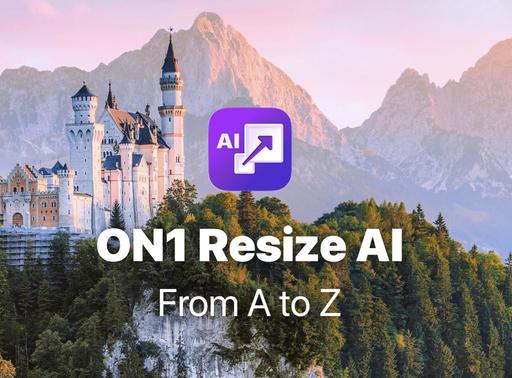 You can read the entire article on LifeAfterPhotoshop.com.
ON1 Resize AI 2022 is extremely impressive, both as an image size upscale for large prints and as a tool for making lower-resolution images from older cameras usable again. Its ability to reconstruct textures is extraordinary and uses the power of AI to work out what it's looking at and what it should look like when enlarged. The results are noticeably better with higher-quality, large-sensor originals to work from, however, and $99.99 does seem expensive. Then again, ON1 Photo RAW 2022 users will get this AI resizing in free update, and ON1 Resize AI 2022 will also be free to those who bought the (non-AI) ON1 Resize 2022 product.
Pros
Incredible detail rendition
Works on JPEGs - doesn't need RAWs
Easy presets for different print sizes and aspect ratios
Optional output sharpening, cropping, 'gallery wrap' feature
Resize by pixel dimensions, percentage, megapixels, print size
Cons
Less effective on small-sensor images or compressed JPEGs
Quite expensive
I just used it on a project where a family member asked me to scan and restore a 2"x3" B&W print so they could make an 11"x14" metal print from it. After scanning and retouching, I ran it through ON1 Resize AI 2022 to create a file large enough for a big print. The results were impressive, and the software really helped me make this project a success. The detail and sharpness of the final image was impressive.
The New Nimble Photographer Weekly Newsletter
The Nimble Photographer Newsletter is now publishing every Thursday. Readers will enjoy a variety of content spanning from short photo essays, to commentary on weekly events, to reviews of the latest and coolest photo gear.
Because of this rotating content, you won't see the same layout each time. There will be a certain freshness about The Nimble Photographer Newsletter that you typically don't see with other publications.
The Nimble Photographer Newsletter is a valuable addition to our existing community benefits that include TheDigitalStory Podcast, The Nimble Photographer website, TheFilmCameraShop, and Derrick Story on Medium.com.
How to Sign Up
You can Sign Up for Free to the Nimble Photographer Newsletter and receive each edition weekly in your inbox.
I'm looking forward to sharing lots of great content with you.
Adobe MAX 2022: Major updates to Lightroom & Photoshop, plus more on Adobe's AI future
You can read the entire article on DPReview.com.
The updates to the Lightroom ecosystem make it easier to use masking workflows, remove unwanted elements from images, and utilize AI masks on mobile platforms. More advanced AI-powered masking is available on Lightroom for desktop, Lightroom Classic and Adobe Camera Raw (ACR). This time last year, Adobe introduced re-envisioned selective adjustment tools, including Select Sky and Select Subject. Today, Adobe builds upon these tools with all-new Select People, Select Objects, and Select Background. Powered by Adobe Sensei, Adobe's AI technology, retouching portraits is much easier with the new Select People. The software can detect and generate high-quality masks for individuals or groups in any portraits and can select specific body parts, such as face skin, body skin, eyes, teeth, lips, hair and more.
Similarly, Select Objects is 'now the quickest and most flexible way to mask objects in Lightroom,' says Adobe. You paint over the desired object with Brush Select or draw a rectangle around the object with Rectangle Select. The AI will then automatically refine the edges to create a precise mask.
The new Select Background option makes it easier to choose the background of an image. Before, you could use Select Subject and then invert the mask. Now you can achieve the same result in one less step.
On Lightroom for desktop, Lightroom Classic, ACR and iOS/iPadOS, Adobe has introduced Adaptive Presets for portraits. Adaptive Presets aren't new, having been introduced this past summer, but using them on portraits is a new feature, and they're now available on mobile. They were previously exclusive to desktop. Adaptive Presets for portraits allows the user to quickly enhance an entire portrait or target specific features like eyes, teeth or eyebrows.
Across all Lightroom apps, there's a new Content-Aware Remove feature. Based on the same technology as Content-Aware Fill, Content-Aware Remove will adaptively fill in removed 'blemishes' based on the surrounding content. You can also manually select the sampled area for more fine-tuned control.
Virtual Camera Club News
Inner Circle Members: A big thanks to those who support our podcast and our efforts! We are having a blast at our new Inner Circle hangout, the private group I've set up at DerrickStoryOnline. We'd love it if you join us. You can become an Inner Circle Member by signing up at our Patreon site. You will automatically be added to the new hangout.
My Writing on Medium.com: I now have 51 published articles on Medium.com. And if you haven't visited the site, and enjoy good writing on a variety of topics, I suggest that you may want to take a look. You can just go to the home page and enter "Derrick Story" in the search field. And if you like what you read, then follow me!
The New Donation Kit for Carefree Shipping of Found Film Cameras - If you've discovered a film camera that's no longer being used, our new Donation Kit makes it easy to pack and ship. Just visit the Contact Form on thenimblephotographer.com, click the box next to Donating a Film Camera, and let me know what you have. In your note, be sure to include your shipping address.
Affiliate Links - The links to some products in this podcast contain an affiliate code that credits The Digital Story for any purchases made from B&H Photo and Amazon via that click-through. Depending on the purchase, we may receive some financial compensation.
Red River Paper - And finally, be sure to visit our friends at Red River Paper for all of your inkjet supply needs.
See you next week!
You can share your thoughts at the TDS Facebook page, where I'll post this story for discussion.