This is The Digital Story Podcast #865, October 18, 2022. Today's theme is "Why Would You Put a Cheap Lens on an Expensive Camera?" I'm Derrick Story.
Opening Monologue
Over the last few months we've seen incredible lens bargains from independent manufacturers. Optics that would normally cost 2-3 times more are available in a variety of focal lengths and mounts. Generally speaking, we know that their quality doesn't match the performance of name brand offerings. So is there any situation when a cheap lens would be a viable option? I weigh in on today's TDS Photography Podcast. I hope you enjoy the show.
Digital Photography Podcast 865
Tune-In Via Your Favorite Podcast App!

---

Apple Podcasts -- Spotify Podcasts -- Stitcher

Podbean Podcasts -- Podbay FM -- Tune In
Why Would You Put a Cheap Lens on an Expensive Camera?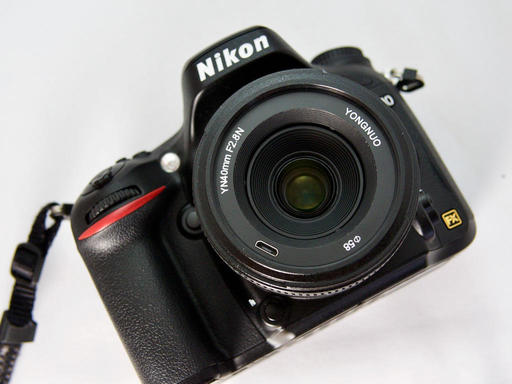 One of my favorite rabbit holes to fall into are the comments sections of photography articles where armchair experts lambast other commenters and the post itself. And one topic that's sure to bring the heat is when a new bargain lens is announced.
The latest dustup centered around the post titled, AstrHori announces $289 40mm F5.6 manual lens for Fujifilm GFX cameras on DPReview.com. They wrote:
"The fully-manual lens offers a 32mm equivalent focal length and is constructed of seven elements in five groups. It uses a five-blade aperture diaphragm, has a minimum focusing distance of 41cm (16.1") uses a 62mm front filter thread and uses physical rings for both aperture and focus."
Now I have a GFX 100S with a couple lenses, but I could use a moderate wide. So I was interested in this announcement. Of course I turned to the comments knowing that this should be great fun.
When I checked in, there were 96 comments. Most of them wouldn't consider buying this optic. A few were curious.
Then I watched a video review of the TTArtisan 50mm f/1.4 Tilt lens by Christopher Frost. Tilt-Shifts are really interesting optics, and to be able to score a new one for $200 is an interesting proposition.
Frost showed that the lens isn't very sharp wide open, but cleaned up nicely as it was stopped down. There were 47 comments for the video, many of them willing to give the lens a try because of its unique abilities and that it could perform well at smaller apertures.
So this leads me to my answers to the question, "Why Would You Put a Cheap Lens on an Expensive Camera?"
The lens has unique capabilities.
Sharpness isn't the number one priority.
Creating a unique look.
It's affordable!
It fills a seldom used gap in your lens library.
I once had this client that wanted a specific look for their photography. They liked strong backlighting with a bit of flare and very soft backgrounds.
I spent $100 on a Yongnuo lens and put it on my Canon 5D Mark II. I was able to easily create the type of images they wanted. And to tell you the truth, I found them quite appealing myself.
If you put yourself in a box that the pictures your produce must be perfectly sharp, straight, and classically composed, I fear that you may be missing opportunities to create something truly compelling.
Yes, there are times we need our best lenses to meet the requirements of the job. But not every subject demands that. And sometimes a cheap lens on an expensive camera is just what the artist ordered.
FBI Arrests Gallery Owner for Forging Ansel Adams Photos
You can read the entire article on Petapixel.com.
The FBI raided the home of a gallery owner who is accused of cheating clients out of more than 100 rare fine art photographs, including prints by famed landscape photographer Ansel Adams, worth an estimated $1.6 million.
Wendy Halsted Beard, who owned the Wendy Halsted Gallery in Birmingham, Michigan, was arrested on Friday and charged with mail and wire fraud and accused of orchestrating a scheme involving photographs that she received on consignment.
Prosecutors allege that she sold pictures without the owner's knowledge, pocketed the cash, or failed to return unsold works.
According to an affidavit, an 82-year-old victim gave Beard $900,000 worth of fine art photography in 2018 for her to sell on consignment. Included in the collection was a mural-sized photograph of The Tetons and the Snake River by Adams.
Beard agreed to sell the photograph for $685,000 with a 5% commission. Investigators say she sold it for $440,000 but the victim was never notified she had sold it and never received the money.
A second victim, an 89-year-old collector suffering from Alzheimer's disease, consigned photos, including prints by Adams as well as photographers Ion Zupco, Arnold Newman and Jerry Uelsma.
The collection included a signed print of Tenaya Creek shot by Adams in Yosemite National Park in California in 1948 and valued at $4,000 to $5,500.
Investigators say that when the said client's relatives asked for the Adams photos to be returned to them, Beard gave them cheap copies from a gift shop instead of the original, signed photographs.
On Friday, FBI agents raided Beard's home and arrested her. She was released on $10,000 unsecured bond Friday after making an initial appearance in federal court in Detroit on charges punishable by up to 20 years in federal prison.
The New Nimble Photographer Weekly Newsletter
The Nimble Photographer Newsletter is now publishing every Thursday. Readers will enjoy a variety of content spanning from short photo essays, to commentary on weekly events, to reviews of the latest and coolest photo gear.
Because of this rotating content, you won't see the same layout each time. There will be a certain freshness about The Nimble Photographer Newsletter that you typically don't see with other publications.
The Nimble Photographer Newsletter is a valuable addition to our existing community benefits that include TheDigitalStory Podcast, The Nimble Photographer website, TheFilmCameraShop, and Derrick Story on Medium.com.
How to Sign Up
You can Sign Up for Free to the Nimble Photographer Newsletter and receive each edition weekly in your inbox.
I'm looking forward to sharing lots of great content with you.
The 2x 'lens' on the iPhone 14 Pro is surprisingly good
You can read the entire article on TheVerge.com.
One of the iPhone 14 Pro's big new features is a big new camera sensor. For the first time, an iPhone has a high-resolution main camera sensor -- 48 megapixels to be exact -- and the best thing about it isn't that you can take 48-megapixel photos. You can, sure, but RIP your phone's storage space. Nope, one of this sensor's best features is the 12 megapixels in the middle. Apple has added a 2x zoom mode to its camera app, and all it does is use the central portion of the main camera sensor to crop in and mimic the effect of a 48mm-equivalent telephoto lens. That's it. Simple, but it's actually kind of a big deal.
I wasn't expecting to like the 2x zoom. For starters, it feels dangerously close to digital zoom. That's when you zoom in on a portion of an image without the benefit of extra pixels or optics. Your phone essentially magnifies a portion of the full image, which reduces resolution. In order to get the image back up to the original resolution, it has to make some guesses about information that it's missing, and things get watercolor-y fast.
Digital zoom has gotten better recently by using computational tricks to fill in the gaps, but even so, I'd rather stick with good old-fashioned optics. In any case, that's not what Apple's doing here -- this crop to 2x uses all 12 megapixels at the center of the sensor, so you're getting a full-resolution image, just without the pixel binning tricks that are available when the full width of the 48-megapixel sensor is used. It doesn't need to fill in any missing information because it's all just there.
For subjects in close quarters, especially portraits, I like the 48mm better than either the 1x (24mm) or the 77mm-equivalent 3x lenses. Apple's camera engineers must have figured that might be the case because they made it the new default focal length when you turn on portrait mode, and I think that was a very smart move. It's a common belief among photographers that a 50mm lens has a field of view that's similar to the human eye, so this has that going for it, too.
Virtual Camera Club News
Inner Circle Members: A big thanks to those who support our podcast and our efforts! We are having a blast at our new Inner Circle hangout, the private group I've set up at DerrickStoryOnline. We'd love it if you join us. You can become an Inner Circle Member by signing up at our Patreon site. You will automatically be added to the new hangout.
My Writing on Medium.com: I now have 51 published articles on Medium.com. And if you haven't visited the site, and enjoy good writing on a variety of topics, I suggest that you may want to take a look. You can just go to the home page and enter "Derrick Story" in the search field. And if you like what you read, then follow me!
The New Donation Kit for Carefree Shipping of Found Film Cameras - If you've discovered a film camera that's no longer being used, our new Donation Kit makes it easy to pack and ship. Just visit the Contact Form on thenimblephotographer.com, click the box next to Donating a Film Camera, and let me know what you have. In your note, be sure to include your shipping address.
Affiliate Links - The links to some products in this podcast contain an affiliate code that credits The Digital Story for any purchases made from B&H Photo and Amazon via that click-through. Depending on the purchase, we may receive some financial compensation.
Red River Paper - And finally, be sure to visit our friends at Red River Paper for all of your inkjet supply needs.
See you next week!
You can share your thoughts at the TDS Facebook page, where I'll post this story for discussion.