With the announcement of the OM System OM-5 mirrorless camera, Micro Four Thirds enthusiasts now have a clear choice between two new OM System cameras. Which is right for you? Let's start with the mid-level OM-5.
OM System OM-5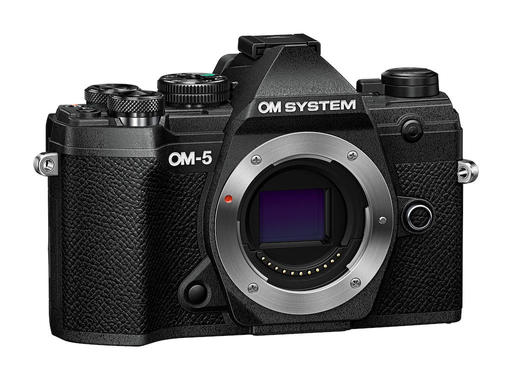 Mid-level cameras such as the OM-5 tend to get similar technology as their flagship brethren, but not all of the pro-level niceties. Let's start with what you get for your $1,199.99. Take a look at the following comparison illustration with the earlier Olympus E-M5 Mark III.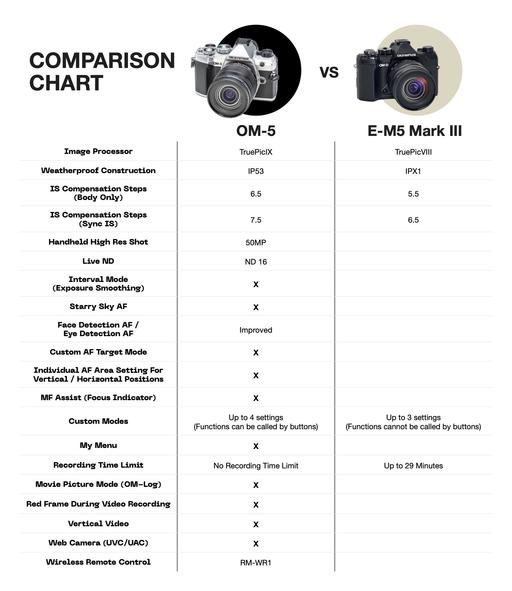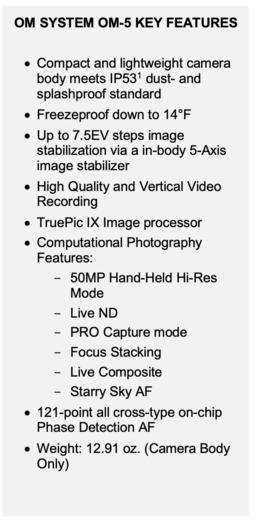 You'll see by looking at the comparison chart and key features, that much emphasis is placed on technology and weather resistance. This is a compact, durable, highly capable camera that you can take just about anywhere. It could also serve as a solid backup camera to your existing OM-1 if you needed that.
So, what are the shortcomings when compared to the flagship OM-1? For starters, the micro-USB port on the OM-5 is older technology compared to the USB-C port on the OM-1 (but you do get native the USB webcam support). Also, the mid-level camera did not receive the upgraded menu system that its big brother sports. There's a single UHS-II memory card slot instead of two, and it uses the smaller 8.46Wh BLS-50 battery, which has less power, but does keep the body compact.
OM System OM-1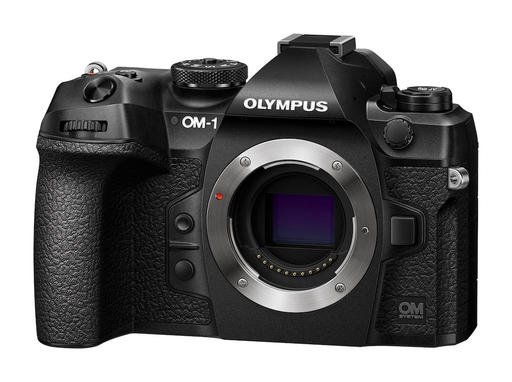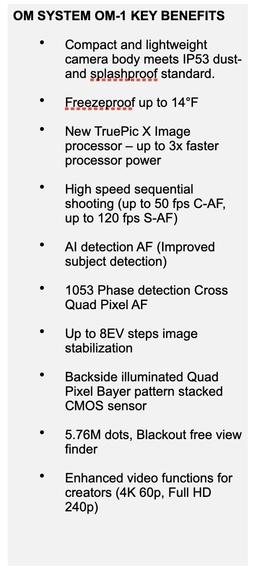 The OM System OM-1 mirrorless camera weighs in at $1,000 more ($2,199.99). So what's the reward for the extra hard-earned money?
Start with a 20MP Stacked BSI Live MOS MFT sensor, 5.76m-Dot OLED electronic viewfinder, dual UHS-II SD card slots, DCI/UHD 4K 60p 10-bit video recording, USB-C connectivity, redesigned menu system, cross quad pixel phase-detection AF, new BLX-1 battery rated for 520 shots (about 200 more than the OM-5), and faster sequential shooting.
Other noteworthy characteristics include: highly durable shutter unit that clears 400,000 shutter actuations (according to in-house testing conditions), night view mode makes it possible to view subjects even in dark environments, and independent AEL and AF-ON buttons.
All of this in a rugged, weather resistant design that will prove to be highly reliable in just about any environment.
So Which One Is Right for You?
The obvious starting point is price. The $1,000 difference between the two cameras is a big deal for many enthusiasts. Next, can you live with the older menu system, micro-USB connectivity, and a single card slot?
If your primary goal is to enjoy the latest technology in MFT photography in a rugged, compact body, and you can live with the feature differences, the the OM-5 presents a pretty good value at $1,199.99. However, if you want the faster, more robust performance of the OM-1, plus the "best of the best" spec for Micro Four Thirds, then go with the OM System OM-1.
My view is that the OM-1 is the obvious choice for professional use, sports photography, and serious photojournalism. The OM-5 is a good choice for travel photography, hiking, family gatherings, and folks who love technology but don't necessarily need every professional feature.
Product Links and Comments
There are product links in this article that contain affiliate tags. In some cases, depending on the product, The Digital Story may receive compensation if you purchase a product via one of those links. There is no additional cost to you.
You can share your thoughts at the TDS Facebook page, where I'll post this story for discussion.