This is The Digital Story Podcast #872, Dec. 6, 2022. Today's theme is "5 Handmade Photo Gifts that People Will Love." I'm Derrick Story.
Opening Monologue
When it comes to the holiday season, I say, "Use your talents for good!" And what better way to share your photography than creating memorable gifts for friends and loved ones? Today, I'll share with you 5 great ideas that you can pull together quickly for this time of giving. I hope you enjoy the show.
Digital Photography Podcast 872
Tune-In Via Your Favorite Podcast App!

---

Apple Podcasts -- Spotify Podcasts -- Stitcher

Podbean Podcasts -- Podbay FM -- Tune In
5 Handmade Photo Gifts that People Will Love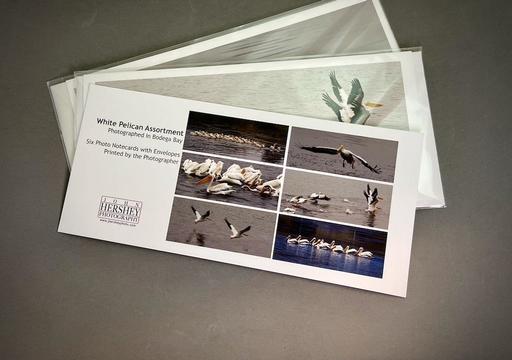 Handmade fine art greeting cards by photographer John Hershey.
What do you give people who have everything they want? Something they didn't realize they needed. Photographers are in a unique position to create a variety of holiday treasures. Here are a few to consider for your loved ones.
A Personalized Family Portrait - Not just any department store group shot, but one in a location that has meaning photographers by someone who knows all the players.

A Family or Friends Treasure Board - Chances are very good that you have a catalog of images of friends and family. How about creating a framed treasure board with those images that show the history of these folks over the years?

2 Hours of Tech Support - This can be an especially nice gift for older family members who just can't get anyone to help them with their phones, computers, or cameras.

Set of Fine Art Notecards with Blank Interiors - Notecards are wonderful to have on hand for quick thank you notes and special acknowledgements. And if you include matching postage stamps, this gift is sure to wow.

Hand Me Down Camera - To a budding photographer.
A nice touch to any gift you give is handmade wrapping paper. You can use a number of textured photos and print them in a pattern on lightweight paper. It's a wonderful finishing touch!
Adobe Stock Will Now Let Contributors Sell AI-Generated Artwork
You can read the entire article on PetaPixel.com.
Adobe has announced that its stock photography service, Adobe Stock, is now accepting illustrations created using generative artificial intelligence (AI) such as those created by OpenAI's Dall-E or Stable Diffusion.
In a blog post, the company says that the choice to allow generative AI onto its platform came after it "deeply considered" questions of ethics and proper use of the technology. The result it that while it is accepting artwork created with AI, it has also created a new submission policy that it believes will ensure generated artwork is used responsibly by creators and customers both.
"While early generative AI technologies have raised valid concerns, Adobe is committed to helping lead the evolution that will come from this technology into tools that empower artists, while never seeking to replace human imagination," the company writes.
"Properly built, used, and disclosed to viewers, generative AI can be a powerful tool to enhance creativity, accelerating the creative process to benefit both consumers of digital assets and the community of contributors who produce those assets."
Pantone Just Announced Its 'Unconventional' Color of the Year for 2023
You can read the entire article on FStoppers.com.
Today is the day we learn which color will take the crown as the color of the year for 2023. Are you ready to start seeing the unconventional new shade everywhere?
All eyes are on Pantone, the worldwide standard for color communication, as they announce their hotly anticipated color of the year for 2023. Last year's shade was PANTONE 17-3938 Very Peri and chosen in part to reflect the optimism in the air post-pandemic. For 2023, however, PANTONE 18-1750 Viva Magenta is the color chosen and is described as an unconventional shade for an unconventional time. Viva Magenta is claimed to be able to communicate power and demonstrate strength.
If you're not too familiar with Viva Magenta as a color, think of a bold magenta shade with a pink undertone. While I do appreciate a company declaring a color of the year could look like just another marketing gimmick, Pantone doesn't just pluck a random color out of thin air. Instead, they look to creative industries, from entertainment to fashion, to interiors and design to make an educated guess about what shades will be important in the coming 12 months. For photographers that operate in these creative circles, it can only be a good thing to know what the color of the year is. I know when I've mentioned the selected shade to various art directors, designers, or commercial clients, they have always been impressed I even knew what it was.
The 2023 TDS Photography Workshop Lineup
Inkjet Printing Workshop for Photographers Online Workshop - Nov/Dec 2022 and Nov/Dec 2023. SOLD OUT

Maximizing Your Micro Four Thirds Camera Online Workshop - Feb. 2023.

Ultimate B&W Photography Online Workshop - April 2023

Pt. Reyes In-Person Photography Workshop - May 2023

Infrared Photography Online Workshop - July 2023

Sedona Arizona In-Person Photography Workshop - Oct. 2023

Wine Country in Autumn In-Person Photography Workshop - Nov. 2023
You can sign up for any of these events by visiting our Photography Workshops Page. Inner Circle Members receive a 10 percent discount on all events.
OM-1 Firmware Update 1.3
Update your OM-1 camera's firmware today for these benefits.
- Improved performance of C-AF when shooting still images.
- Improved performance of C-AF when recording videos.
- Stability of other operations has been improved.
Updating for the first time? Watch our instructional video to learn how to update your firmware.
You can learn more here about the update.
Virtual Camera Club News
The Nimble Photographer Newsletter is now publishing every Thursday. Readers will enjoy a variety of content spanning from short photo essays, to commentary on weekly events, to reviews of the latest and coolest photo gear.
Inner Circle Members: A big thanks to those who support our podcast and our efforts! We are having a blast at our new Inner Circle hangout, the private group I've set up at DerrickStoryOnline. We'd love it if you join us. You can become an Inner Circle Member by signing up at our Patreon site. You will automatically be added to the new hangout.
My Writing on Medium.com: I now have 51 published articles on Medium.com. And if you haven't visited the site, and enjoy good writing on a variety of topics, I suggest that you may want to take a look. You can just go to the home page and enter "Derrick Story" in the search field. And if you like what you read, then follow me!
The New Donation Kit for Carefree Shipping of Found Film Cameras - If you've discovered a film camera that's no longer being used, our new Donation Kit makes it easy to pack and ship. Just visit the Contact Form on thenimblephotographer.com, click the box next to Donating a Film Camera, and let me know what you have. In your note, be sure to include your shipping address.
Affiliate Links - The links to some products in this podcast contain an affiliate code that credits The Digital Story for any purchases made from B&H Photo and Amazon via that click-through. Depending on the purchase, we may receive some financial compensation.
Red River Paper - And finally, be sure to visit our friends at Red River Paper for all of your inkjet supply needs.
See you next week!
You can share your thoughts at the TDS Facebook page, where I'll post this story for discussion.