This is The Digital Story Podcast #877, Jan. 10, 2023. Today's theme is "Is Film Photography Really Making a Comeback?" I'm Derrick Story.
Opening Monologue
We keep seeing the headlines, but do we know what they really mean? And if indeed analog photography is making a comeback, how does that play out in the overall world of imaging? Thanks to my TheFilmCameraShop that I run on Etsy, I'm in frequent contact with those who fancy a fresh roll of Kodak Tri-X, and here's my take on the state of analog photography. I hope you enjoy the show.
Digital Photography Podcast 877
Tune-In Via Your Favorite Podcast App!

---

Apple Podcasts -- Spotify Podcasts -- Stitcher

Podbean Podcasts -- Podbay FM -- Tune In
Is Film Photography Really Making a Comeback?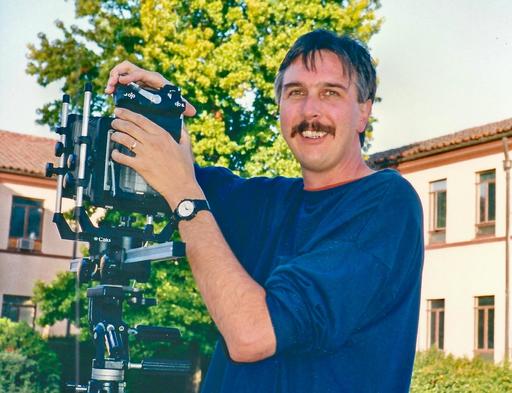 I think a better way to frame this discussion is that analog cameras have become more in demand over the last two years. And I think there are some very logical reasons why.
Outside of top-end models from Leica and Nikon, no one is making quality 35mm film cameras right now. So like oil and other finite resources, when they're gone, they're gone.

We're seeing a pushback to the perfection of digital imaging. Some creatives are looking to film to create that artistic, somewhat imperfect look, while others are turning to old digital cameras.

Film is expensive, but there is a wide variety of options that are truly intriguing. And we are seeing new film emulsions all the time.

Film photography is easy. I know this sounds weird, but think about it. You don't need a computer, backup system, or have to learn software. Take the picture, send off the roll, and get back finished prints.

And finally, film photography is cool. Most folks won't give you a second look if you say you like to take pictures. But if you say that you like to shoot film, they are interested.
You know it's interesting, film photography has become part of our cultural DNA. Just go to any used book store and dig around in the old magazine section. When you flip through the pages of Life, Time, and others, it's like looking back through your artistic ancestry. And the fact that we can create pictures like those today has an almost time machine feel to it.
The very first article that I wrote for Medium was Why Film Photography Won't Go Away. For a first effort, it was a hit.
But it wasn't my writing that grabbed the spotlight, it was the subject: Film Photography. People are interested in it, even if they never intend to shoot a single frame of Kodacolor 200.
There isn't a film photography resurgence, it never really went away. It's the fact that it's still here that impresses headline writers.
It feels like the Pentax K1000 should have been buried with 8-Track tapes and shag carpet. But here it is today, alive and well with its audio brother vinyl records.
You don't have to be popular to be good. You just have to be good. And film photography is indeed very good stuff.
New Eco-Friendly Film Lab Lets You Pick Which Photos to Print from a Roll
You can read the entire article on Petapixel.com.
The company says that it realized photographers are not likely going to want prints of every photo on a roll of film, which means that every time a photographer asks for prints to be mailed along with developed negatives, a large number of those prints will be discarded -- Analogue Wonderland estimates between 50% and 80%.
"This represents a huge environmental waste -- every one of those prints takes paper, ink, electricity, and shipping -- irrespective of the quality of the focus, colors, and composition," the company says.
"On the other extreme there are photographers who never choose prints, worried about the risk or lacking the confidence to bet that something magical will have been captured. This is an entirely different type of waste -- artistic instead of environmental -- but equally avoidable."
Its new system works like this: photographers order film and scans through Analogue Wonderland. After the film has been processed, customers are emailed a link to view those scans in their account. From there, the photos can be reviewed and the ones that a photographer actually wants to be printed can be selected. When the negatives are mailed, they include only the photos that a photographer specifically denoted as the ones that they wanted.
Analogue Wonderland says that this process is more eco-friendly, results in higher quality prints since its editing team has the opportunity to fine-tune color, contrast, and crop the image before sending it to the printer, and the system is no less convenient than other established methods and there is no requirement to download, change, or reupload images.
Analogue Wonderland is UK based. Hopefully we'll see a service like this in the States before too long.
Online Printing Workshop Overwhelming Favorite for March Addition
I polled our Inner Circle Members about topics for a potential March Online Workshop, and the overwhelming favorite was a redux of the Inkjet Printing Class.
So stay tuned while I pull together some details, and hopefully I can make an announcement next week.
You can sign up for any of our events by visiting our Photography Workshops Page. Inner Circle Members receive a 10 percent discount on all events.
Meet Luminar 100, a new 35mm color film stock made from Kodak Aerocolor IV aerial film
You can read the entire article on DP Review.com.
As the film revival continues strong, another new color film stock has been released, this time by Montreal-based Popho Camera Company. And unlike other respooled rolls of film, Popho Camera Company comes right out and says what its new Luminar 100 film stock is: respooled Kodak Aerocolor IV 2460, historically used for aerial surveillance.
Popho Luminar 100 is a daylight-balanced color negative film stock that Popho describes as having 'medium saturation and contrast' with 'warm tones, enhanced red sensitivity and a wide dynamic range.' Popho notes the film stock is 'well-suited for landscape and other general photographic applications.'
Kodak, in its data sheet for Aerocolor IV 2460, says the film uses the company's 3.9-mil (0.10mm) ESTAR Base with gel backing for 'flexibility, moisture resistance, high tear resistance, and excellent dimensional stability' and has an 'abrasion-resistant emulsion, an antihalation undercoat, and a dyed-gel backing.' Kodak also says the film doesn't have integral color masking,
Unlike many of the recent film stocks we've seen pop up, Luminar 100 isn't a limited release, meaning it should be around for years to come.
36-exposure rolls of Popho Luminar 100 are available to pre-order for $10.51 each. This isn't a crowdfunding campaign and the first units are produced and will be shipped out (without the paper box) by mid-January 2023. We have pre-ordered a roll and will feature the results once we shoot and develop the film after its arrival.
Limited Ricoh GR III 'Diary Edition' Debuts a New Film-Like Photo Mode
You can read the entire article on Petapixel.com.
Ricoh has announced the GR III Diary Edition, which features a different "warm gray" finish, comes with specially-designed accessories, and debuts a new image mode that provides "a negative-film finishing appearance."
Other than aesthetic changes, the GR III Diary Edition is the first Ricoh camera to receive a new image mode that the company says provides an appearance that is similar to negative-film.
"Based on the visual effects possible only with negative film, this mode produces an exquisite balance between rich colors and the uniquely discolored prints resulting from using negative film," the company says.
This new photo mode will be available for GR III and GR IIIx-series models via a firmware update that is scheduled to be released following the availability of the Diary Edition. At the time of publication, Ricoh did not provide any examples of what photos taken in this mode look like.
The Ricoh GR III Diary Edition Special Limited Kit will be available in late January 2023 from Ricoh's website for $1,149.95. The company says that it plans to sell the camera as a standalone (without the strap, ring cap, hot shoe cover, or case) in the spring.
Just Released! Photos for macOS Ventura and iPhone Essential Training
With Photos for macOS, you can manage, enhance, and share photos in a variety of ways. It's evolved into a powerful, but easy to use imaging application. And it's free!
In this course, I take you on a detailed exploration of how to use Photos for both the Monterey and Ventura versions, plus tips for iOS as well.
I start with an exploration of the interface, then move into the new features. Noteworthy topics include how to remove duplicates from your library, different ways to use Live Text to transform your camera into a personal assistant, how to search for pictures by object type, copy images from messages to Photos, use Quick Notes with Photos, and automate common tasks with shortcuts and built-in Mac intelligence.
Also included are updates on some of the recent improvements to the importing process, with lots of useful tips for organizing and editing your pictures. (The editing tools are terrific!) Upon completing this course, you'll be working more effectively with Photos for macOS Monterey, Ventura, and iOS.
If you use a Mac and haven't explored Photos for a while, I think you'll be surprised by its power. Take a look for yourself by visiting Photos for macOS Ventura and iPhone Essential Training.
Virtual Camera Club News
The Nimble Photographer Newsletter is now publishing every Thursday. Readers will enjoy a variety of content spanning from short photo essays, to commentary on weekly events, to reviews of the latest and coolest photo gear.
Inner Circle Members: A big thanks to those who support our podcast and our efforts! We are having a blast at our new Inner Circle hangout, the private group I've set up at DerrickStoryOnline. We'd love it if you join us. You can become an Inner Circle Member by signing up at our Patreon site. You will automatically be added to the new hangout.
My Writing on Medium.com: I now have 51 published articles on Medium.com. And if you haven't visited the site, and enjoy good writing on a variety of topics, I suggest that you may want to take a look. You can just go to the home page and enter "Derrick Story" in the search field. And if you like what you read, then follow me!
The New Donation Kit for Carefree Shipping of Found Film Cameras - If you've discovered a film camera that's no longer being used, our new Donation Kit makes it easy to pack and ship. Just visit the Contact Form on thenimblephotographer.com, click the box next to Donating a Film Camera, and let me know what you have. In your note, be sure to include your shipping address.
Affiliate Links - The links to some products in this podcast contain an affiliate code that credits The Digital Story for any purchases made from B&H Photo and Amazon via that click-through. Depending on the purchase, we may receive some financial compensation.
Red River Paper - And finally, be sure to visit our friends at Red River Paper for all of your inkjet supply needs.
See you next week!
You can share your thoughts at the TDS Facebook page, where I'll post this story for discussion.