This is The Digital Story Podcast #879, Jan. 24, 2023. Today's theme is "Will Astropad Luna Display Work for Our Photography?" I'm Derrick Story.
Opening Monologue
Astropad Luna Display is a $119 dongle with supporting software that enables you to turn your iPad or Mac into a wireless secondary display and create a portable dual monitor setup with the devices you already have. It supports Macs, PCs, and iPads in a variety of configurations. But, is it robust enough to use for our photography workflow? I tell all in today's TDS Photography Podcast. I hope you enjoy the show.
Digital Photography Podcast 879
Tune-In Via Your Favorite Podcast App!

---

Apple Podcasts -- Spotify Podcasts -- Stitcher

Podbean Podcasts -- Podbay FM -- Tune In
Will Astropad Luna Display Work for Our Photography?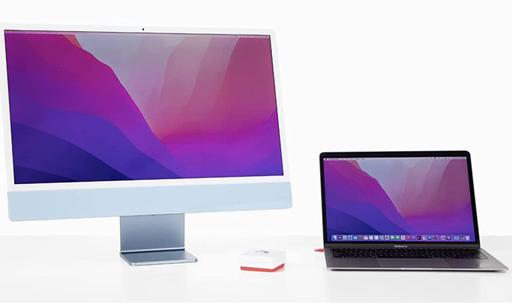 Alright, so here's the backstory.
I have a 2017 4K iMac with a gorgeous screen. And it fits perfectly in my studio workstation. But being 2017, its brains are getting a bit laggy with today's software. I don't want to ditch the entire computer just because it needs a new processor.
So, I was thinking, what if I invested the $119 in the Astropad Luna Display, purchased a brand new M2 Mac mini, and used my existing iMac as the display?
This approach would save the iMac from the electronics recycler and save me the $1,600 required for the companion Apple Studio Display. Plus, I would still have the brains of the iMac as a backup computer.
I decided to test the feasibility of this approach by purchasing the Luna Display and testing it with my 2020 Intel 13" MacBook Pro. If using the iMac as a secondary monitor for the MacBook worked, it certainly would suffice with the more powerful M2 Mac mini. Here's what I learned.
Do not use the WiFi connection for the two devices. It's way too laggy. I'm using the Ethernet cable, and the performance is much better. I tried to get USB-C to USB-C to work, but could not.

The configuration options are really nice. I'm using the iMac as a secondary screen, and I still have all the screen real estate of the MacBook Pro. Plus, I can use the mouse for the iMac on both the MacBook and the iMac. Both keyboards work as well. Very nice.

At first I thought the performance was going to bug me, because working in Capture One Pro on the iMac display was a little different than natively on the MacBook Pro. But to be honest, I forgot about that as I became absorbed in my editing. So not as fast, but not bad either.

A downside is that I'm now using my Ethernet port for the display, making it not available for other uses. I do have a powered multiport connector that would solve the problem. I haven't tested it yet, but I will.

You can take full advantage of the iMac's 4K Retina Display, but you have to enable Retina in the Luna Display software settings.

It's fairly easy to switch the iMac back and forth from secondary display mode to native iMac mode. Simply hold down the ESC key to exit Luna Display.
So, what's my bottom line? So, I am going to order the Apple Mac mini M2 and use the iMac as the display. I'm not recommending that everyone do this, because some folks may find it too much hassle compared to a dedicated display, or the performance just a bit short. I will report more once I get all the pieces in place.
Apple announces updated MacBook Pro and Mac Mini models with new high-end M2 chipsets
You can read the entire article on DP Review.com.
Apple has updated its MacBook Pro and Mac Mini lineups to make the most of its new M2 Pro and M2 Max chipsets. The new 14" and 16" MacBook Pro units are available with the company's high-end M2 Pro and M2 Max chipsets while the updated Mac Mini is available with the M2 and M2 Pro chipsets.
The M2 Pro and M2 Max chips are featured in new MacBook Pro models. The new 14" and 16" MacBook Pro laptops feature the same design as the previous iterations, including the displays, albeit with improved performance and connectivity.
While the general arrangement of ports is unchanged with the new models-MagSafe 3, three Thunderbolt 4 ports, an SDXC slot, a 3.5mm headphone jack, and an HDMI port-the HDMI port is now HDMI 2.1. The prior MacBook Pro models used an HDMI 2.0 port, a much-maligned decision that limited the MacBook Pro to a single 4K display at up to 60Hz. The new models allow support for up to four external displays, including an 8K display at up to 60Hz and 4K displays at up to 240Hz.
When Apple announced the M2 last summer, many wondered when Apple's popular and affordable Mac mini would receive an update. The wait is over. You can now purchase the Mac mini with the standard M2 or the new M2 Pro chip - the M2 Max is not an option. It's worth noting that the prior M1-powered Mac mini wasn't offered with an M1 Pro or M1 Max. You can purchase the Mac mini with either the M2 Pro chip, the 10-core CPU/16-core GPU version, or the more powerful M2 Pro with a 12-core CPU and 19-core GPU. RAM is configurable up to 32GB.
The M2 version of the Mac mini supports up to two displays, whereas the M2 Pro version can use three displays. The M2 Mac mini supports up to 6K resolution at 60 Hz. The M2 Pro version supports up to 8K resolution at 60 Hz or 4K at up to 240 Hz over HDMI, so the M2 version apparently still uses HDMI 2.0, whereas the M2 Pro Mac Mini has an HDMI 2.1 port.
All versions of the new Mac mini include DisplayPort, Thunderbolt 4, USB 4 and USB 3.1, Thunderbolt 2, HDMI, a pair of USB-A ports, Gigabit Ethernet and a 3.5mm headphone jack. However, the M2 Pro model includes four Thunderbolt 4 ports, whereas the M2 model has just two. The prior Mac mini had Thunderbolt 3 ports. Like the new MacBook Pros, the Mac mini supports Wi-Fi 6E and Bluetooth 5.3 connectivity.
Online Printing Workshop Scheduled for March 8, 2023
One seat just opened!
This inkjet printing workshop will help you tame your printer, enabling you to create beautiful prints and fine art greeting cards. We'll cover paper stocks, printer setups, project design, and even how to choose the best inkjet photo printer for you. Weekly printing assignments with class support will help you hone your skills.
March 8, 15, 22, 29, 2023 - Two Class Options Each Day. Each class is recorded and made available to participants. Plus, class members will have access to our growing online printing community on DerrickStoryOnline.
You can sign up for the printing workshop ($145) by visiting The Nimble Photographer. Inner Circle Members receive a 10 percent discount on all events.
Light Pollution Might Be Worse Than Previously Thought
You can read the entire article on Petapixel.com.
It turns out light pollution might be worse than it appears by satellite. The problem has been steadily increasing over the years, which creates added difficulties for night photography.
Satellite data previously estimated that light pollution was increasing at a rate of 2% annually, but new research puts that number closer to 10%, according to a new research article published in Science. The problem in getting accurate numbers, according to the article, is due to LED lights. This is equivalent to a doubling of light pollution every eight years.
"Satellites can measure the light emitted upward, but they are not sensitive to all wavelengths produced by LED lighting or to light emitted horizontally," the article states.
To obtain the new estimates, 51,351 citizen scientists from 2011 to 2022 were shown maps of the sky at different levels of light pollution and selected which maps best matched their views. The gap between the two figures is likely due to the fact that LEDs have become more common and have become a go-to option for replacing older, less-efficient bulbs.
The increased light pollution can have effects on sleep patterns and even agriculture as the light can distract insects, The Verge notes. However, it also presents an issue for night photographers. While a washed-out sky of an urban area will always make for a more difficult canvas for astrophotography than a dark, remote sky, increased light pollution anywhere will require adjustments when shooting at night. There are light pollution filters, and photographers can upgrade their overall gear. PetaPixel's astrophotography guide suggests a number of cameras to check out. Additional light pollution might mean more tweaking of ISO and apertures settings as well before a photographer can take that perfect shot.
Just Released! Photos for macOS Ventura and iPhone Essential Training
With Photos for macOS, you can manage, enhance, and share photos in a variety of ways. It's evolved into a powerful, but easy to use imaging application. And it's free!
In this course, I take you on a detailed exploration of how to use Photos for both the Monterey and Ventura versions, plus tips for iOS as well.
I start with an exploration of the interface, then move into the new features. Noteworthy topics include how to remove duplicates from your library, different ways to use Live Text to transform your camera into a personal assistant, how to search for pictures by object type, copy images from messages to Photos, use Quick Notes with Photos, and automate common tasks with shortcuts and built-in Mac intelligence.
Also included are updates on some of the recent improvements to the importing process, with lots of useful tips for organizing and editing your pictures. (The editing tools are terrific!) Upon completing this course, you'll be working more effectively with Photos for macOS Monterey, Ventura, and iOS.
If you use a Mac and haven't explored Photos for a while, I think you'll be surprised by its power. Take a look for yourself by visiting Photos for macOS Ventura and iPhone Essential Training.
Virtual Camera Club News
The Nimble Photographer Newsletter is now publishing every Thursday. Readers will enjoy a variety of content spanning from short photo essays, to commentary on weekly events, to reviews of the latest and coolest photo gear.
Inner Circle Members: A big thanks to those who support our podcast and our efforts! We are having a blast at our new Inner Circle hangout, the private group I've set up at DerrickStoryOnline. We'd love it if you join us. You can become an Inner Circle Member by signing up at our Patreon site. You will automatically be added to the new hangout.
My Writing on Medium.com: I now have 51 published articles on Medium.com. And if you haven't visited the site, and enjoy good writing on a variety of topics, I suggest that you may want to take a look. You can just go to the home page and enter "Derrick Story" in the search field. And if you like what you read, then follow me!
The New Donation Kit for Carefree Shipping of Found Film Cameras - If you've discovered a film camera that's no longer being used, our new Donation Kit makes it easy to pack and ship. Just visit the Contact Form on thenimblephotographer.com, click the box next to Donating a Film Camera, and let me know what you have. In your note, be sure to include your shipping address.
Affiliate Links - The links to some products in this podcast contain an affiliate code that credits The Digital Story for any purchases made from B&H Photo and Amazon via that click-through. Depending on the purchase, we may receive some financial compensation.
Red River Paper - And finally, be sure to visit our friends at Red River Paper for all of your inkjet supply needs.
See you next week!
You can share your thoughts at the TDS Facebook page, where I'll post this story for discussion.