This is The Digital Story Podcast #884, Feb.28, 2023. Today's theme is "AI Photo Editing on Your Smartphone." I'm Derrick Story.
Opening Monologue
Using AI editing tools on a smartphone makes even more sense than on your computer. Image enhancement on mobile devices is not the easiest task in the world. Their smaller screens and less precise input (aka our fingers) present a bit of a challenge. AI tools can help, and today, we're going to look at one such offering from Skylum that can really speed things up. I hope you enjoy the show.
Digital Photography Podcast 884
Tune-In Via Your Favorite Podcast App!

---

Apple Podcasts -- Spotify Podcasts -- Stitcher

Podbean Podcasts -- Podbay FM -- Tune In
AI Photo Editing on Your Smartphone
Skylum just updated their imgmi app to include AI Skin and AI Body adjustments. Added to the existing tools - Sky Replacement, Remove Powerlines, AI Enhance, Basic Adjustments, Crop & Rotate tool, Erase, and a collection of LUTs called filters - this app is rounding out nicely, especially for one so young (Sept. 2022). Think of it like Luminar Neo for your phone.
There are versions for iPhones, iPads, and Android devices. I haven't tested the Android version, but the ratings on the iOS app store are more favorable than those on Google Play.
The iOS version taps your camera roll and allows you to save finished pictures as a new image back to the same location. Once you return to Photos for iOS, you can continue working on the picture with its tools. Together, Photos + imgmi, you have a powerful image enhancement package that's easy to use.
Before Editing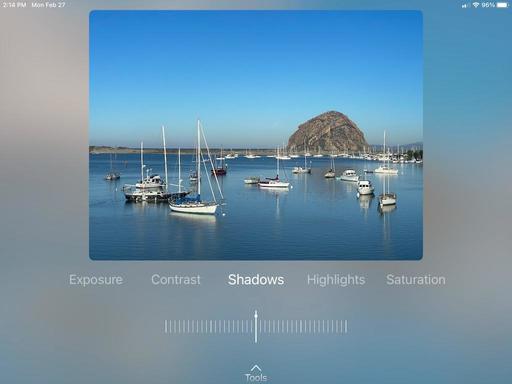 After just a few clicks.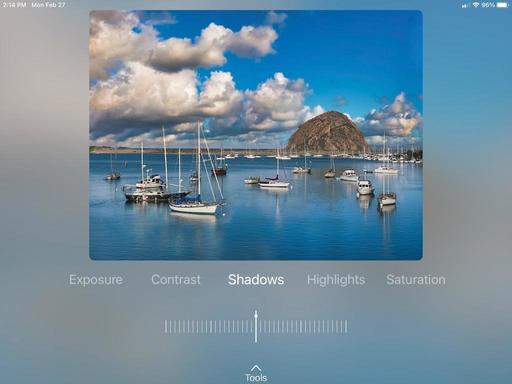 Select Sky
This is a very powerful feature in the app. The AI identifies the sky area of a photo, then presents you with a number of different substitute options divided into categories such as Blue, Dramatic, Sunset, etc.
Once you choose a sky, tap Tools again for a set of refinements including Adjustments such as Relight, Defocus, Haze, plus, other goodies such as Orientation and Mask.
And if you wish, you can even add your own stock sky images from your camera roll, and they will be available as well. Nice touch!
Remove Powerlines
I think a more apt title would be "Remove Lines." The app can indeed identify power lines and remove them. But in my testing, it often didn't stop there and removed other lines that it found, such as the pin stripping on a car driving by.
Even with these minor hiccups, I'm still glad they included this feature. Power lines are tough to deal with, and this gives us a fighting chance.
AI Enhance
Any Skylum user knows how wonderful this tool is. The mobile version isn't quite as intelligent or powerful as what we use on the computer, but it's still pretty darn good.
Skin and Body AI
These are the two latest features just added this week. And I thought Skin AI was particularly helpful, especially for portraits with side lighting that were not kind to the subject.
Filters
These look like Luts to me, and I like them. Again, broken out into categories such as Creative Portraits, Great Landscapes, Pets, Selfie, and B&W, these filters are far more sophisticated than what we normally see in mobile apps - and you get a lot of them.
Adjust and Crop
A solid set of basic tools that you would expect to have in an app of this caliber.
Erase
I love having an Erase tool, especially since Photos still haven't included one. The Skylum version lets you set the diameter of the eraser, then you just drag your finger across the area you want gone. It does and intelligent content away fill to replace the removed object. And there is a Restore option if you need to fix an over zealous swipe.
Final Thoughts
I've been waiting for Skylum to bring some of their AI magic to mobile devices, and imgmi is a great start. I like it best on my iPad mini where I have a bit more operating room to use it. It's a wonderful complement to the Photos app.
Skylum offers a 7-day free trial, then an assortment of pricing options. I recommend the $24.99 a year plan. I anticipate they will continue to add tools and enhance this software. But even now, in its early stages, I think it's worth the price.
Couple Finds Trove of 2,000 Cameras and Lenses in Storage Unit
You can read the entire article on PetaPixel.com.
Kristen Cusumano, who works part-time at a tanning salon, was asked by her boss in December to empty out a storage unit. "My boss, the guy who owns the salon, happens to own several other properties around town, including a storage unit. One of the guys who rented out a unit passed away a few years ago and eventually my boss had to empty out the unit.
"My boyfriend was doing some work for him at the time, and my boss asked him if he'd be interested in clearing out the unit. My boyfriend loves doing that kind of stuff, and when he found out that we could keep whatever we found inside as payment, he agreed immediately."
After clearing out all the boxes, the couple now estimates that the collection contained over 1,000 film cameras and roughly 1,000 lenses. The equipment the couple found is a film photographer's dream.
"The vast majority of the collection is Miranda and Minolta," Cusumano says. "There's also a good amount of FEDs, Voigtlander, Zorkis, Zenits, Fujicas, Yashicas, Pentaxs, Prakticas, Mamiya Sekors, Exaktas, Olympus's, Exas, Petris, Konicas, and some TLRs and other brands I can't think of at the moment.
"I'm keeping the Minolta XK, the TLRs, and most likely one of each of the Minoltas since we have so many of them and they're just so aesthetically pleasing to me," Cusumano says. "Fridrik will most likely be keeping an Orion and Miranda T and probably one of each of the Mirandas for the same reason."
It's unclear how long the camera equipment was hidden away in the storage unit, but many of them may now be destined for actual photo-making again.
Brinno's new timelapse camera is a stamina champion with 100 days of life
You can read the entire article DigitalCameraWorld.com.
Brinno TLC300 is the perfect construction camera, offering 100 days of power from four AA cells.
The best timelapse cameras are what you need if you want to create a stop-motion movie of something taking place over days, weeks, or even months. If you want, therefore, to create a video of a building being built, these are what you need. And Brinno is the best-known brand in this specialist camera market - having sold over a million cameras since its first launch in 2008.
The new Brinnoi TLC300 is designed to give users the best possible experience in timelapse, while also keeping things very simple so as to not confuse any users. For instance, the TLC300 is completely IPX4-rated waterproof housing, and pair that with its mounting accessories and its 100-day battery life, you have a camera that can outdo almost all of the current market competitors, and while others use rechargeable battery cells, the TLC300 uses four standard AA batteries available worldwide, so when that 100-days is up, you can easily swap in some more without having to reach your charger.
However, addressing the elephant in the room, this new timelapse camera can only capture 1080p. It might be unlimited until the battery runs out, but there is no escaping the fact that in a world of 4K cameras or the ability to use a mirrorless camera or DSLR and achieve a 4K timelapse - 1080p may seem a little below par. But, it is undoubtedly fine for the web and display use this sort of video is useful - and is a step up from the 720P offered by its predecessor the Brinno TLC200 Pro.
One key feature is the TLC300's ability to schedule recording, not only have you give a certain time on a specific day, but you can also schedule multiple days with breaks in-between scheduling Monday, Wednesday, and Sunday to record and skip the others.
Just Released! Photos for macOS Ventura and iPhone Essential Training
With Photos for macOS, you can manage, enhance, and share photos in a variety of ways. It's evolved into a powerful, but easy to use imaging application. And it's free!
In this course, I take you on a detailed exploration of how to use Photos for both the Monterey and Ventura versions, plus tips for iOS as well.
I start with an exploration of the interface, then move into the new features. Noteworthy topics include how to remove duplicates from your library, different ways to use Live Text to transform your camera into a personal assistant, how to search for pictures by object type, copy images from messages to Photos, use Quick Notes with Photos, and automate common tasks with shortcuts and built-in Mac intelligence.
Also included are updates on some of the recent improvements to the importing process, with lots of useful tips for organizing and editing your pictures. (The editing tools are terrific!) Upon completing this course, you'll be working more effectively with Photos for macOS Monterey, Ventura, and iOS.
If you use a Mac and haven't explored Photos for a while, I think you'll be surprised by its power. Take a look for yourself by visiting Photos for macOS Ventura and iPhone Essential Training.
Virtual Camera Club News
The Nimble Photographer Newsletter is now publishing every Thursday. Readers will enjoy a variety of content spanning from short photo essays, to commentary on weekly events, to reviews of the latest and coolest photo gear.
TDS Workshops! - You can sign up for available workshops by visiting The Nimble Photographer. Inner Circle Members receive a 10-percent discount on all events.
Inner Circle Members: A big thanks to those who support our podcast and our efforts! We are having a blast at our new Inner Circle hangout, the private group I've set up at DerrickStoryOnline. We'd love it if you join us. You can become an Inner Circle Member by signing up at our Patreon site. You will automatically be added to the new hangout.
My Writing on Medium.com: I now have 51 published articles on Medium.com. And if you haven't visited the site, and enjoy good writing on a variety of topics, I suggest that you may want to take a look. You can just go to the home page and enter "Derrick Story" in the search field. And if you like what you read, then follow me!
The New Donation Kit for Carefree Shipping of Found Film Cameras - If you've discovered a film camera that's no longer being used, our new Donation Kit makes it easy to pack and ship. Just visit the Contact Form on thenimblephotographer.com, click the box next to Donating a Film Camera, and let me know what you have. In your note, be sure to include your shipping address.
Affiliate Links - The links to some products in this podcast contain an affiliate code that credits The Digital Story for any purchases made from B&H Photo and Amazon via that click-through. Depending on the purchase, we may receive some financial compensation.
Red River Paper - And finally, be sure to visit our friends at Red River Paper for all of your inkjet supply needs.
See you next week!
You can share your thoughts at the TDS Facebook page, where I'll post this story for discussion.