This is The Digital Story Podcast #881, Feb. 7, 2023. Today's theme is "Recording Video to Enhance Your Still Photography." I'm Derrick Story.
Opening Monologue
Many stills photographers overlook the fantastic movie capture tools built into our cameras. Primarily, because they are not interested in making movies. But what if those ignored features could greatly enhance your photo presentations? Wouldn't that be useful? Find out how on today's TDS Photography Podcast.
Digital Photography Podcast 881
Tune-In Via Your Favorite Podcast App!

---

Apple Podcasts -- Spotify Podcasts -- Stitcher

Podbean Podcasts -- Podbay FM -- Tune In
Recording Video to Enhance Your Still Photography
I can tell you why I don't make more movies than I do. It's because I hate video editing. It bores me to tears.
But that doesn't mean that I completely bypass the video features on my iPhone and OM System OM-1. Why? Because many of those settings can record content that vastly improves my photo presentations. Let me show you a couple examples.
Environmental Audio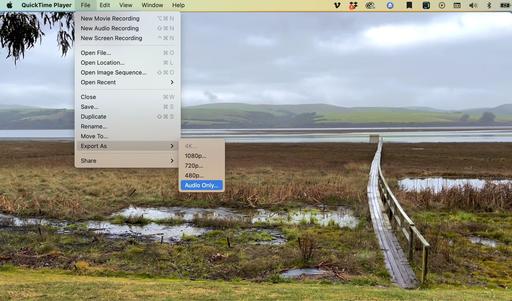 When your record a movie with your camera, you are capturing both sound and pictures. Those two elements can be separated and used independently.
Here is an example that you can see for yourself. Recently I was scouting for our upcoming Pt. Reyes Photography Workshop. I found a wonderful spot where the geese were talking and the toads were croaking. It was so melodic and peaceful.
I initially captured a few still pictures. But they just didn't do justice to what I was experiencing at the moment. So I set my iPhone to movie mode and recorded the scene. The movie itself is good and does a better job of telling the story than just the still pictures. But what if I could combine the two?
In Photos, I exported the audio only which gave me an .M4A file. I then opened the file in my favorite audio editing app, Fission. I trimmed the soundtrack, added fade-in and fade-outs, and boosted the audio volume.
I added my new soundtrack to my Apple Music library. Then I opened Photos and selected the images I wanted and created a Slideshow Project.
Using the Ken Burns effect to keep things moving, I substituted my "marsh sounds" audio track for the canned Apple music. I've published a short teaser here so you can see for yourself how well it works.
A Few Tips
Capture Panos - Broad panoramas play really well in slideshows with the Ken Burns effect enabled.

Get Yourself a Handy Audio App - For the Mac, I really like Fission by Rogue Amoeba for $35. But there are many good ones for Mac and Windows.

Keep Your Audio Files Organized - You'll find that you'll build up a sweet audio library that you can go to time and time again.
One final note on the value of movie capture. If you camera can record 4K video, you can pull out individual still frames from that footage to fill in gaps in your slideshows. This works really well.
It's worth it to review your recording settings on your smartphone and your camera. They can prove to be very valuable for immersive photo projects.
Two Seats Left for the Pt. Reyes In-Person Photography Workshop - May 16-19, 2023
Pt. Reyes and its surrounding areas (Tomalas,Inverness, etc.) provide a wealth of landscape and wildlife photography - and we will explore both!
This four-day photography adventure takes you to rugged Northern California coastline, rolling hills, seashore wildlife, Tule Elk, tranquil inlets, and so much more.
This is the perfect getaway to relax, breath fresh air, enjoy the company of your fellow photographers, eat good food, and fill your memory cards with beautiful images.
We have a wonderful workshop headquarters reserved that puts you right in the middle of this natural goodness. Not only is it a peaceful place for us to gather and work, but you can walk right out your front door and photograph the amazing diversity of wildlife there.
You can sign up for any of these events by visiting our Photography Workshops Page. Inner Circle Members receive a 10 percent discount on all events.
Go Wide! A look at four top ultra-wide primes for Micro Four Thirds
You can read the entire article on DP Review.
One of the great things about the Micro Four Thirds system is that it's easy to find a good long lens - including the ones you used to use on your DSLR (remember those?). With its quarter-size sensor the system gives us the reach of a 400mm lens when we've only mounted a 200mm. The downside of course comes when we want a wide angle view, as the 2x crop factor means we need a 10mm lens to get the same view we'd achieve with a 20mm on a full-frame camera.
Fortunately though, we now have a pretty decent array of extreme wide-angle options for the system (including quite a few zooms). For this article I've restricted myself to prime lenses, and have still put together a good little collection to compare. The idea is both to demonstrate what's available and to show what impact slight differences in focal length have on the angle of view of the lens. I've picked four lenses of about the same focal length and within a tight price range, but which have a number of characteristics that lend each a distinct identity. The lenses going head-to-head are:
Laowa 7.5mm F2 MFT $499
Meike 8mm F2.8 $399
Panasonic Leica DG Summilux 9mm F1.7 ASPH $498
Samyang 10mm F2.8 ED AS NCS CS $430
As is often the case now, those looking for ultra-wide options, especially at an affordable price, should consider the many manual focus lenses on the market. Thus only one lens in this comparison offers autofocus and comes from a mainstream Micro Four Thirds manufacturer. I'll be looking at the physical characteristics of the lenses, their coverage, how nice they are to use as well as the quality of image they produce.
In all the following images taken with these lenses, the aperture was set to F8 to help eliminate vignetting as much as possible. All samples were made with a Panasonic Lumix G9. We're including the angle of view in the specs so you can get a better idea of how much of a scene you'll see, something not always accurately reflected by the focal length in millimeters.
Just Released! Photos for macOS Ventura and iPhone Essential Training
With Photos for macOS, you can manage, enhance, and share photos in a variety of ways. It's evolved into a powerful, but easy to use imaging application. And it's free!
In this course, I take you on a detailed exploration of how to use Photos for both the Monterey and Ventura versions, plus tips for iOS as well.
I start with an exploration of the interface, then move into the new features. Noteworthy topics include how to remove duplicates from your library, different ways to use Live Text to transform your camera into a personal assistant, how to search for pictures by object type, copy images from messages to Photos, use Quick Notes with Photos, and automate common tasks with shortcuts and built-in Mac intelligence.
Also included are updates on some of the recent improvements to the importing process, with lots of useful tips for organizing and editing your pictures. (The editing tools are terrific!) Upon completing this course, you'll be working more effectively with Photos for macOS Monterey, Ventura, and iOS.
If you use a Mac and haven't explored Photos for a while, I think you'll be surprised by its power. Take a look for yourself by visiting Photos for macOS Ventura and iPhone Essential Training.
Virtual Camera Club News
The Nimble Photographer Newsletter is now publishing every Thursday. Readers will enjoy a variety of content spanning from short photo essays, to commentary on weekly events, to reviews of the latest and coolest photo gear.
TDS Workshops! - You can sign up for available workshops by visiting The Nimble Photographer. Inner Circle Members receive a 10-percent discount on all events.
Inner Circle Members: A big thanks to those who support our podcast and our efforts! We are having a blast at our new Inner Circle hangout, the private group I've set up at DerrickStoryOnline. We'd love it if you join us. You can become an Inner Circle Member by signing up at our Patreon site. You will automatically be added to the new hangout.
My Writing on Medium.com: I now have 51 published articles on Medium.com. And if you haven't visited the site, and enjoy good writing on a variety of topics, I suggest that you may want to take a look. You can just go to the home page and enter "Derrick Story" in the search field. And if you like what you read, then follow me!
The New Donation Kit for Carefree Shipping of Found Film Cameras - If you've discovered a film camera that's no longer being used, our new Donation Kit makes it easy to pack and ship. Just visit the Contact Form on thenimblephotographer.com, click the box next to Donating a Film Camera, and let me know what you have. In your note, be sure to include your shipping address.
Affiliate Links - The links to some products in this podcast contain an affiliate code that credits The Digital Story for any purchases made from B&H Photo and Amazon via that click-through. Depending on the purchase, we may receive some financial compensation.
Red River Paper - And finally, be sure to visit our friends at Red River Paper for all of your inkjet supply needs.
See you next week!
You can share your thoughts at the TDS Facebook page, where I'll post this story for discussion.